February 20, 2017
Want to work in mental health? Psychiatry isn't your only option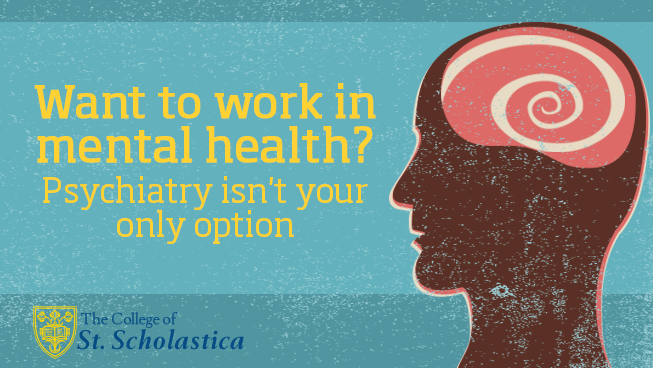 What positions come to mind when you think of working in mental health? If you envision doctors, psychiatrists or psychologists, you're not alone. But it may surprise you to learn a majority of the nation's mental health services are actually provided by social workers.
In fact, government sources report that 60 percent of mental health professionals are clinically trained social workers, while just 10 percent are psychiatrists, 23 percent are psychologists and five percent are psychiatric nurses. Social workers are so relied upon in this sector of care that they were among the first on the scene following the September 11, 2001 terrorist attacks. They proved invaluable as they provided mental health care to workers, families and community members involved in the tragedy.
If you're curious about working in mental health but hadn't before considered going into social work, you're in the right place. Join us as we explore the state of mental health in the U.S. and journey through the ins and outs of mental health social work. You may discover your calling within this growing career path!
Mental health in America
There is no questioning the fact that mental illness is an alarmingly prevalent issue in America. The statistics provided by the National Alliance on Mental Illness (NAMI) speak for themselves:
Approximately 1 in 5 adults experiences mental illness in a given year.
Approximately 1 in 5 youth aged 13-18 experiences a severe mental disorder.
Just 41 percent of adults with a mental health condition received treatment in the past year.
Just over 50 percent of children aged 8-15 received mental health services in the past year.
Half of all chronic mental illness begins by age 14, while three-quarters begins by age 24.
When those afflicted by mental illness don't seek treatment for their conditions, it can lead to some serious ramifications. For example, untreated mood disorders are the third most common cause of hospitalization in the U.S. for individuals aged 18-44, according to NAMI. It's also true that individuals living with serious mental illness face an increased risk of developing chronic medical conditions, leading to adults who — when untreated — die an average of 25 years earlier than their peers.  
But untreated mental illness impacts more than the individual and his or her direct circle of family, friends and acquaintances. NAMI has reported that serious mental illness costs the U.S. $193.2 billion in lost earnings each year.  
What does a mental health social worker do?
As the numbers clearly display, America's mental health professionals serve an unendingly valuable purpose in our country. So let's take a more in-depth look at the profession that comprises the country's largest percentage of mental health workers: social workers.
Mental health social workers — sometimes referred to as psychiatric or clinical social workers — maintain ongoing clinical relationships with individuals, couples, families and community groups such as treatment centers, schools or offices. The job generally revolves around diagnosing clinical disorders, identifying client goals, crafting treatment plans to meet those goals and connecting clients with applicable resources. This can be accomplished through implementing psychosocial assessments, collaborating with a treatment team, conducting ongoing counseling and therapy, reviewing progress and assisting the client in establishing his or her own support systems.
Social workers within this specialty can be found working in outpatient centers, family clinics, private practices, residential care facilities, psychiatric or substance abuse hospitals, community centers or local government facilities. Mental health social work positions most commonly require a master's degree in the field, as well as state-specific licensure. Many states also boast a continuing education requirement, for which professional organizations like the National Association of Social Workers and the Clinical Social Work Association can serve as helpful resources.
It can also be reassuring to know that now is a great time to pursue a career in the social work field. In fact, mental health and substance abuse social worker positions are projected to grow at least 14 percent by 2024, which is more than double the national average for all occupations.
Earning potential is harder to pinpoint, as it is dependent on a number of different variables such as the community in which you serve, whether or not you work in a private practice and more. The current median annual salary for mental health and substance abuse social workers in the U.S. is $39,980, with highest-paid private practice professionals earning close to $150,000 annually while others can make as little as $18,000 annually.
But it's the passion and purpose — not the money — that draw people to social work. These healthcare professionals are skilled in helping clients gain an understanding of their problems and alleviate major stresses that impact daily life. No matter if they're serving children, adolescents, adults or elderly individuals, you can rest assured that clinical social workers are qualified to provide the best mental health care in the nation.
Can you see your future in mental health?
If you're passionate about using your career to serve those enduring mental health struggles, it may be time to consider social work. As the nation's foremost mental health professionals, social workers spend each day serving others, benefiting the nation as a result.
Has the prospect of becoming a mental health social worker piqued your interest? The first step many take is embarking upon the process to become a clinical social worker. Learn more about the path to clinical social work by visiting our article, "What does a clinical social worker do? An insider's look at a day in the life."
Receive Program Info and Financial Aid Options
Detailed program overview
Personalized financial aid
Individual admissions support