August 22, 2016
Something for everyone: The 4 types of people who were MADE to live in Duluth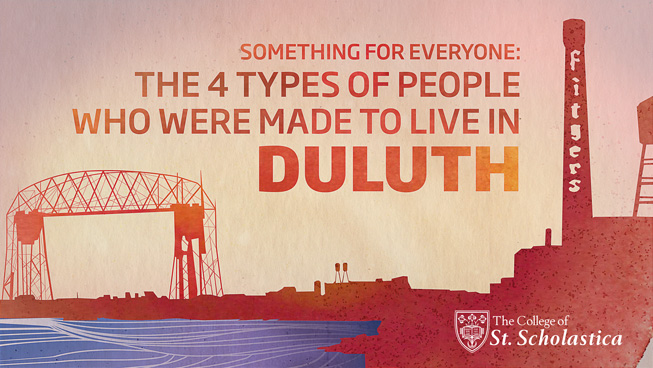 Location, location, location.
It's a bit of a cliché but where you live really does matter, even as a college student! You wouldn't want to spend the next few years of your life living in an area you dislike, right? While your parents might like to imagine you spending your days and nights cooped up in a dorm room knee-deep in textbooks, you're certainly going to find yourself with some academic downtime. So why not live in a place that allows you to branch out and enjoy your time away from coursework?
To an outsider, living in Duluth, Minnesota might not sound all that appealing. Don't be fooled. Despite the frigid winters, there's actually a lot to love about living near the North Shore. Let us introduce you to four types of people who will absolutely thrive while living in Duluth.
4 types of people who were made for living in Duluth, Minnesota
1. The nature enthusiast
There's a good reason for Duluth being rated Outside Magazine's best place to live in the U.S. Your first trip into Duluth will make this point abundantly clear — dense forest and the massive Lake Superior coastline make for a nature-lover's dream. There are several natural parks and outdoor recreation areas within or very near to the city, not to mention the fantastic views of Lake Superior found on the Park Point sand bar (among other locations).
Need a little more structure to your time outdoors? Be sure to check out the Superior Hiking Trail for a more linear exploration of the natural beauty to be found in the area.
2. The foodie
After all that hiking around, you may just work up an appetite. Lucky for you, the Duluth area punches above its weight class when it comes to quality food for a city its size. This is a definite perk of Duluth's tourist appeal. No matter what you think of Guy Fieri (or his hair), he and his crew on the Food Network's Diners, Drive-Ins & Dives know where to find some tasty eats — and Duluth has had multiple local eateries featured on the show. At Sara's Table and Northern Waters Smokehaus are two highlights among an eclectic mix of fine establishments. For those of age, Duluth also boasts a strong craft brewery scene to explore. It's safe to say Duluth has much more to offer culinarily than the fast food and slim pickings found in many college towns.
3. The sports enthusiast  
Love watching and participating in all things sports? Duluth is a great place for you. If you prefer traditional, team-oriented sports you can cheer on The College of Saint Scholastica's Men's and Women's sports teams as they compete at the NCAA Division III level. There's something to be said about supporting athletes you know on a personal level and in a relatively small, tight-knit school like CSS, you'll definitely have that opportunity.
It's also no secret that Duluth is a fantastic hockey town. Whether you're there for the game or just like to appreciate the "flow", there are plenty of opportunities to take in some hockey. There's the NAHL Junior Hockey team, CSS' and neighboring University of Minnesota-Duluth's teams, and strong high school hockey teams as well. If you're looking to be an active participant, there's pick-up hockey leagues where it's not unheard of to face off against former NHL or top-flight college players.
Duluth also offers plenty of other non-hockey fun for the winter — with downhill and cross country skiing, snowboarding and snowshoeing areas nearby. You might also want to check out the Duluth Curling Club and give it a try. They know their stuff, after all, they did host Team USA in their training for the 2014 Winter Olympics. Not extreme enough? Give below-freezing surfing a try if you're feeling exceptionally brave!
But that's just scratching the surface. The natural surroundings of Duluth offer several exhilarating outdoor sporting activities. Mountain biking enthusiasts can take on the challenge of navigating the rocky ridgelines along the area's 45-plus miles of single track trails that make Duluth a Gold Level International Mountain Biking Association Ride Center. Better yet, skip the climb and enjoy the downhill fun provided by Spirit Mountain Bike Park's lift-access mountain biking trails.
4. The Renaissance man (or woman)
Perhaps you're more interested in the artistic side of things. You're in luck! Duluth offers plenty of ways to expand your intellectual horizons. Browse the intriguing art galleries and exhibits at the Duluth Art Institute or take in a live performance at the Duluth Playhouse or Renegade Theater Company. CSS also offers plenty of arts and theatrical performances that allow students to branch out and explore creative avenues.
Music lovers should be sure to check out Duluth's Homegrown Music Festival — an 8 day event with over 200 musical acts in venues throughout the city. The festival is not constrained by musical genre, so you're bound to catch interesting local acts playing a wide variety of styles.
For the fans of film, the Free Range Film Festival is definitely worth a visit. The festival, where screenings are held in a massive old barn a short drive from Duluth, showcases independent film submissions from around the area. Who knows? If you've got a propensity for storytelling and love life behind the camera lens, maybe a submission of your own could be showcased!
Make yourself at home
It may be tempting to assume your time spent 'Up North' is going to be a blur of flannel and ice fishing. We'd be lying if we said these didn't exist, but after reading this it should be clear to you that there's a lot more to living in Duluth than you might expect.
Now that you've gotten a better feel for the area surrounding The College of St.Scholastica, you owe it to yourself to learn more about the school itself. Check out these 8 fascinating facts about the College of St. Scholastica.
Receive Program Info and Financial Aid Options
Detailed program overview
Personalized financial aid
Individual admissions support