February 27, 2015
8 fascinating facts about The College of St. Scholastica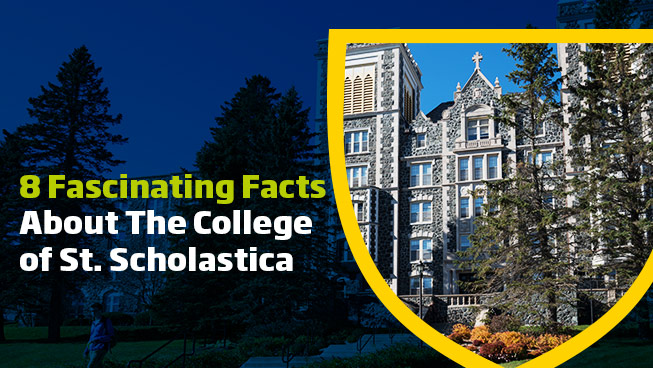 Choosing the perfect place to earn your degree is no easy decision. Every college and university offers students a unique set of strengths, whether they are academic, cultural or historical. Searching for an institution that excels in your desired program is important, but it's just as beneficial to find out what makes your chosen school truly unique.
The College of St. Scholastica (CSS) has been preparing students for a life of purpose and career success since 1912. Nationally-ranked academics, stunning Midwestern scenery, widely recognized athletics and a rich historical context are among the many reasons students are drawn to the school. In fact, enrollment in undergraduate and graduate programs has nearly doubled in the last decade.
Here are eight fascinating facts that will get you acquainted with CSS before you delve into its wide variety of program offerings and scholarship opportunities.
1. The main campus is located in historic Duluth
Duluth, Minnesota, has long been considered a "Mecca of the Midwest." The city's population soared in the latter half of the 19th Century as its reputation for fur-trading, rich natural resources and innovative transportation initiatives grew. In fact, Duluth is the only U.S. port with access to both the Atlantic and Pacific oceans.
The century turned, and Duluth spun with it, quickly developing urban infrastructure, commercial businesses and historic downtown architecture, all of which can still be seen today. This rapid expansion has coexisted alongside a continued effort to preserve the natural beauty of Lake Superior and its surrounding parks and forests.
The CSS campus overlooks the main stretch of Duluth as it spills into the shores of Lake Superior. Sweeping views of the city provide a picturesque lens of both the historic and natural beauty that is evident during all four seasons.
2. The college is neighbor to a working monastery
St. Scholastica's Duluth campus was first established by a group of Benedictine nuns in 1899. It started as 160 acres of farmland on which the sisters built a structure large enough to use for housing and for teaching students of its junior college, Villa Sancta Scholastica Academy.
The community transitioned first to a junior college in 1912, and then to a four-year institution by 1924—what is now known as The College of St. Scholastica. The institution was owned and operated by the sisters, who also ran hospitals and orphanages in the area.
To this day, St. Scholastica Monastery shares the campus grounds with CSS and, now, the Benedictine Health Center.
3. Its Benedictine sisters founded the first ever health information management program
CSS is a liberal arts college that offers both undergraduate and graduate programs across a wide range of disciplines. The nursing program alone offers five distinct degree tracks and stands as one of the largest such programs in Minnesota. But that's not the only reason the college has a reputation as a hub for healthcare education.
The Benedictine Sisters of St. Scholastica created Duluth's first hospital, now called Essentia Health – St. Mary's Medical Center. It is one of Minnesota's largest and most highly-specialized medical centers, and CSS has been critical in training the professionals who staff the institution.
The hospital grew, and the crucial role of health information management (HIM) began to emerge as a result of an increased emphasis on clinical documentation.
Sister M. Patricia Thibadeau responded by creating the first-ever HIM bachelor's degree program in 1935. The CSS program has remained at the forefront of the healthcare industry ever since, adapting to new technological advances, earning the necessary accreditations and expanding to graduate and online programs.
4. Students can participate in an array of exciting outdoor activities
Duluth has long been referred to as an outdoorsman's paradise—a title that was reaffirmed after being voted Outside Magazine's "Best Town in America" in 2014. In addition to a number of  on-campus clubs and activities, CSS helps students take advantage of the Duluth landscape with its "Outdoor Pursuit" program.
This initiative provides students with various outdoor recreation opportunities. With difficulty levels varying from "beginner" to "expert," activities include ice climbing, dog sledding, snowboarding, horseback riding, rock climbing, kayaking, paddle boarding and sailing.
5. Its athletic teams have garnered national attention
CSS takes great pride in all 20 of its varsity athletic teams. The football team in particular has received a host of positive attention since it was established in 2008. The team's seven-season history has garnered four UMAC conference championships and four consecutive invitations to the NCAA playoffs.
Saints football caught some national attention during the 2014 season as the only Division III school featured on Fox Sports North's "Inside the Huddle." The six-episode series brought viewers behind the scenes to learn about coach Kurt Ramler's coaching philosophy; to get to know several of the team's star players; and to witness the school's emphasis on academic success.
But the football team's national attention didn't stop there. The induction of Sister Lisa Maurer to the coaching staff made waves across the country with features in The New York Times and Sports Illustrated.
6. The institution is founded on Benedictine values
Benedictine values of community, hospitality, respect, stewardship and love of learning have been around for 1,500 years. CSS proudly upholds its Catholic Benedictine tradition through a commitment to uphold these values and allow them to permeate the daily lives of students and faculty.
Benedictine values have been infused into the mission of CSS, to provide intellectual and moral preparation for responsible living and meaningful work. Other ways the college works toward upholding these values include fostering an inclusive and diverse community and encouraging discourse among faculty and students that is both intellectual and respectful.
7. Students are offered a blend of traditional & nontraditional degree programs
The population of the "nontraditional" student has risen dramatically in recent years. The norm is no longer a college catering just to "students who work" but also to "employees who study." With this shifting landscape of college students, CSS is committed to adapting to the shifting landscape of higher education.
To address this growing trend, CSS offers undergraduate and graduate programs designed to fit each student's personal and professional situation. Many CSS programs are offered fully online, while others are offered in a hybrid format that combines on-campus and online courses. Several programs are also offered in an accelerated format, offering both night and weekend classes to adapt to the schedules of working adults.
CSS Complete is an initiative designed to help students finish their degrees in a timely manner by offering a liberal transfer credit policy as well as an option to receive college credit for previous work experience.
8. St. Scholastica is nationally-renowned for its academic esteem
The College of St. Scholastica is consistently recognized for its strong academic record. U.S. News & World Report  routinely names CSS among the best colleges and universities in the region, while Money Magazine ranked it in the top third of all 4-year colleges in 2014. The MBA program was also named among the top 20 MBAs in the state in 2014 by Twin Cities Business Magazine.
In addition to holding regular positions in national rankings, a number of CSS faculty members and programs have received notable grants. For example, associate professor of English, Ryan Vine, received a competitive grant from the Minnesota Arts Board to write a manuscript of his poems.
Additionally, computer information systems and education professors Jen Rosato and Chery Takkunen, were recently awarded nearly $1 million to help improve computer science education in high schools. The college also received around $200,000 from the Claire Booth Luce Foundation to encourage female students to pursue careers in the fields of science, technology, engineering and mathematics (STEM).
The numerous awards and grants received by CSS serve as a public testament of its commitment to provide students with the education they need to become true catalysts of change in their chosen career paths.
The College of St. Scholastica is proud of each of the fascinating facets that sets it apart from other institutions. Visit our information page to learn some of the other elements that make CSS a respected higher education provider, discover specific program highlights and fill out our handy form to connect with an admissions counselor and get all of your questions answered.
Receive Program Info and Financial Aid Options
Detailed program overview
Personalized financial aid
Individual admissions support