May 29, 2017
Social workers in sports: Support the well-being of athletes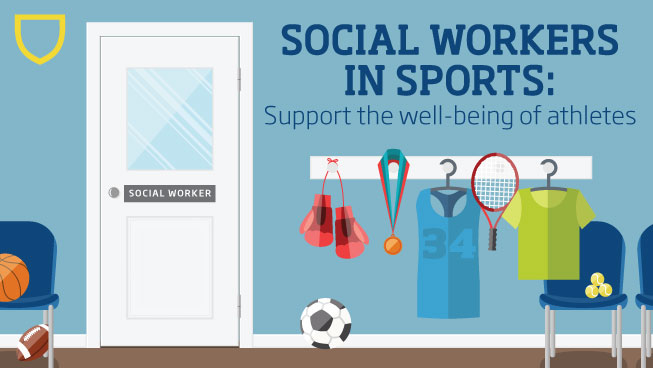 Beyond the shadow of the scoreboard, past the spotlight of the arena lights and outside the bustling locker rooms lies a hidden side of athletics: collegiate and professional athletes lacking the resources they need for a myriad of psychological, physical and emotional conditions stemming from their respective sports.
With the immense pressure placed on athletes to succeed combined with the competitive win-lose mindset and the physical toll of pushing the body to its limits, it's no wonder athletes are in need of a particular kind of one-on-one care. Add in looming scholarships and the strain of juggling academics for college competitors, and there's potential for a perfect storm of troubling issues plaguing athletes throughout their careers, and long into life. Often overlooked, neglected or untreated in the background of athletics, these conditions can have serious repercussions.
In the past few years, the specialty of sports social work has formed to address and meet the needs of athletes and their wellbeing, both on and off the field. Read on to learn more about this new niche of social work catering to athletes of all kinds.
What do social workers do?
At first thought, the idea of social work and sports may seem like a peculiar pairing. You may inherently think of social workers as the professionals placing children in foster care or assisting individuals going through a medical crisis. And you wouldn't be wrong — many social workers do provide service in these sorts of scenarios. Though there are many other types of social workers who perform different functions for other populations as well.
Generally speaking, social workers strive to assist all kinds of people through everyday problems, difficult situations and crises. They help clients by providing guidance and support, connecting them with the resources they need and above all ensuring their general wellbeing.
Why are social workers needed in sports?
Studies tout the long-reaching lifetime benefits of an athletic career. But under the shadow of arena crowds lives another realm of current and former athletes suffering from conditions caused by their experiences on the playing field.
The careers of athletes are too often remembered by statistics — goals, baskets, assists and blocks; speed, strength and agility; wins, losses and nail-biting tie-breakers. These numbers can cause many to overlook the greater experience of the sport. It's also true that athletes, both current and retired, can carry with them a number of mental and physical conditions unique to the experience of athletics.
Between the physical toll of the grueling years of an athletic career and the psychological implications of the stress and pressure that come with it, athletes can be susceptible to a number of conditions, some of which include the following:
Depression
Anxiety
Substance abuse
Eating disorders
Difficulty transitioning to new employment after an athletic career
Cognitive issues
Chronic pain
Sports social work strives to address these challenges of the athletic experience and provide players with the resources and support they need both on and off the field to excel in all areas of life.
What obstacles are athletes facing?
Athletes in the spotlight receive plenty of media coverage throughout their careers, whether it's sports-related or not. The obstacles they face and the pitfalls of professional sports can dominate headlines, revealing a darker side of sports. In recent years, for example, the lifelong effects of chronic traumatic encephalopathy (CTE) have lived at the forefront of the public's attention.
Recent medical research has shed light on the serious condition plaguing several former NFL players. Its numerous symptoms include confusion, paranoia and poor memory. These are often coupled with problematic impulse control, increased aggression, depression and progressive dementia. The disease is alarmingly common.
One study found that 87 out of 91 deceased NFL players tested positive for CTE, with 79 percent of all football players testing positive for the degenerative brain disease. But CTE isn't only found in football players — athletes in soccer, boxing, rugby and baseball can get it too. CTE has horrified and fascinated the public so much that Columbia Pictures produced a 2015 film on the subject — Concussion, starring Will Smith.
Beyond CTE, media coverage on the prevalence of financial mishandling, criminal behavior, mental health struggles and the use of performance-enhancing drugs grows the public awareness of the many difficulties and downfalls athletes face. These are all scenarios in which sports social workers could provide their services to help athletes discover practical ways to heal from, cope with and overcome their respective struggles.
What do sports social workers do?
In light of controversies such as CTE and other realities of the athletic experience, sports social workers can work to alleviate the needs of athletes and provide resources where fit.   This emerging specialty produced the National Alliance of Social Workers in Sports in 2015, in an effort to integrate much-needed social work practice into all aspects of athletics for the wellbeing of both individuals and the sports community. They also outline a number of core elements in their mission:
To bring attention to the needs and challenges of athletes and remove the stigma of mental health problems
To provide insight on how athletic competition influences an athlete throughout a lifetime
To support the strengths of athletes for their safety, wellbeing and success outside of athletics
To provide advocacy, research, case coordination, counseling and policy change for the functioning and wellbeing of athletes
With these goals outlined to combat conditions common among athletes, sports social workers strive to bridge the two very different worlds of athletics and the resources, support and guidance of the social work field.
Support clients, case by case
As you can see, athletics encompasses so much more than what unfolds on the playing field. And for the athletes themselves, who feel the reach of the game in every aspect of their lives, sports social work can combine forces to address and work through the issues that may face them.
If you're curious about this specialty and what a career in this field would look like, you can learn more about the day-to-day lives of social workers in our article, "What does a clinical social worker do? An insider's look at a day in the life."
Receive Program Info and Financial Aid Options
Detailed program overview
Personalized financial aid
Individual admissions support