May 4, 2015
Mental Health Awareness Month: How to help a friend in need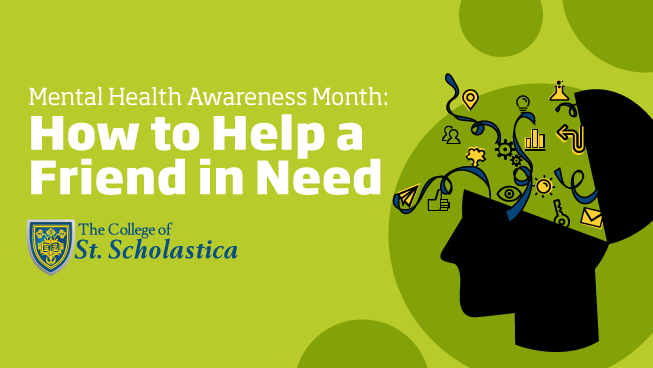 You may notice green ribbons pinned to shirt collars or purse straps as you pass people on sidewalks or in hallways this month. That is because May is National Mental Health Awareness Month. The National Alliance on Mental Illness (NAMI), along with the rest of the country, will spend the month helping to alleviate the stigma of mental illness by educating the public and advocating for proper care.
So what does this national month of awareness mean for college students?
The transition to college, for many, represents a newfound air of freedom—moving out of mom and dad's house, taking on new responsibilities including regular loads of laundry and solo trips to the grocery store, managing weekly budgets and, for some, even balancing a part-time job or two. That's all in addition to the schoolwork that comes with being a full-time student.
Everyone handles stress differently. While you may manage your anxiety with a few laps around the track or a therapeutic session of hot yoga, you might have a friend or classmate who is struggling.
Know that you can do something to help. Here is what you need to know about college students and mental health.
Fast facts about mental health on college campuses
A reported one in four college students lives with diagnosable mental illnesses, according to NAMI. It is also reported that 75 percent of lifetime cases of mental illness begin to surface by age 24.
But only 50 percent of college students who have been diagnosed with a mental health condition disclose that information to a staff or faculty member at their school. One of the main reasons given for withholding this information is fear that the stigma that surrounds their conditions will alter the college's perception of them.
Administrators are working toward alleviating that fear, but they're not the only ones who can help struggling students.
That's where you come in. Friends and loved ones have an opportunity to make an impact in the lives of those struggling with mental health conditions in a way that college administrations aren't always able—you're on the front-lines!
Here are some expert tips on how you can lend a hand to a friend in need.
4 ways to help a struggling friend
1. Educate yourself
"For those who have friends and family who are dealing with mental illness, it is helpful to get some accurate information," says Dr. Anita McLean, licensed clinical psychologist. You may not be able to relate directly to what your loved one is going through, but there is a wealth of resources you can access online or at your local library to help you learn as much as you can.
Familiarize yourself with early warning signs of mental health conditions and read up on healthcare professionals' advice on how to initiate a conversation. It can be just as helpful to acquaint yourself with what not to say when speaking with a friend or family member who is struggling.
But when all else fails, reach out to the counseling center on your campus. "Most counseling centers see a lot of students who are trying to help family and friends with mental illness and can help educate the helper," McLean explains.
2.  Be a consistent listener
Discussing something as private and sensitive as mental health requires a great deal of trust. "If someone opens up for the first time, express gratitude," says AJ French, executive director of Sacred Creations, an Illinois-based housing and recovery services provider for individuals who have been diagnosed with mental illness.
"Reassure them that a lot of people live with mental health conditions. It's okay to say, 'I don't know exactly what you're going through, but I want you to know that I care about you.'"
Your willingness to listen without judgment can make a profound difference, but it's not always an easy task. "People withdraw because they feel overwhelmed or not sure how to help. This is understandable," McLean adds. "Staying connected and offering support counteracts the isolating impact of mental illness, which can be devastating."
3. Know your boundaries
"It is important to remember that while support from friends and family is critical for those dealing with mental illness, it is also important [they] don't become their therapists or treatment providers," urges McLean.
It can be tempting to use the insight you gleaned from your introductory psychology course to diagnose or prescribe help, but there are several levels to the treatment of mental health conditions that only healthcare professionals should address.
What you can do is offer to assist them in seeking professional help. "Offer to help your friend connect with a therapist and incorporate healthy lifestyle choices," says Dr. Traci Lowenthal, clinical psychologist and owner of Creative Insights Counseling.
4. Be an advocate
"A major reason people don't seek support and mental health care is because our society openly ridicules people with mental health conditions," French explains, citing the customary Halloween "scary insane asylum" and flippant jokes often witnessed in popular culture.
"Don't tolerate this kind of behavior," French urges. "Have the courage to point out that a health condition should never be used as a pejorative adjective." Anything you can do to chip away at the stigma that surrounds mental health conditions will aid in alleviating the fear that halts people from seeking the professional care they need.
In honor of National Mental Health Awareness Month, take what you learn and pass it onto others so that you can help educate and spread awareness. Through advocating, you can indirectly help your loved ones who are suffering, as well as anyone else afflicted with mental health conditions.      
Do you have other tips for helping those who struggle with mental health conditions? Comment with your suggestions and pass this article along to those you think could benefit from the advice of our healthcare professionals. To learn more about the resources that The College of St. Scholastica offers, visit the counseling information page.  
If you or someone you know is experiencing thoughts of suicide, reach out to the Suicide Prevention Lifeline (800-273-8255).
Receive Program Info and Financial Aid Options
Detailed program overview
Personalized financial aid
Individual admissions support