October 23, 2017
Level up your career: How to break into primary care nursing as an AGNP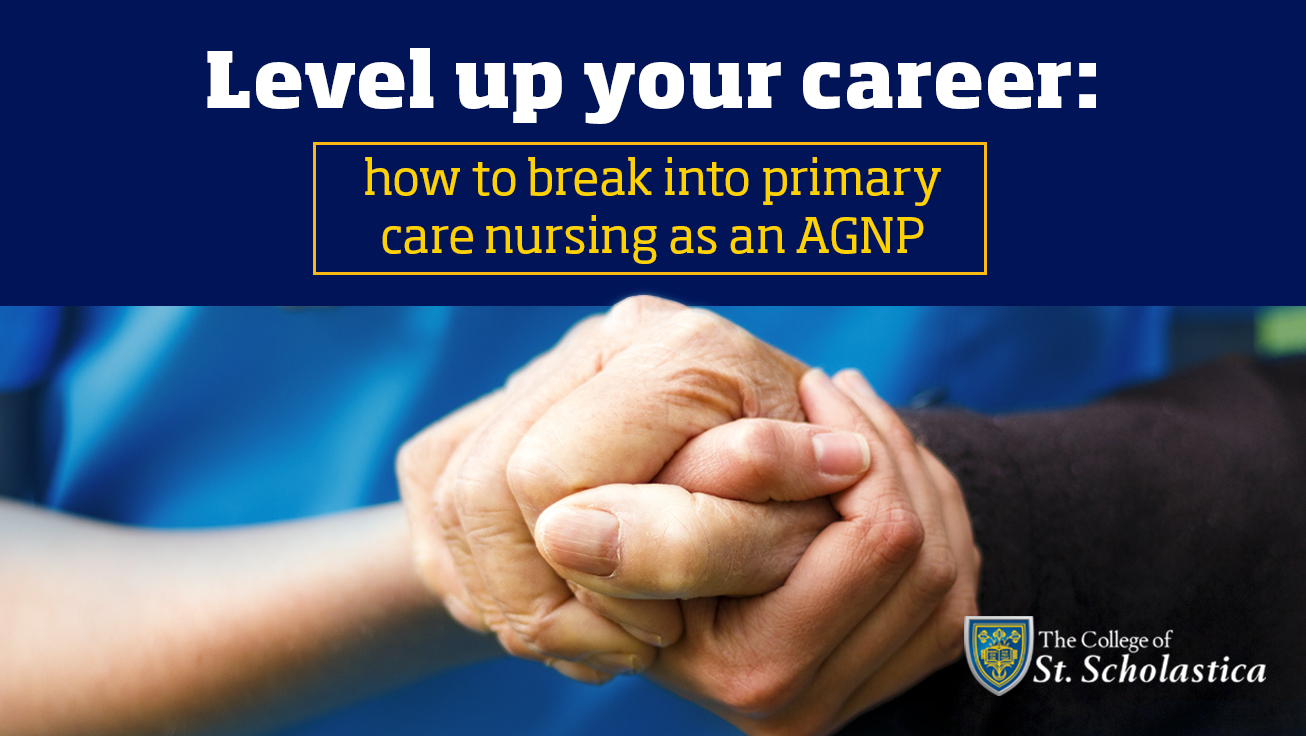 For many, working as a registered nurse (RN) becomes a fulfilling, life-long career. Other nurses, however, may view all the lessons learned, skills gained and relationships formed as an opportunity to advance further in the field, adding to their healthcare repertoire while improving the lives of numerous patients along the way.
One thing is true no matter what level of nursing you pursue: It is an important profession that makes a daily impact. In fact, 2016 marked the 15th consecutive year in which the American public ranked nurses as the professionals who possess the highest levels of honesty and ethical standards, making nursing the most trusted profession in the country.
If you thrive on playing a trusted role in the critical healthcare of our nation's population, it's no wonder you're eager to take your nursing career to the next level by setting your sights on primary care nursing. The long-term relationships primary care nurses forge with their patients can make even the hardest aspects of the job more than worth it.
One fantastic way to break into the professional sphere of primary care nursing is to become an adult-gerontology nurse practitioner (AGNP). Within this specialty, you'll have the opportunity to provide long-term care for a wide range of patients, from early adulthood into their most vulnerable stages of old age. These are patients who aren't just looking for quality healthcare, but also for loving, holistic interactions with their providers.
Read on to learn more about primary care nursing and how becoming an AGNP can not only enhance your career, but also greatly impact your life.
Why pursue primary care nursing?
Primary care nurses are nurse practitioners who work with patients over extended periods of time. Many nursing professionals are drawn to primary care because of the prolonged patient relationships. Others appreciate the added intellectual challenge presented by advancing their education and honing a new specialty. But in addition to those elements, there are more practical benefits to becoming a nurse practitioner both in terms of employment opportunities and financial compensation.
While nurses of all kinds are in high demand, the job outlook for nurse practitioners is projected to grow 31 percent by 2024, according to the Bureau of Labor Statistics. That rate is astounding when compared to the 7 percent growth projected for all occupations nationwide. RNs, on the other hand, are expected to see a healthy jump of 17 percent within that same time frame — still quite a bit higher than the national average, but not nearly as promising as that of nurse practitioners.
While the advanced education required to become a nurse practitioner is definitely an investment, it's one that pays off greatly in the end. Most RN jobs require at least an associate degree in nursing, while many RNs opt to pursue a bachelor's degree. Conversely, nurse practitioner positions require a post-baccalaureate degree from an accredited program.
In addition to building upon your nursing skill set and qualifying you for more jobs, the advanced education required of nurse practitioner positions can result in increased salary potential. While the median annual salary for RN positions is $68,450, nurse practitioners earn a median annual wage of $77,980.
Once you've taken in all the research and have officially set your sights on advancing from working as an RN to becoming a nurse practitioner, one of the most pivotal aspects of your decision-making process can be narrowing down which specialty you'd like to pursue. The program you select can greatly impact your career, so it's important to do your research and really dig into your personal goals and interests before making your decision.
Common nurse practitioner specialties include pediatrics, neonatal and geriatrics. Join us as we delve into the details surrounding one of the more flexible and encompassing specialties: adult-gerontology nursing. This is a specialty that allows nurses to work with patients long-term, as they progress from early adulthood into old age.
What is an adult-gerontology nurse practitioner?
On the surface, one may hear the term adult-gerontology nursing and inherently assume this refers to nurses who work with elderly patients, but that is only part of the equation. The beauty of working as an AGNP is that these nursing professionals have the opportunity to place their clinical focus on patients in adolescence, through adulthood and into advanced age. Many view this specialty as one of the most versatile for that very reason — AGNPs work across a very broad patient population, demonstrating their wide range of knowledge and skills.
AGNPs often operate within an admirable level of independence, with many working in private practices outside of direct physician supervision. It's also true that the opportunities don't halt upon becoming an AGNP. There are many additional specialty opportunities, including minor emphases like diabetes, HIV/AIDS and palliative care.
As with all other nursing titles, the best AGNPs are extremely compassionate, working closely with patients to both determine the most suitable long-term care plan while also educating along the way. This compassion coupled with a healthy dose of patience and emotional stability on a personal level can help prevent AGNPs from encountering nurse burnout — something common to nurses who work so closely with patients throughout their lifespan.
The clinical skills gained upon completing the advanced nurse practitioner education, of course, play a critical role in an AGNP's success. Attention to detail, organization and effective communication skills are also key, as the current nurse shortage in the U.S. will likely ensure that nurse practitioners of all kind will be called upon to balance a very full caseload. The most effective practitioners — AGNPs included — view this not as a burden, but as an immense opportunity to make a lasting impact in the lives of more patients.
The basic day-to-day responsibilities of AGNPs include diagnosing illnesses and diseases, prescribing medication and therapy, conducting routine check-ups and screenings, ordering patient lab tests and focusing on preventative care.
Are you ready to take your nursing career to the next level?
If you feel you've accomplished great things as an RN and you're now eager to move forward in your healthcare career, it's no wonder you've considered becoming a primary care nurse. As we've discussed, pursuing a career as an adult-gerontology nurse practitioner can be a fulfilling and versatile way to add to your nursing repertoire and gain valuable experience across a broad range of patient demographics.
The most important factor as you venture toward this next step in your nursing education is selecting a high-quality program that possesses all the necessary accreditation, boasts exceedingly experienced faculty who can mentor you along your journey and offers ample opportunities to gain highly coveted clinical experience.
You'll receive all of that and more at The College of St. Scholastica (CSS). Learn more about the well-regarded School of Health Professions at CSS by visiting our article, "7 reasons to choose St. Scholastica's nursing program."
Receive Program Info and Financial Aid Options
Detailed program overview
Personalized financial aid
Individual admissions support