Home » About Us » Sentinel Blog »

Considering becoming a nurse? Here are 7 reasons to choose St. Scholastica's nursing program
August 8, 2016
Considering becoming a nurse? Here are 7 reasons to choose St. Scholastica's nursing program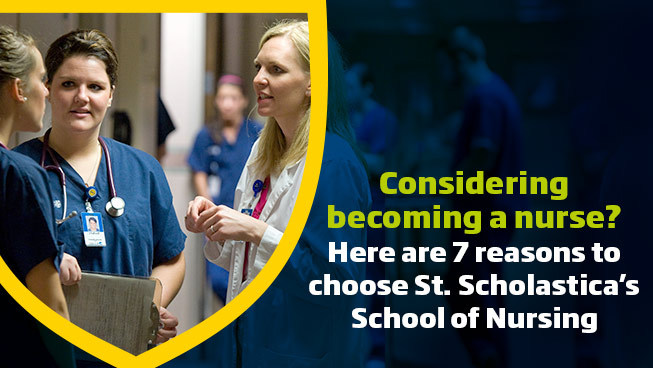 Nursing is a wonderful career that is personally, professionally and financially rewarding. If you've considered pursuing a career in nursing, you're probably well aware that our nation's nursing shortage is far from being resolved. There are several factors contributing to the prolonged shortage, including the combination of a vast increase in the number of people over age 65, decreases in infant mortality rates, and many more Americans with access to health insurance as a result of the Affordable Care Act. Not only that, but many experienced nurses are nearing retirement and will also need to be replaced.
These factors have paved the way for a rapidly growing need for quality healthcare and the qualified nurses to work the frontlines in providing it. Registered nurses, in particular, are at the top of the list when it comes to employment opportunities. In fact, the number of registered nursing (RN) jobs alone is projected to grow 16 percent through 2024, which is much faster than the national average for all jobs, according to the Bureau of Labor Statistics. There are a number of in-demand nursing jobs employers are actively looking to fill, but the first step to securing your quality healthcare career is narrowing down the right nursing program for you. Check out seven distinct ways the College's highly respected nursing program stands out from the rest.
7 things you should know about the nursing programs at CSS
1. CSS has been educating successful nurses for more than 100 years
CSS has been preparing qualified nurses for successful careers in healthcare for more than a century. The nursing program is one of the largest and most well-respected in Minnesota – so much so that it has recently expanded to meet the growing demand for advanced practice registered nurses (APRNs) in Arizona by offering a Doctor of Nursing Practice (DNP) program at its new Phoenix location.
Through adapting and responding to the evolving healthcare needs of both rural and urban communities, the nursing program at CSS continues to pave the way for new nurse graduates with traditional nursing programs in tandem with innovative initiatives like the new Veteran to BS in Nursing program.
2. The CSS nursing program has educational offerings ideal for Undergraduate, Graduate & Post-Graduate students
The nursing program at CSS offers several distinct programs, tracks and certificate opportunities for healthcare hopefuls. The variety of offerings exist to ensure that students of all kinds can find their match in a nursing program at CSS. Take a look at the following offerings:
Traditional Undergraduate Nursing Track: This undergraduate program focuses on preparing students for entry-level professional nursing practice. Completion of this track leads to a baccalaureate degree with a major in nursing, and graduates are qualified to take the National Council Licensing Examination for Registered Nurses (NCLEX-RN®).
Post-Baccalaureate Nursing Track: This accelerated path is designed specifically for nursing hopefuls who already possess degrees in non-nursing fields, allowing students to build upon the education they've already earned to become registered nurses. This nursing track is offered in Duluth and St. Cloud, MN.
RN to BS Nursing Track (fully online): RNs who enter into the field after earning an associate degree realize the distinct benefits of pursuing a baccalaureate-level education in nursing. This nursing track offers a streamlined path to a baccalaureate degree in nursing with individualized programs designed to build on a student's experience as an RN.
Doctor of Nursing Practice: The DNP degree at CSS prepares RNs and APRN professionals to develop more complex leadership skills at the organizational and systems levels of practice. Nurses prepared at the DNP level are increasingly recognized as vital to the nation's healthcare system. CSS offers a Bachelor's to DNP which includes online courses, occasional time on campus, and clinical placement as close to the student's home as possible. The post-graduate DNP option is available for those who already have a graduate degree in nursing and seek to add to their credentials. The DNP is offered in the areas of Adult – Gerontology Primary Care Nurse Practitioner, Family Nurse Practitioner and Psychiatric Mental Health Nurse Practitioner.
Post-Graduate Certificates: CSS offers 4 distinct post-graduate certificate options for nursing students looking to further specialize in their nursing careers. Certificate options include Adult – Gerontology Primary Care Nurse Practitioner, Family Nurse Practitioner, Psychiatric Mental Health Nurse Practitioner, Family, and Nursing Informatics certificates.
3. The Benedictine values allow for a holistic approach to nursing
The educational foundation of CSS' nursing program is grounded in the College's Benedictine values – community, hospitality, respect, stewardship and love of learning. This one-of-a-kind approach prepares nursing students to practice holistically as leaders in healthcare delivery who are healers of the mind, body and spirit. CSS empowers its nursing students with the skills and knowledge needed for responsible living and meaningful work.
4. Students can participate in once-in-a-lifetime international study opportunities
The nursing program at CSS believes that through global and regional experience in applying principles of civic engagement and nursing knowledge, students will gain a deep understanding of cultural differences and similarities between people from various parts of the world. This is why undergraduate and graduate nursing students are encouraged to participate in international study opportunities, through the nursing program's faculty-lead study away experiences in Tanzania, Belize, London, Phillipines, Germany  or Alaska.
5. The nursing program prepares students with high-quality clinical experience
The nursing education experience at CSS includes a variety of clinical experiences. Such experiences require that students care for a variety of individuals in diverse settings so that CSS nursing graduates will be as prepared as possible for successful careers upon graduation. Clinical experiences occur in the nursing simulation laboratory, acute care, extended care and in community health settings.
6. CSS nursing graduates are among Minnesota's top performers in the NCLEX-RN® exam
Nursing students pursuing bachelor's degrees in the field will, upon graduation, be qualified to sit for the NCLEX® exam. This is the final step before becoming a licensed nurse. The national pass rate for all RN candidates in 2015 was 69.87 percent. In the second quarter of 2015, CSS' baccalaureate nursing tracks boasted an impressive 96.88 percent NCLEX® pass rate, securing its place as one of the top performers among Minnesota's baccalaureate nursing programs!
7. The nursing faculty and staff have accrued a number of accolades & accomplishments
The students in CSS' nursing programs aren't the only ones actively participating in the nursing community and furthering their expertise within the field. From publishing acclaimed articles to earning advanced credentials and even making huge community contributions to public health, the faculty within the nursing program at CSS continually makes waves in the healthcare industry.
You can read more about their accomplishments and recent accolades on the nursing program's Faculty and Staff information page.
Take the next step in your journey toward a fulfilling nursing career
Now that you've read why the CSS' nursing program is the right choice for you, we want to make it as easy as possible to decide on the program that can best prepare you for a successful future in healthcare.
From an array of flexible nursing programs and esteemed faculty to enlightening international study opportunities and outstanding academic outcomes, it's clear that the nursing program at CSS continues to build off of its decades of experience as a leader in healthcare education. Visit the nursing program's information page to learn more about how the nursing programs at CSS can help you achieve your career dreams.
Receive Program Info and Financial Aid Options
Detailed program overview
Personalized financial aid
Individual admissions support