March 7, 2016
Is an MBA worth it? How to navigate the changing landscape of business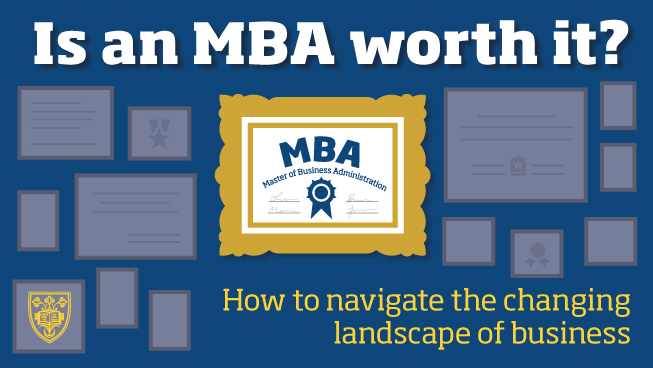 The total number of MBAs awarded each year by U.S. schools saw rapid growth between 1970 and 2009, jumping from just 26,000 to approximately 168,000. The rate of growth in such programs, however, has begun to decline in recent years.
Recent information shows that participation in two-year MBA programs in the U.S. dropped five percentage points from 2009-11, and one-year programs saw a decrease of four percentage points over the same time period. But business professionals remain steadfast in reporting that lessons learned in MBA programs have helped them advance their careers.
These recent trends have caused many to wonder if an MBA is still worth the time and money. Some argue that it isn't worth the investment, and others maintain that as MBA graduates have become more plentiful, the value of the degree has become diluted unless one attends a so-called "top tier" business school.
We dug into the numbers and spoke with professionals in the field of business management to get to the bottom of this question. Here is what we found.
Will an MBA give you a leg up on the competition for meaningful leadership positions?
What you can expect from an MBA program
The true value of an MBA comes down to two distinct factors:  the quality of the program and the contents of its curriculum. That is to say, not all MBA programs are alike.
Traditional MBA programs — those that produce business analysts — are the ones that seem to be struggling the most. Alternately, programs that focus on the primary needs of organizations are doing well, according to Bob Hartl, associate professor of management at The College of St. Scholastica (CSS). Those primary needs include refined leadership knowledge, skills and abilities that consist of the following:
Strong communication skills

An understanding of the basic tenets of leadership

The capacity to manage rapid change

The ability to think at a high strategic level    
Accruing the MBA credential won't necessarily open the door to morejob opportunities, but the success of graduates from specific programs is a good predictor of what future graduates of those programs can expect.
When surveying a potential MBA program, ask yourself, "Where have the graduates gone and what have they accomplished?"
What the job market needs
The demand for leaders who can think and function at a high strategic level is even higher in healthcare sectors. An understanding of leadership and how to manage change is becoming a sought-after characteristic in most top healthcare candidates, often being valued over direct clinical experience.
Pursuing the MBA path in a program that focuses on leadership development can propel you to work as a hospital administrator, a healthcare consultant or perhaps a director of healthcare program management.
But the job prospects aren't the only encouraging statistic.According to "Forbes" magazine, financial rewards for MBA graduates are at an all-time high. In some cases, starting salaries were as much as 50 percent higher than what MBA holders earned the year before graduating from business school. Moreover, statistics show that the annual salary for MBA holders can almost double within five years of graduation.
These numbers indicate that the investment in an MBA — including both tuition costs and foregone salary — is typically recovered within three and a half years.
The proven success of an MBA
These numbers are supported by the true-to-life stories of professionals who saw their job prospects skyrocket after earning an MBA. For example, Jeremy Schifeling, CEO at Break into Tech, began his career as a kindergarten teacher who desperately wanted to enter the technology field.
"No amount of applications or networking could get me anywhere close to that goal since recruiters just wrote me off as unqualified," Schifeling explains. "And yet a few weeks into my MBA program, those same recruiters were now asking me to apply …. Sure enough, I ended up getting offers from all the same companies that had once rejected me."
His MBA opened the door to offers from high-power companies like Amazon, Microsoft, Apple and LinkedIn.
The benefits of professional development
Career advancement aside, it is also important to consider the impact an MBA can have on your own professional development. "Not only does it open new doors, but it provides personal and professional enhancement while connecting you with a consultative peer network that can support you through the remainder of your career," says Melissa LaHann, founder of LatchPal by Happy Fig.
Many employers view the letters "MBA" as evidence that you are equipped to handle the pressures of rapid change with well-refined leadership skills, especially if you obtained your degree from a reputable, long-standing academic institution. "With the degree mills the internet has spawned, an advanced degree can set employees apart," says Roy Barker, director of special projects at Moore Diversified Services.
Barker also asserts that an MBA is a great option for those who didn't study business leadership during their undergraduate education but are now hoping to break into that professional sphere. "What we think we will love at age 18 or 20 sometimes doesn't turn out to be what we love at 30, 35 or 40," he explains.
Now is the time to evaluate what your career goals entail and which graduate program would be most effective in getting you there. It can be helpful to focus on programs that offer the flexibility you need to continue working and maintaining familial commitments while pursuing your graduate degree. Don't hesitate to reach out to program representatives or admissions counselors to get the answers to all your pressing questions!
Amplify your business career
The benefits of pursuing the right MBA are hard to ignore. From the increased potential of securing an executive position, to the opportunity to add to your leadership repertoire, the decision really comes down to which program is right for you.
Are you looking to change your career path completely by earning an MBA? Or are you hoping to climb the ladder in the professional field in which you're already working? Either way, an MBA could be the ticket you've been searching for to elevate your career.
We've all been told that knowledge is power. So before you make any decisions, read up on the different programs that are available to you. From a blended online and evening option to a more specialized approach in change leadership or healthcare, learn more about your MBA opportunities at The College of St. Scholastica.  
Receive Program Info and Financial Aid Options
Detailed program overview
Personalized financial aid
Individual admissions support