July 31, 2017
I want to work in HIM but I don't have the RHIA credential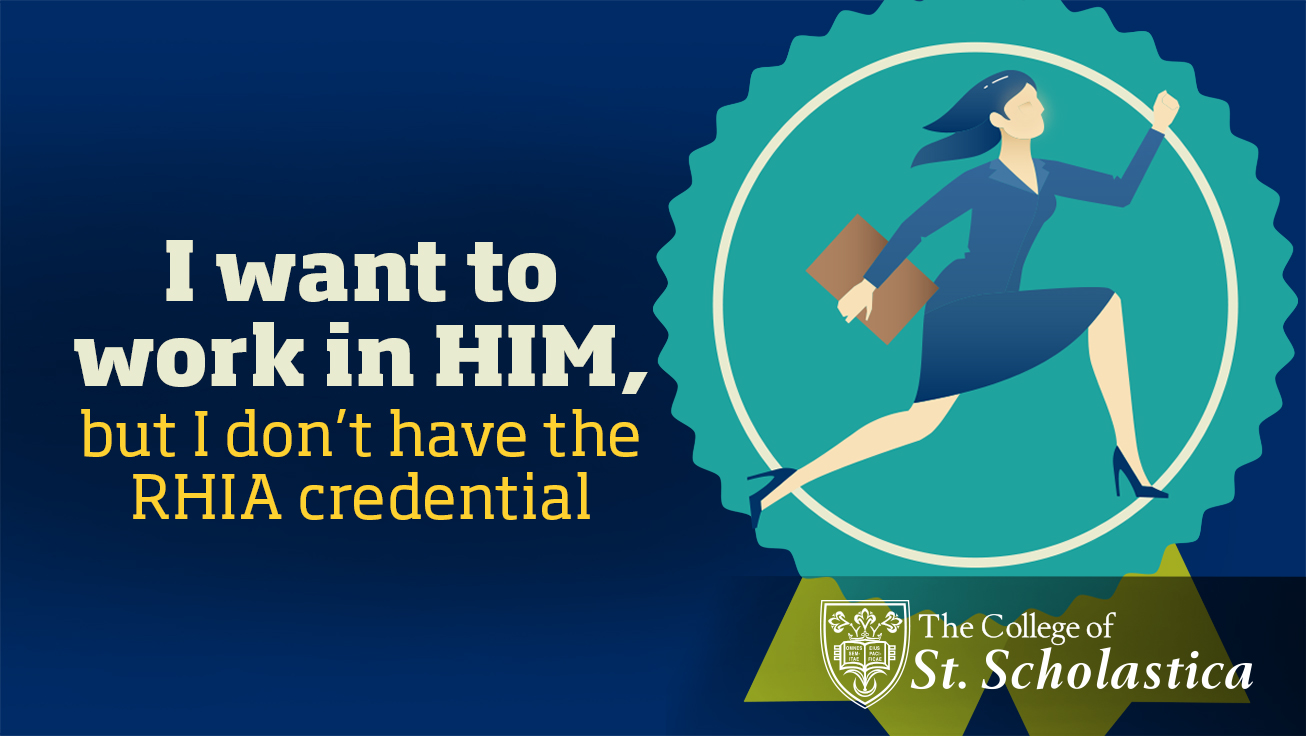 Healthcare jobs are booming. In fact, the healthcare industry is expected to grow faster than any other industry between 2014 and 2024, according to the Bureau of Labor Statistics. Of the many healthcare job sectors, health information management (HIM) is among the fastest growing, at an astounding 17 percent. That's a full 10 percent higher than the national average for all occupations nationwide!
With excellent job security, stability and flexibility, HIM is a great career choice for anyone with interests in business and healthcare.
However, if you've done some research on the field, you may have noticed a prominent roadblock. If you've already earned a bachelor's degree in a different field, many may think your only options to advance within HIM are to earn an additional bachelor's degree or to pursue master's. It's understandable if you're not keen on the idea of going back to school for four more years. With that in mind, you're likely looking for alternative opportunities to break into HIM.
Well, you're in luck! The College of St. Scholastica's (CSS) new post-baccalaureate HIM certificate will compliment your bachelor's degree and allow you to work in the field of HIM in as little as two years.
Decisions like this one are often paired with a litany of questions: With a certificate in health information management (rather than a traditional bachelor's), can you still sit for the Registered Health Information Administrator (RHIA) exam? How does the post-baccalaureate certificate work with your current bachelor's degree to prepare you for a career in HIM? Do you have to obtain your Registered Health Information Technician (RHIT) certification before qualifying for the RHIA? Read on for the answers to your questions.
Why work in HIM?
Before committing more time and effort to going back to school, you should be sure that a career in HIM aligns with your professional passions and goals. Let's begin by breaking down what health information management is and what you can do with a degree or certificate in HIM.
Health information management is the profession that works with health data and records. HIM professionals analyze and secure patient data and other medical information, such as medical histories, test results and clinical information. They utilize skills in business, technology and science to maintain these records and assist other healthcare professionals in providing the highest quality of care to patients.
With a degree or post-baccalaureate certificate in HIM, you can work in a variety of settings such as hospitals, nursing homes, doctor's offices and public health agencies, among others. On top of this flexibility is also the excellent earning potential. In 2016, health information managers made an average of $96,540. All these factors make health information management a stand-out career for anyone whose interests lie in healthcare, technology and business.
Post-baccalaureate health information management certificate
Once you've solidified your decision to pursue a career in HIM, you will need an understanding of one of your best options: a post-baccalaureate certificate. If you've gotten this far, you have probably done some research and know it's possible to add a certificate on top of your pre-existing bachelor's degree.
What you may not know is that your bachelor's degree can be in anything — whether you have a BA with blooming healthcare interests or a BS and want to pursue more of the business side of healthcare. Certificate programs like the one at CSS will teach you everything you need to know to thrive in an HIM career.
The College of St. Scholastica's program is certified by the Commission on Accreditation for Health Informatics and Information Management Education (CAHIIM). This important accreditation qualifies program graduates as eligible candidates for certification through The American Health Information Management Association (AHIMA), which is the premier association of HIM professionals worldwide.
With coursework in subjects such as biology, computer information systems and general HIM, you will learn everything you need to know to enter the field of health information management.
If the thought of going back to school for countless years has been holding you back, put your worries aside. Because this is a certificate program and is meant to compliment — not replace — your existing bachelor's degree, you can expect to be on your way to a rewarding career in as little as two years. The post-baccalaureate program at CSS is also offered fully online, which makes it easy to accommodate work and family, while also advancing your career and professional potential.
Pathway to RHIA
While earning a certificate in HIM is a momentous step, simply having a certificate or degree in the field won't necessarily earn you the job you're seeking. To be eligible for many HIM jobs, you will need the proper certification. There are two certification options through AHIMA: RHIT and RHIA. The acronyms may seem confusing on the surface, but the differences are quite simple: An RHIT credential is for those who have completed associate-level coursework in HIM, while the RHIA credential is for those who have either completed bachelor's or master's-level work in HIM.
So, if you don't have a bachelor's degree in HIM, do you have to work toward obtaining your RHIT before you can pursue your RHIA?
To put it simply, no. All you need to be eligible for the RHIA exam is a minimum of a bachelor's-level education with CAHIIM-accredited coursework in HIM. Because St. Scholastica's HIM certificate program fulfills these requirements, you will be qualified to sit for the RHIA exam.
Once you pass your RHIA exam, you will possess a demonstrated competency of skills to manage health records and information, analyze data, consult on issues of patient privacy and ethical and legal requirements, organize budgets and work with computer information systems in a medical setting. The RHIA credential will demonstrate your expertise in the field of HIM and will make you eligible for an array of positions throughout the healthcare industry.
Begin your journey toward your HIM career
A career change is often wrought with uncertainty and doubt, but your choice to enter the field of HIM doesn't have to be. You know now that your bachelor's degree wasn't a waste of time and that you can earn a certificate in HIM in as little as two years while still qualifying to take the RHIA exam.
With all of that in mind, there's nothing stopping you from fulfilling your dream. Find out more about how The College of St. Scholastica can help you reach your HIM goals by visiting our article, "4 things you should know about St. Scholastica's new post-baccalaureate certificate in HIM."
Receive Program Info and Financial Aid Options
Detailed program overview
Personalized financial aid
Individual admissions support