July 17, 2017
4 things you should know about St. Scholastica's new post-baccalaureate certificate in HIM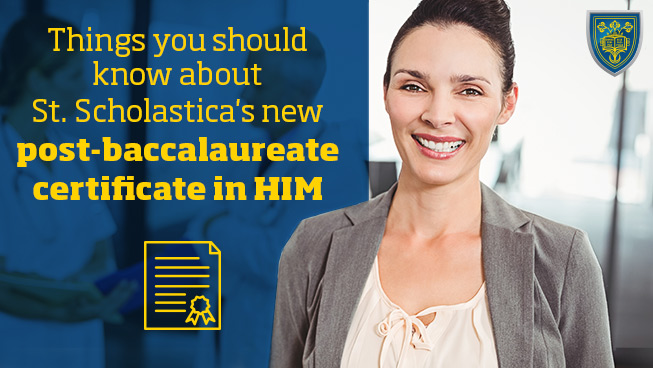 With the increase in healthcare technology and electronic health records becoming the new norm, careers in health information management (HIM) are on the rise. In fact, the Bureau of Labor Statistics (BLS) projects job openings for health services managers — which includes health information managers — to grow 17 percent by 2024. That's significantly higher than the national average of seven percent for all jobs.
It's worth noting, however, that approximately 66 percent of the nearly 80,000 job postings for this title in the last year called for candidates with a post-secondary degree in the field, according to real-time job analysis software.* A successful career in HIM also necessitates candidates to earn their Registered Health Information Administrator (RHIA) certification through the American Health Information Management Association (AHIMA).
What if you're interested in working as a critical link between care providers and patients by shifting your sights toward an HIM career, but you've already earned a bachelor's degree in a different field? Do you have to go back to school for an additional four years of undergraduate education so you can earn another bachelor's degree? Or is your only other option to pursue a master's degree in the field?
There was a time when the answers to those questions were far less clear than they are today. With those concerns in mind, post-baccalaureate certificate programs in HIM were designed for students just like you. That is why The College of St. Scholastica (CSS) is proud to offer this newly revised program amidst its already robust HIM program offerings.
Read on to learn all of the unique aspects of this program — you may just find your pathway to that HIM career you've been dreaming of.
4 stand-out features of the post-baccalaureate certificate in HIM
1. It allows a pathway into HIM for students without a bachelor's degree in the field
As referenced above, the post-baccalaureate certificate in HIM carries a primary purpose of paving a path for students with a bachelor's degree in another field to become RHIA-eligible HIM professionals.   The national RHIA credentialing examination acts as a gateway into an array of HIM careers. According to AHIMA, professionals who have earned this credential are qualified in the following ways:
• They possess an expertise in managing patient health information and medical records; the administration of computer information systems; the collection and analysis of patient data; and the use of necessary classification systems and medical terminology.
• They operate with a comprehensive knowledge of medical, administrative, legal and ethical requirements related to patient care and privacy.
• They are able to manage people and operational units, participate in administrative committees and oversee budgets.
• They interact with all levels within a healthcare organization, including clinical, financial, administrative and information systems.
To be eligible to sit for the RHIA exam, candidates must have successfully completed the baccalaureate academic requirements of an accredited HIM program.
2. It is CAHIIM-accredited
CAHIIM — the Commission on Accreditation for Health Informatics and Information Management Education — is a globally recognized and trusted accreditation organization for health informatics and HIM programs. The organization strives to provide the public with consistently effective education programs in the field. CAHIIM's goal is to ensure the development of a workforce that will meet the challenge of a constantly evolving, information-intensive environment and its impact on global health services.
When students receive their education from a CAHIIM-accredited program, not only are they eligible to sit for the RHIA examination, but this also sends a message to prospective employers that they have achieved an acceptable level of quality in health information education.
The programs at CSS proudly tout this CAHIIM accreditation.
3. It's affordable & flexible
Not only does the post-baccalaureate certificate in HIM at CSS present you with an alternate pathway toward RHIA eligibility, but it's also offered in a 100 percent online format. In an effort to remain inclusive to students from a variety of educational and professional backgrounds, this flexibility is key, with the added benefit of the allowance of up to 20 transfer credits.
With no pre-requisite courses, the certificate program will last approximately two years, qualifying you with 52 undergraduate credits at $415 per credit.** Students also have the benefit of earning coveted hands-on experience with the completion of 80 hours of onsite professional practice.
What's more? This certificate program offers five distinct start dates — fall, fall mid-term, spring, spring mid-term and summer. This means you can transition back toward student status whenever it is most convenient for your busy schedule.
4. Its HIM expertise is unrivaled by other programs
When you enroll in the post-baccalaureate certificate in HIM at St. Scholastica — or in any of the HIM programs at CSS — you aren't just signing up for any run-of-the-mill HIM education. CSS has a long, impressive track record in the field. Consider the following facts:
CSS faculty literally wrote the book on HIM. No, really! CSS faculty members Pam Oachs and Amy Watters co-authored and edited Health Information Management: Concepts, Principles and Practice, one of the most widely used textbooks in HIM programs across the country. AHIMA even refers to it as the foundational text for RHIA certification study.
The CSS bachelor's degree program in HIM was the first in the country. Sister M. Patricia Thibadeau created the nation's first HIM bachelor's degree program in 1935 to meet the growing emphasis on clinical documentation in area hospitals. The program has remained at the forefront of the field ever since, adapting to new technological advances as they evolve.
The MS in Health Information Management program at CSS was the first to become CAHIIM-accredited. Upon the program's creation in 1997, it became nationally recognized. Not only was it the first to become CAHIIM-accredited, but it was also the first of its kind to be approved by AHIMA for successfully meeting its rigorous curriculum standards.
Ready to shift your sights toward a career in HIM?
If you're looking for a way to seamlessly shift your career aspirations toward a successful tenure in HIM, look no further. The post-baccalaureate certificate in HIM from The College of St. Scholastica was designed with affordability, flexibility and rigorous academic standards in mind.
To learn more about the details of this program, the application process and more, visit the program page.
*Source: Burning-Glass.com (analysis of 79,626 health services manager job openings from Jun. 01, 2016 – May 31, 2017)
**This price reflects the cost as reported in 2017
Receive Program Info and Financial Aid Options
Detailed program overview
Personalized financial aid
Individual admissions support