November 9, 2015
How to choose the best pre-med program for your healthcare career goals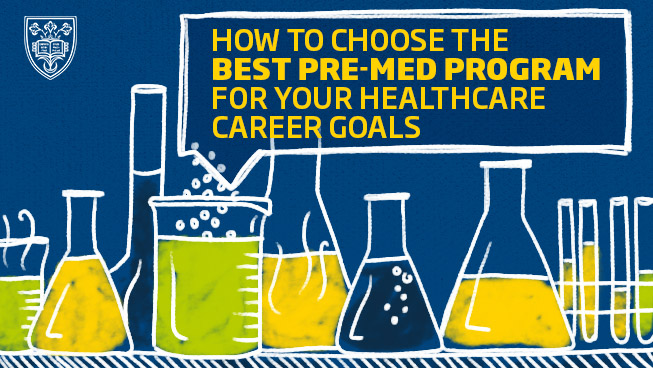 The road to medical school can be intimidating. While choosing an undergraduate institution may be a difficult decision for all students, pre-med hopefuls must ask themselves, "What kind of college can best prepare me for acceptance to medical school after graduation?"
It is important to choose an undergrad institution that understands the medical school application process and is equipped to help pre-med students navigate it. For that reason, applicants need to do their research about the institutions they are applying to, urges Andria L. Williams, director for admissions and recruitment at Florida International University's Herbert Wertheim College of Medicine.
But it can be tough to know what factors to consider and what questions to ask of your potential institutions. Take a look at four things pre-med hopefuls should take into account before submitting applications for their undergraduate studies.
4 things to consider when choosing a pre-med program
1. You don't have to go Ivy League to get into medical school
Many students believe acceptance into medical school is based heavily on the popularity or academic acclaim of their undergraduate institution. The truth is, admissions committees don't regularly assess candidates based on undergraduate institutions, but rather on GPA and strong scores on the Medical College Admission Test (MCAT). They also look for candidates who demonstrate an early commitment to a medical career through participation in extracurricular activities and volunteer work.
But academic excellence and extracurricular participation aside, you do want to be sure your chosen college offers the necessary pre-med science courses required of medical school candidates. You can review the specific requirements of medical schools in the United States and Canada through resources provided online by the Association of American Medical Colleges.
But remember, you're looking to find a college that best matches your career goals. "Students need to strive to find the right fit," Williams explains. "This does not always come from a school's reputation, national rankings or other measures of success, but rather a match of educational and career goals."
2. You likely won't major in pre-med
Did you know you can major in Chinese or art history and still get into medical school? Many colleges offer pre-med tracks, but very few institutions offer pre-med as its own major. The most important thing you can do — regardless of your major — is build a strong foundation in the necessary science courses.
Remember, medical professionals have face-to-face conversations with patients, write reports on diagnoses and publish medical research in professional journals and on authoritative websites. For that reason, great pre-med candidates are not only proficient in the sciences, but are also articulate, both verbally and in writing. Medical schools often require proficiency in mathematics, composition and English, so it is important to evaluate the strength of those programs in your undergraduate institution as well.
The pre-med premium track at The College of St. Scholastica, for example, offers expert guidance to students who intend to apply to medical school after graduating. This helps ensure students complete any necessary prerequisites and are offered plenty of opportunities for clinical and research experience.
3. Examine the school's on-campus pre-med community
The amount of medical experience you have will undoubtedly be a factor medical schools will consider when reviewing your application. The pre-med community on your college campus can play a huge role in building up your resume. Interested applicants should try to speak to faculty members and current medical students from the institution, Williams encourages.
Visit the campus if you can. Learn if the school has pre-med advisors who can keep you on track, if they have opportunities for students to join research teams or if they have programs in place to facilitate volunteer opportunities at local hospitals or clinics.
Any unique opportunities an undergraduate institution can offer are a huge plus, such as state-of-the-art laboratories, on-campus community health clinics and student publishing opportunities.
4. Assess the city's medical community to determine off-campus opportunities
Just because your campus offers one-of-a-kind medical opportunities doesn't mean you need to stop there, says Carey James, associate dean of operations, analysis and admissions at Ross University School of Medicine.
James offers the following tips if you're looking for opportunities near a school you're considering:
Volunteer at a local hospital or university medical center employment office

Immerse yourself in medical care by job shadowing in a doctor's office

Join a research team at a university medical center or a teaching hospital in your area  
"Not only will volunteering in different medical settings help you gain experience in different areas of medicine, but it will also help develop the empathy that is so crucial to success as a doctor," James asserts.
Pursue your healthcare career dreams
There are several factors to consider when seeking the right college to help you begin your journey toward your dream career in medicine. From the quality of their academic programs to the on- and off-campus exposure to medical experience, make sure the schools you're considering fit the bill.
"Ultimately, applicants need to get as much information as they can about a school's mission, curriculum and educational resources," Williams says. "They also need to make sure that the institution's mission matches the student's individual objectives."
If you're interested in learning more about the mission behind The College of St. Scholastica's pre-med premium track visit the pre-med information page.
Receive Program Info and Financial Aid Options
Detailed program overview
Personalized financial aid
Individual admissions support