November 23, 2015
Funding your future: One student's journey to affording private college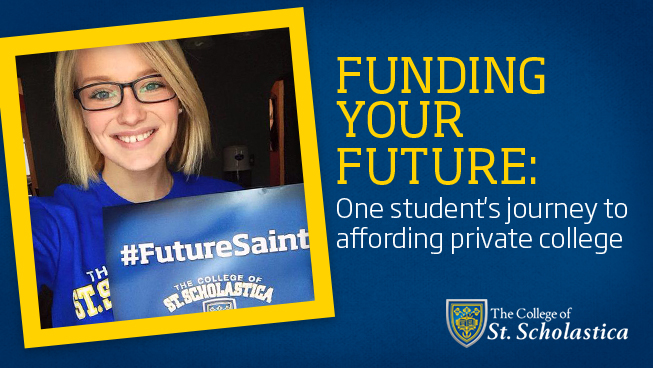 "When it came to my college search, I knew two things," says Abigail Blonigen, 2015-16 first-year student at The College of St. Scholastica (CSS). "I wanted to go far away from home, but not too far. And I didn't think there would be any way for me to afford a private school."
Blonigen definitely wasn't alone in being concerned about affording a college education. College tuition is higher than ever, and the steep sticker prices lead many families to assume higher education is out of their reach. But rising steadily alongside tuition costs is the cost of not going to college.
Today, three quarters of the fastest growing occupations require education and training beyond a high school diploma, according to the U.S. Department of Education. And college graduates with bachelor's degrees typically earn 66 percent more than those whose highest formal education is a high school diploma.
So what does this mean for Blonigen?
She knew college was in her future, but her path toward paying for that education was still unclear. Here is her story.
Dissecting the cost of a degree
Blonigen grew up in quiet St. Martin, Minnesota, a 348-person hamlet in the center of the state. She ran cross country in high school and was always passionate about science. She saw medical school in her future — the only question was which undergraduate program would be the right one to get her there.
She's loved the city of Duluth since she was a small child, so her sights had long been set on the University of Minnesota – Duluth (UMD). Blonigen's mother, however, encouraged her to consider other colleges just to be sure. "At this point, I had started to receive word of how much in scholarships private schools could be willing to give me, so I began to open up to the idea," she says.
Blonigen was also drawn to the idea of pursuing a liberal arts degree. While bachelor's degrees of all kind are valued, employers have often claimed to prioritize candidates with liberal arts degrees, valuing the critical thinking skills and global perspective a liberal education provides.
She toured several private schools, but her love of Duluth prevailed, and her decision came down to CSS and UMD. Considering the scholarships CSS offered, the price of attending each school was virtually identical. "What stood out to me about St. Scholastica was how friendly and helpful the staff was," Blonigen says. That, combined with the smaller school atmosphere, led her to enroll at CSS. "Who wouldn't want to go to school in a castle?" she adds with a smile.
Her parents were supportive of her decision, although affordability of attending the school was always an underlying concern. Even though CSS was offering Blonigen multiple scholarships, neither she nor her parents ever had the means to set up any kind of college fund.
"Because I'm the first in my family to [attend] college, we had no idea how financial aid worked," she says. "We had been working closely with Beth Kleinschmidt in admissions, who one day gave me a phone call that changed everything."
Kleinschmidt informed Blonigen that she had been named a recipient of a CSSyes Scholarship — a funding program that covers the remaining tuition after scholarships and grants for students with higher than average financial need.
The news reduced Blonigen and her parents to tears as they saw her dreams of attending CSS come true.
The first step toward a fulfilling career
The Pew Research Center has done extensive research on the value of a college education, revealing that the unemployment rate of those with a bachelor's degree or higher landed at 3.8 percent during their 2013 survey. The unemployment rate of those with a high school diploma or lower was 12.2 percent during that same year.
Blonigen is proud to be working toward a long and fulfilling career after earning her bachelor's at CSS. Although she's still unsure what field she'll end up in, her options are endless.
"If I was indecisive when it came to colleges, choosing a major was another story!" she says. The exercise physiology program was one of the many things that drew Blonigen to CSS, so it quickly became her intended major. She then decided to "go big or go home" by committing to study exercise physiology on a pre-med track with the end goal of becoming an orthopedic surgeon.
Now that she has started classes at CSS, however, Blonigen has explored some other avenues of interest — subjects like writing and law. "Every other day I want to be a doctor or a lawyer. It's driving my mom nuts," she jokes. "I know I'll figure it out eventually, though. The Career Services staff here has already been extremely helpful!"
As Blonigen spends the next few years of her undergraduate education inching closer toward realizing her dream career, she plans to enjoy the winding, tree-lined hills of Duluth as a member of CSS's cross country and track and field teams. "Duluth is a beautiful city to run in. At home I ran next to corn fields on county roads, so the trails here have really been a treat," she says.
And if you thought she'd have some free time during the off-seasons, think again! "At the activities fair the other day, I signed up for 14 clubs," she exclaims. "I've always been a very involved student, and I love how easy CSS makes it to continue that."
---
Abigail Blonigen was both shocked and pleased to learn that The College of St. Scholastica is working toward making a private college education affordable for people from all financial backgrounds. Are you curious to learn more about what CSS could do for you? Take a look at this informative infographic to learn more!
Receive Program Info and Financial Aid Options
Detailed program overview
Personalized financial aid
Individual admissions support