Home » About Us » Sentinel Blog »

Considering a computer information systems major? Learn why NOW is the time to break into the industry
July 11, 2016
Considering a computer information systems major? Learn why NOW is the time to break into the industry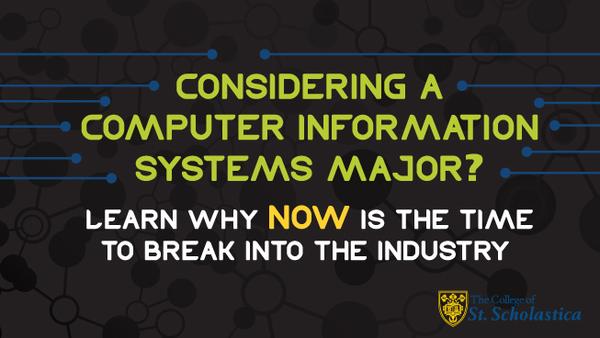 If you enjoy working with computers, finding out how they operate and learning about software, it's no wonder you're interested in majoring in computer information systems (CIS). CIS is a growing field that allows graduates to analyze and work with companies' information technology (IT) systems, craft recommendations and make sure systems are running smoothly.
If you're also looking for a way to put those mathematical and analytical skills to use, this could be the right career path for you!
Whether you are completely set on this career path or simply considering your options, we are here to share why now is a great time to earn your computer information systems degree. From the vast opportunities in CIS to the growing need for these professionals, you truly have an array of options.
4 reasons to consider majoring in computer information systems
1. CIS jobs are on the rise
The great news for CIS hopefuls is that there is no shortage of jobs in this technological field. In fact, computer systems analyst jobs – one of the most common positions sought by CIS degree holders — are projected to grow by 21 percent through 2024, according to the Bureau of Labor Statistics (BLS). That's three times the national average of all occupations, which currently stands at 7 percent for that same time frame. The rapid growth in cloud computing, cyber security and mobile networks is partially responsible for this expected surge.
Job growth will appear in many different ways. As organizations across the nation increase their reliance on information technology, analysts will be hired to design and install new computer systems. At smaller companies, it will be more cost effective to outsource to cloud service providers that employ expert IT service providers.
In addition, the need for analysts who work for small-to-midsize companies developing advanced systems are projected to increase as they move between businesses. Job growth is also expected in healthcare fields, where computer systems analysts will be needed for a variety of reasons including the implementation of electronic health records and other forms of healthcare IT.
2. A computer information systems degree can open the door to many different career paths
As indicated above, job opportunities for computer systems analysts can exist in a wide array of industries and in companies of all types. Part of the high demand for CIS professionals is due to the fact that many types of businesses and organizations rely on the skills of CIS pros. While other degree paths may lead you to just one expected outcome, a variety of different options await you if you earn a CIS degree. This can help ensure that you'll truly find the right career for you when all is said and done.
The College of St. Scholastica (CSS) understands the different paths available to CIS degree holders and, in an effort to help you determine which direction would best fulfill your career aspirations, CSS offers its CIS students five distinct concentrations to choose from:
Business analysis
Health informatics
Mathematics
Software development
Custom concentration
The custom concentration option exists as an additional opportunity for students who don't see their future in IT aligning with the other four areas of concentration. Students who utilize this option can apply their studies within CIS to studies with a different discipline, such as psychology or music. This is a great option for transfer students who hope to combine previous credits with CIS coursework. The BA/BS degree program is also offered in an accelerated online format for adult students.
CSS graduates most often find work as software developers, database specialists and system analysts. An increasing number of graduates are working for computer consulting firms, while others are managing information systems of large and small organizations.
3. There is potential for a strong salary
The significant expected job growth and demonstrated need for CIS professionals in a variety of different industries may be reason enough to pursue this degree, but there are even more reasons to consider breaking into the CIS field. Chief among them is the fact that you can expect to be competitively compensated for your skills and experience.
The median annual salary for computer systems analysts is currently $85,800, which is higher than the national average of all occupations by an astoundingly comfortable margin, according to the BLS.* In fact, the highest 10 percent of earners in this sector rake in more than $135,450 each year.
It should also be noted that salary potential continues to rise with graduate degrees you may hold related to this career path. For example, a career in this field would be nicely complemented by a master's degree in IT Leadership. An advanced degree of that nature would help you develop leadership skills to implement technology solutions and affect organizational change.
4. There is a clear-cut academic path to a career in CIS
Many employers are seeking graduates with a bachelor's degree in CIS. If you're curious what the academic path looks like in this field, The College of St. Scholastica (CSS) maps it out quite clearly. Your courses in the CIS program at CSS will cover the analysis, design and development of new computer systems utilizing state-of-the-art software and methodologies used in the computer industry.
Courses are also constantly updated to keep up with the ever-changing industry, and faculty members have extensive professional experience in education, science and technology. In this program, you can be sure that your classes will provide you with the skills you'll need once you graduate. You'll also have the opportunity to work on real-world projects for actual clients through participation in an internship.
Now is the time to commit to a computer information systems degree
As you can see, the CIS degree path opens the door to many opportunities down the road, and demand for professionals in this field is remarkably strong. The skills you'll acquire while studying to earn your degree — such as programming languages and the latest technologies in web development — will be beneficial to employers, making you an ideal candidate for many positions.
The next step is to scope out the right program for you. Learn more about what St. Scholastica's computer information systems program has to offer by reading these six ways CSS' program is set apart from those at other colleges. Your dream IT job could be right around the corner!
*Salary data does not represent starting salaries, and employment conditions in your area may vary.
Receive Program Info and Financial Aid Options
Detailed program overview
Personalized financial aid
Individual admissions support