Home » About Us » Sentinel Blog »

Computer information systems vs. computer science: Decoding these commonly confused career paths
January 23, 2017
Computer information systems vs. computer science: Decoding these commonly confused career paths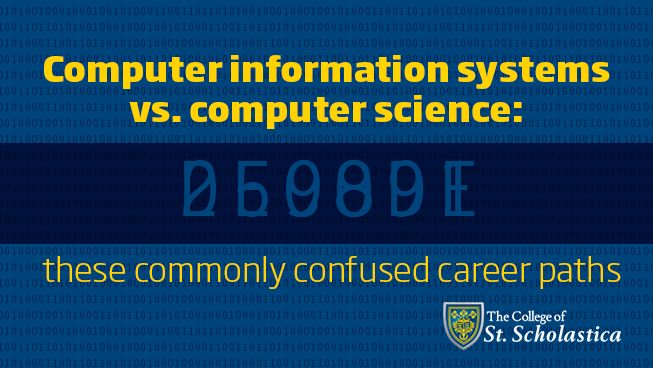 Are you the go-to guy or gal whenever your friends or family have tech-related issues? Or maybe you thrive when tasked with determining solutions to complex problems. While they may have seemed like passing interests growing up, these are a few signs you might be cut out for a career working with computers and technology.
If you have your sights set on finding a career in the growing field of technology, you've still got some decisions to make — there are several education and employment options that fall under that umbrella.
Join us as we take a closer look at two popular areas in the field: computer information systems and computer science. Dissecting the differences between these commonly-confused career paths could be the first step toward your future as a successful tech pro.
What's the difference?
It's important to know that there isn't really a clear line that divides these two paths — it's better to visualize the comparison as a Venn diagram, as there is some overlap between the skills and technical abilities needed to succeed in both of these fields. You'll need a strong understanding of problem-solving, communication, teamwork, algorithms and the internet, while also maintaining a working knowledge of how data is structured.
So how do these two paths differ?
One way to think of this is a matter of practical application versus theory. Computer science focuses more heavily on the theory and mathematical foundations that serve as a basis for programming languages. On the other hand, computer information systems focuses more on solving practical problems or improving processes with computing technology.
It can also be helpful to understand that computer science skills are valuable for understanding what is algorithmically possible when the solution to a computational problem has not already been developed. Computer information systems professionals then implement those solutions to increase efficiency or otherwise solve business problems.
What will I learn?
The curriculum for each of these degree programs will vary somewhat depending on the institution you attend. Many schools feature a comprehensive curriculum that merges computer science and computer information systems. These programs will cover the fundamentals and theory of computer science while also preparing students to work in fields where these skills can be broadly applied.
The College of St. Scholastica, for example, offers computer information systems students the ability to choose from four concentrations around which to focus their studies:
Business analysis
Health informatics
Mathematics
Software development
This allows students to build a solid foundation of computer science fundamentals while also giving them the flexibility to branch out into specializations that best fit their interests and career goals.
What jobs align with these degree fields?
No matter your preference, both computer science and computer information systems majors can lead to some impressive and in-demand career opportunities. We used real-time job analysis software from Burning-Glass.com to identify the top five occupations for individuals who have these degrees.*
1. Software developer**

Software developers work in a wide variety of industries creating software and application tools that solve problems for organizations. The work of a software developer will depend heavily on the employer. For example, developers working for Facebook may tackle a much different set of challenges than developers for Walmart. But no matter the final product, software developers use their extensive knowledge of computer science and programming languages to create and maintain these tools.
2015 median annual salary: $100,690***
Projected employment growth (2014-2024): 17%
2. Computer systems engineer
This senior-level role requires an extensive knowledge of hardware, software, data storage, networking and the programming languages that guide them to create large scale technology solutions for their employers or clients. Computer systems engineers are responsible for the design, testing and implementation of complex computer networks that satisfy user needs while also aligning with business needs.
2015 median annual salary: $100,420
Projected employment growth (2014-2024): 9%
3. Computer systems analyst
Computer systems analysts play an important role in bridging the gap between business goals and technology solutions. Much of their work revolves around increasing efficiency with careful adaptation or implementation of technology to existing processes. Analysts need a strong base of technical skills as well as business acumen to properly conduct cost-benefit analyses of technology initiatives.
2015 median annual salary: $85,800
Projected employment growth (2014-2024): 21%
4. Information security analyst
Information security analysts specialize in protecting the data and computer systems of organizations. They monitor computer networks and test systems for potential vulnerabilities and areas that may be exploited. These analysts also work to develop back-up or recovery plans to minimize damage in the event of a security breach.
2015 median annual salary: $90,120
Projected employment growth (2014-2024): 18%
5. Web developer
Web development is a broad profession with two primary focus areas: front-end and back-end development. Front-end developers primarily work on what visitors to the website see and interact with. Back-end developers focus on ensuring the data and technical infrastructure 'behind the scenes' is set up efficiently. Generally speaking, front-end development places more emphasis on design-related skills like user experience design, HTML5 and CSS. On the other hand, back-end developers lean on their technical knowledge of programming languages and skills like JavaScript, PHP and SQL.
2015 median annual salary: $64,970
Projected employment growth (2014-2024): 27%
Develop your career
It's clear there is plenty of opportunity now and in the future for computer science and computer information systems degree holders. If you're not sure whether you'd prefer to dive deep into the algorithms and theory of computer science or focus on developing your practical business technology skills, don't worry! Your education doesn't have to be just one or the other.
The College of St. Scholastica's computer information systems degree offers students the perfect blend of theory and practical application of computer science principles all within one degree program.
Looking to learn more about what The College of St. Scholastica has to offer? Read more in our article, "What makes St. Scholastica's computer information systems degree different from the rest?"
---
*Source: Burning-Glass.com analysis of 733,296 job postings for top occupations for computer science and computer information systems bachelor's degree holders (12/23/2015 – 12/21/2016)
**Job descriptions, salaries and projected job growth information reflect data from the Bureau of Labor Statistics' Occupational Outlook Handbook
***Salary data represents national, averaged earnings for the occupations listed and includes workers at all levels of education and experience. This data does not represent starting salaries and employment conditions in your area may vary. 
Receive Program Info and Financial Aid Options
Detailed program overview
Personalized financial aid
Individual admissions support