December 18, 2017
Are you cut out to be a neonatal nurse? Find out what it takes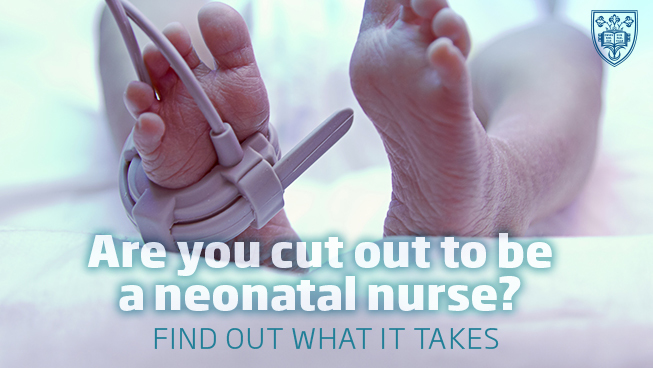 For many, the decision to become a nurse is an easy one. If you're drawn to the idea of dedicating your career to challenging work you can be proud of as you improve the lives of others, nursing can seem like a clear-cut path to embark upon.
Not only has nursing been voted the most trusted profession for 15 years running, but nurses are also continually in high demand. In fact, job openings for registered nurses (RNs) are expected to increase by 15 percent through 2026, according to the Bureau of Labor Statistics — that's more than double the rate for all occupations nationwide.
But once you've selected nursing as your passion, you still have another important decision to make: Which sector of nursing would you like to specialize in? There are actually more than 100 nursing specialties to choose from, since nurses play a critical role in just about every aspect of healthcare.
If you're drawn to working with babies, you've likely considered labor and delivery or neonatal nursing — two specialties that center on birth and infants. Read on for a brief breakdown of their differences and join us as we delve into the specific duties and pressures of neonatal nurses in particular.
Understanding the types of nurses who work with babies
While the presence of several types of nurses who work with babies may seem confusing on the surface, the differences between these specialties are actually pretty easy to digest:
• Labor and delivery nurses are charged with assisting pregnant women throughout the entirety of the childbirth experience, from early labor to delivery and the immediate post-delivery phase that follows. This includes coaching women through labor, offering advice on pain management and monitoring the vitals of both the mother and the baby throughout the entire process. They assist physicians with the delivery of the babies and also help new mothers with breastfeeding and bottle feeding their infants
• Neonatal nurses work in NICUs (neonatal intensive care units), caring for premature newborns and those with birth defects, critical illnesses or other specialized needs. This means they work with some of the most vulnerable patients possible, watching over them extremely closely and acting quickly in the event of any sudden changes. They also work very closely with the families of their patients, keeping them informed on their infant's status and teaching them how to care for any special needs that they may have.
• Pediatric nurses work with patients from the time they are infants and through childhood until they reach young adulthood. They assist pediatricians in assessing and treating conditions and developmental phases unique to these growing and developing bodies, often communicating with and educating parents along the way.
What does a neonatal nurse do?
Neonatal nurses are licensed RNs, typically with a bachelor's of science in nursing (BSN) or other advanced nursing degree. They work within a team of medical professionals most commonly in hospital environments, although some neonatal nurses may work for in-home health services or on neonatal transport teams.
NICUs are designed to provide care for sick and premature infants during the transitional period after birth, according to the National Center for Biotechnology Information (NCBI). While nurses in most units are charged with providing routine care for mostly healthy patients, working in an intensive care unit means neonatal nurses must attentively monitor their patients' conditions around the clock. It's also true that NICUs are different from adult intensive care units, as infants have some very specific developmental needs.
Some neonatal nurses report experiencing less physical stress compared to other nursing specialties, if for no other reason than the fact that the newborn babies and their families are a joyful population to work with. The newborns they care for need round-the-clock attention, so nurses within this specialty are accustomed to working long shifts caring for anywhere from one to four infants at a time. Neonatal nurses, along with other nurses working in hospitals, work shifts at night, on weekends and during holidays too.
While the nurses' work depends on the specific and evolving needs of a particular shift's patients, typical day-to-day duties include monitoring vitals, providing various IV fluids and medications, administering feedings and providing general comfort and care for newborns.
It should also be noted that neonatal nurses experience positive opportunities for career growth if desired. With additional training, education and experience, they can pursue a number of advanced positions such as becoming a neonatal nurse practitioner or perhaps an administrative role as unit manager.
What does it take to be successful as a neonatal nurse?
Neonatal nurses must have a passion for working with newborns and their families, and the ability to thrive in the high-pressure, fast-paced environment of the NICU. These nurses must be alert and mentally agile for the entirety of every shift. Because infants in the NICU can develop complications without warning, the skills and judgment of nurses are relied upon at all times.
Nurses within this specialty must be skilled in communicating with patients' families and with other healthcare professionals. They must maintain a steady outpouring of compassion to work with the families of their patients during some of the most highly emotional times of their lives. Because newborns are unable to fully communicate how they feel, neonatal nurses are responsible for honing both their observational and critical thinking skills to best meet patients' needs.
In addition to the often fast-paced environment of the NICU, those working with high-risk newborns are no strangers to facing complicated ethical dilemmas that can at times feed emotional stress. It can be incredibly difficult for healthcare teams to decide when to let go of a critically ill patient. While this isn't a decision of nurses, they do interact with patients' families, relaying important information and supporting them during difficult times.
The NICU environment can be undoubtedly stressful for nurses, infants and families alike. Because of the high-pressure environment — including heightened needs of the babies being treated, mounting fears of family members and a swarm of medical professionals working to care for patients — neonatal nurses must be skilled in handling stress. It's true that all nursing specialties relating to childbirth can be both physically and emotionally taxing, which is why the most successful nurses not only excel on the job, but they understand the importance of prioritizing self-care.
Most neonatal nurses will be quick to tell you that the rewards of their meaningful work greatly outweigh any stressors they may face. When they are able to see infants who were once critically ill later go on to thrive, they are reminded of the true purpose of their day-to-day work. Many NICUs will even host special events — such as holiday parties — to which all families of babies who passed through their facility that year are invited.
Can you handle the critical work of a neonatal nurse?
It's clear that neonatal nursing is a specialty that calls for some of the most skilled and passionate nurses out there. From working well under pressure to infusing each shift with an extra helping of compassion and even knowing how to take care of one's own needs to ensure quality work is always provided, these nurses are unlike any others.
Do you think you have what it takes to work with some of our population's most fragile patients? With admission rates of infants into the country's NICUs rising, there is a mounting need for nurses like you.
If you're already a practicing RN, you might consider advancing your nursing expertise by earning a bachelor's degree. Visit The College of St. Scholastica's RN to BS program page for more information.
If you've already earned a bachelor's degree in a different field, but you're now eager to change directions and pursue something more meaningful, you can learn more about your options by visiting the post-baccalaureate nursing program page.
Receive Program Info and Financial Aid Options
Detailed program overview
Personalized financial aid
Individual admissions support