January 15, 2018
4 surprising perks of attending a private college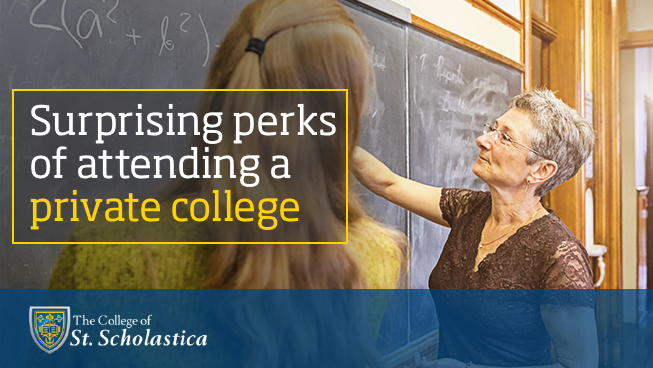 You know as well as anyone that there is a seemingly endless number of factors to consider when it comes to choosing a college. You have to think about the pros and cons of attending college close to home, whether you'd like to attend a liberal arts institution, how to narrow down your major and even whether or not you should have your major nailed down before deciding where you'll pursue that degree. Consider adding a sport into the mix, and you have yet another factor weighing on your decision.
An additional hurdle college hopefuls encounter is whether to attend a private or a public college or university. Each sector of higher education has its perks and its potential shortcomings, so it can be difficult to understand which would be the most sensible choice for you and your career goals.
That's why we canvassed a panel of professionals from a range of different industries to learn about some of the notable perks and potential disadvantages they recount from their experiences at private colleges and universities. Take a look at what they had to say.
Is private college worth it? 4 perks to ponder
In 2015, roughly 5.41 million students were enrolled in private institutions across the United States. While this may seem to pale in comparison to the 14.57 million students enrolled in public colleges during that same year, that's still nearly five and a half million students who recognized what private institutions had to offer and decided it was the best option to help them achieve their goals.
Since hindsight is always 20/20, it can be helpful to hear what previous private college attendees have to say about their unique experiences. What factors weighed most heavily in their college decisions? What did they love about the private school experience? Is there anything they felt was lacking? Read on to learn more.
1. They boast tight-knit, student-centered communities
"I chose to attend a private college due to its sense of community," says editorial intern Talia Van Wingerden. She was accustomed to attending small schools, so choosing a private college allowed her to take the next big step in her life without venturing too far outside her comfort zone. "The family environment helps with the transition, and the friendly, warm vibe helps with my overall happiness while on campus," she explains.
It's true that private colleges and universities typically have greater resources available to students, as noted in a USA Today report. You not only want to find a school that will set you up to get a high return on your investment, but you also want to find a community that has the traits and offerings that are most important to you.
"In my experience, the differences between private and public higher education comes with the services," offers Brandy Stark, professor at a state college. And her experience speaks for itself, with six degrees to her name in total — accumulated through two state universities, one state college and two private universities. "Private universities tend to be more student-oriented," she adds.
2. You're less likely to get lost in the crowd
Because private colleges and universities are smaller than their public counterparts, many students are able to find a sense of comfort in not getting overwhelmed by the sheer mass of students and campus-sizes as they make the monumental transition into college life.
"I enjoy running into friends between classes, and I cherish the connections made within the classroom," Van Wingerden explains. "I love that I am not just another number in the room, but rather an important student who is considered and addressed by name."
"The cultures between private and public are completely different," Stark offers. She has observed that while the overall culture may be considered selective and possibly even socio-economically monotone to an extent, private school students tend to be generally more focused, cultured and worldly. With smaller student populations, this gives attendees ample opportunities to connect with their peers and learn from their unique experiences.
3. They have smaller student-to-teacher ratios
Mark Bechtholt, co-founder and CEO of FameMoose, was drawn to attending a private college because he liked the idea of having a smaller student-to-teacher ratio. "This was one of the best choices for my education and it helped me gain a love of learning," he explains. "At a small school, it's easier to build a personal relationship with your professors."
Nationally, the average college student-to-teacher ratio is approximately 18 students for every one faculty member. But at some of the largest public universities, that ratio can creep as high as 30+ students for every one faculty member. Conversely, the ratio at some small private colleges can reach lows reminiscent of 10 students for every one faculty member.
By way of example, The College of St. Scholastica (CSS) — which boasts a current total enrollment of 4,325 students — offers students a 15:1 student-faculty ratio, with approximately 48 percent of its classes serving fewer than 20 students at once.
Many assert that the benefits of boasting a smaller ratio are numerous. "Faculty holds a different connection to each other and to the students," Stark says. "They are a tighter-knit group, to be certain. There is a focus on the institution and events on campus. Students seem to develop closer bonds to the faculty."
"My biggest class throughout my college career was only 30 students," Van Wingerden iterates. "These small class sizes enable students to connect with professors and build that important networking relationship for the future."
4. It can be easier to build networking relationships
As Van Wingerden pointed out, smaller class sizes don't only mean that students are afforded more face-time with their professors to improve their academics. There is also an invaluable opportunity for networking within each student's industry than can greatly benefit their careers in the long run.
Bechtholt agrees, explaining that increased interaction with professors gives students the opportunity to forge lasting personal relationships with their educators. He says it also provides long-term professional benefits through job recommendations, career advice and even assistance in landing an internship or entry-level job.
It's also true that the smaller class sizes can benefit professors just as much as they do the students, allowing professors to devote the time and energy needed to focus on each student individually — both while they're enrolled in the school and as their careers develop after the fact. The professors Stark learned from in her private education were always very well-educated and seemed to exhibit less of a tendency to be stressed than the professors she experienced in the public sphere. As a professor at a state college today, she maintains that there is truly a marked difference.
Is private college worth it? 3 commonly cited cons
Just as there are notable benefits to attending a certain type of higher education institution, there are inevitably a few perceived disadvantages. Below are three of the most commonly cited shortcomings of private colleges and universities. Continue reading to learn more about how you can easily overcome them.
1. Private institutions cost more
It's true that tuition costs at private colleges and universities are typically higher. This is because they don't receive the same funding as public schools. While the sticker prices listed may be higher, it's important to also consider the fact that most private institutions are able to offer more assistance in terms of financial aid and scholarships.
Before you rule out the prospect of attending a private school based on cost alone, be sure you do some research on scholarship offerings and peruse college-specific money-saving tips you may find helpful no matter which institution you attend.
If made available, it can also be helpful to look into your potential schools' economic mobility rankings to be sure there is strong potential for a return on your investment in a college education. You'll want to find a school that prepares its students for success and upward mobility.
2. Smaller schools aren't as well-known
Another potential downside many cite when considering the prospect of attending a smaller private school, Bechtholt notes, is that they aren't as widely known. "This means getting a job out of state could become more difficult," he says.
Bechtholt does, however, suggest working around this potential disadvantage by leveraging the college's existing network to track down internship and potential job opportunities to kickstart your career. The more tightly knit communities of private institutions typically come with an inherited legacy that alumni and others affiliated with the school will be inclined to trust.
"It can be a little difficult," Bechtholt says, "but overall the benefits of the private college education outweigh any negatives."
3. Course offerings are more limited
Because private institutions are smaller, so too are their course offerings in general. Some less common majors or courses may not be available at private schools. It's also true, however, that some of these smaller schools allow students the opportunity to dig deeper into a particular focus by emphasizing topics like liberal arts, fine arts, or even engineering and computer science.
In Stark's experience with private education, the course offerings are a bit smaller. "But courses were more interesting and often more focused on their topics," she elaborates. Another benefit to smaller class sizes is that more room can be left for in-depth classroom discussions and prolonged conversation with professors and other students after class has commenced.
Ready for the next phase of your college search?
Narrowing the more than 5,300 colleges and universities in the U.S. down to the select few you're willing to truly consider is no small feat. As you can see, every institution has something positive to offer. Half the battle is deciding which factors within the college search are most important to you and your personal goals.
We've heard from a handful of students like you who are eager for resources to make the process a bit simpler, which is why we designed an interactive tool that can help you narrow down what matters most to you as you're in the depths of your college search.
Already know exactly what you're looking for in a college? Head over to our article, "8 fascinating facts about The College of St. Scholastica" to see if CSS has what you need.
Receive Program Info and Financial Aid Options
Detailed program overview
Personalized financial aid
Individual admissions support