Office of International Programs
Our staff assists international and American students in various ways related to the global dimensions of their education. Through International Student Services and Education Abroad, we help students with internationalization matters.
International Student Services
International Student Services specializes in advocating for and serving the needs of international students at St. Scholastica.
We offer support and advice to students in their adjustment to the College and life in the United States.
We direct international students through immigration regulations and advise them on how to maintain their legal status in the United States.
We offer social and informational programming to serve international students, the college campus, and the local community.
Our goal is to assist all students so that they can focus on their education and their goals for life beyond college.
New Student Information
The following information is for students accepted to the College. This information isn't relevant to students already in the U.S. and transferring from a U.S. high school or college.
Preparing for Your Arrival in the U.S.
Your preparation for arrival should comprise the following steps :
Wait to receive the Form I-20A/B and SEVIS receipt from the College. You will need both of these documents for your visa appointment. Please read the pre-arrival packet sent from the Director of International Programs. Transfer students (transferring from a U.S. high school and college) will only receive an I-20A.
Apply for a Student Visa (not required for Canadian Students)
Book Flights to the United States
Check dates for Orientation first in the next expand/collapse accordion.
IMPORTANT NOTE:
Canadian, Mexican, and Bermudian students are required to carry a valid passport.
Checklist
Once you have been approved for and received your F-1 visa (or do not need to apply for a visa), make your travel arrangements.
For new students: when you make your travel arrangements, plan to arrive only on the dates stated above. We are unable to accommodate earlier arrivals on campus; housing and meals are not available. It is absolutely fine for you to arrive in the U.S. up to 30 days before your "program start date" – please do not expect to come on campus that early. The program start date is number 5 on your I-20 and visit/stay with family and friends. You may not arrive any earlier than 30 days before your program start date. Once you have made your travel plans, please let me know.
For transfer and Canadian students, please inform me of your travel arrangements as soon as they are known.
Please inform the Office of International Programs of the following information:
The airline(s) that you are flying with
All your flight information (including connections)
Your city of arrival (we can only come to collect you from the Duluth International Airport)
Your time of arrival
If you are coming with family/friends from your home country
If you are being met at the airport or if you need to be met (at the Duluth Airport) and brought to the college
NOTE: If you are not flying to Duluth and are being driven to campus, please confirm the day of arrival and the approximate time.
New international students may arrive on campus Friday, August 24 until Monday, August 27, 2018. New student orientation will begin for these students on Tuesday, August 28, 2018 and will continue until Friday, August 31, 2018.
New Canadian and transfer students (coming from a U.S. college) may arrive on campus Friday, August 24 until Tuesday, August 28, 2018. New student orientation will begin for these students on Wednesday, August 29, 2018 and will continue until Friday, August 31, 2018.
International Student Orientation is required for all students. Students that do not attend all or part of orientation will be charged $100 to their student bill.
The purpose of Orientation is to adequately prepare students for the U.S. culture, college life and life on the campus of St. Scholastica. The days of Orientation will be divided into sections with workshops and information sessions. There will be activities planned in order to allow students to get to see Duluth.
Workshops include information on the following: on and off campus employment, registering for classes (if not already done), opening and using a bank account, immigration regulations, health services and health insurance. Other events will include: a trip to the mall (shopping center) for essential supplies, a trip to the bank to open a bank account, and fun activities around Duluth!
Traveling to Duluth
There are a few different ways to get to Duluth for Orientation:
It is always important to learn more about the culture and area where you will be living
Duluth is a city with a population of 87,000 that is situated on the westernmost tip of Lake Superior
It is a popular holiday location and is visited by 3.5 million tourists every year
Current Student Information
Staying in Status
International students should always consult with the Office of International Programs first, with regard to immigration concerns.
In the case of a need for an immigration lawyer, use the American Immigration Lawyer Association.
The regulations of the U.S. Citizenship and Immigration Services (USCIS) provide for five categories of employment benefits for students in F-1 status.
Policy – "Student Health insurance is mandatory for all international students (undergraduate or graduate) through one of the two College provided policies."
Claim Forms (filing and tracking a claim)
Reprinting insurance cards (how to)
Enrollment (Opting in)
If you have a hard time understanding health insurance terminology please see this Glossary of Health Coverage and Medical Terms.
If you have problems with your enrollment please do not contact our office, contact One Stop at onestop@css.edu or +1-218-723-6570 or Toll free (in N. America only) +1-800-447-5444.
Obtaining a Minnesota State Drivers License
Local police are not always consistent with what country's licenses are acceptable. It is the recommendation of the OIP to obtain a U.S. license as soon as possible in order to prevent issues.
All students are required (whether they have a license from their home country or not) to apply for a "permit" first. This requires that you take the computer based test ("knowledge test") on the rules and regulations of driving in the U.S.
Once you have taken and successfully passed the knowledge test you will be required to take the "Vision Test". Here is the complete instruction on "How to get a Driver's Licence and be approved to drive CSS Vehicles."
State Identification Card (State ID)
A State ID is a picture identification card that acts as a legal form of identification.
It is advisable that if you do not plan to apply for a Drivers permit or license immediately on arrival to the U.S. that a State ID would be very helpful. There are many circumstances in which picture identification is required in this country.
Schedule an appointment to go to the Identification Cards office.
On the day of your appointment, arrive early to your appointment to make sure you have all the proper paperwork. You will need your passport, visa, I-20, I-94 (we can help you print it at the office), SEVIS receipt and Social Security Card.
It will cost you $25 to get the State ID.
Students are working or have earned income on or off campus
International students who are employed in the U.S. are required to pay taxes and to complete a "tax return" each year. This is the method that the federal (U.S.) government and the State of Minnesota ensure that taxes paid are the correct amount. This is tracked through a student's social security number.
Students have taxes deducted from their paychecks every time they are paid.
At the beginning of each year a review of taxes is completed by your employer(s) and sent to you, this is the form W-2. This totals the income and tax you paid for the previous year.
In addition to this, some students receive a 1042-S. Form 1042-S is a statement of scholarship received by the student for expenses that do not include tuition and fees.
These items will determine how much income and how much tax students paid in the previous year. Both of these forms are required to be sent by employer(s) and the College by the end of January each year.
Filling Process
Filing federal and state income tax forms is the personal responsibility of each international student and scholar. The OIP will hold tax preparation workshops and will assist students with their tax preparation forms. International Student Services are not tax professionals.
Please be aware that each student/scholar is ultimately responsible for the accuracy of his/her tax returns and any resulting penalties or interest.
A software package called GLACIER has been purchased in the past to assist students in the guided tax workshops to prepare federal tax forms.
This software is very expensive and there is a small fee charged to international students who use it.
During these workshops students are assisted in the preparation of the federal and state taxes.
Present to assist international students are at least one member of the Office of International Programs and St. Scholastica Accounting students.
More information about income tax return assistance will be made available each year in January, for the previous year's income.
Students who are not or have not earned income (on or off campus)
Students who have never earned income on or off campus or did not earn income in the previous tax year still need to complete Form 8843.
The federal government assesses the amount of tax you pay each year based on several factors.
As a non-resident one of these factors is how many days each year you are present in the U.S.
If you are/have worked in the U.S. and have been here for 5 years or more (this is determined by the total number of days present each year in the U.S. added together) then you will have to pay tax as if you were a U.S. resident or citizen (which means a higher tax rate).
Request a letter in the OIP office in person or via email. You will be sent a 4-page packet.
Fill out the last page of the packet. (You should provide as much information as possible on this form)
We ask that you give 1-2 weeks notice for these letters, OIP prepares them, checks them with the student and then sends the letters to Steve Lyons, VP for signature. This takes time.
You will be notified by email from the OIP office when the letters are ready.
You will receive the letters by the method you select on the form. The letters are sent to you — the student. You are responsible for mailing them to your family and friends.
Global Benedictine Scholarship Requirements
Students receiving a scholarship at 90 percent of tuition or above are required to maintain a cumulative GPA of 2.50 each semester.
Students receiving a scholarship below 90 percent of tuition are required to maintain a cumulative GPA of 2.0 each semester.
Students not receiving a scholarship from St. Scholastica are required to maintain a GPA of at least 2.0 (or above if required by their scholarship) or the minimum for his/her desired degree program.
Students are required to meaningfully participate in at least two student clubs or organizations per year (any college club or organization, including intercollegiate sports, service organizations, departmental/major clubs, residence hall organizations, student government, etc.)
Students are required to live on campus and need to apply to live off campus through OIP.
Students are required to participate in a minimum of two Office of International Programs events, workshops or presentations per year.
Students are required to meet with OIP once in fall semester and once in spring semester. (New students meet with Alison twice their first semester — their first meet must be scheduled in the durst six weeks).
Other Scholarships
For forms regarding travel, employment and staying in status, contact OIP at oip@css.edu.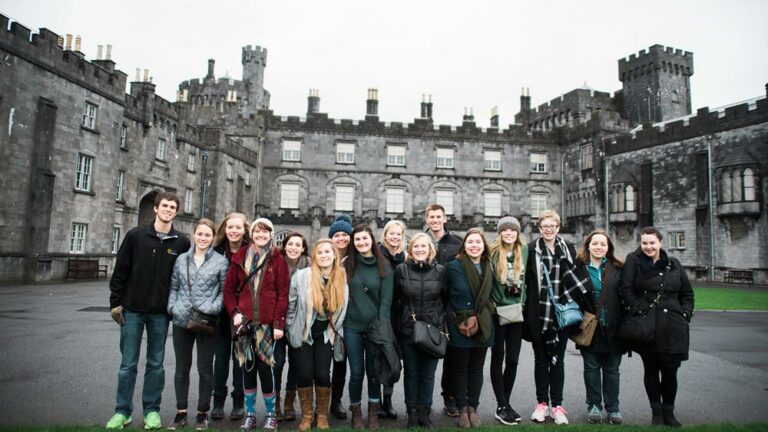 Education Abroad
Are you interested in traveling abroad? Want to experience different cultures, programs, languages, business and economics, or engage in social justice and service opportunities? Learn how you can learn in unique settings and explore small villages or large cities.