Voting and Civic Engagement
at St. Scholastica
Elections Information
Voter Eligibility
To vote in Minnesota, you must be a U.S. citizen, at least 18 years old on Election Day, and a resident of Minnesota for at least 20 days. If you have a felony conviction, you can vote if you are not currently incarcerated, even if you are on probation or parole.
Paying out-of-state tuition or having a driver's license from another state does not necessarily mean you can't vote in Minnesota.
What is my voting residence?
You should register to vote from the address you currently consider home. For many students, this is likely a school address or a parent's house. If you go back to visit but no longer consider it your home, you should register to vote where you live at school.
If you moved to Minnesota from another state and currently consider Minnesota your home, you can vote here even if you pay out-of-state tuition or have a driver's license from another state.
If you do not consider your school address to be your home, you can apply to vote by mail with an absentee ballot.
Minnesota voters can apply online; otherwise, visit your home state's election website or utilize TurboVote for support voting out of state.
How do I register to vote?
You must be registered to vote at your current address. It is best to register before Election Day, but it is not required. To register on Election Day, you must show proof of your name and current address.
Vote early with an absentee ballot
You can vote early at your local elections office starting 46 days before Election Day. You can also apply to have an absentee ballot sent to you in the mail.
Election cycles can be complicated with multiple dates and deadlines to keep track of. Here are important official election related dates to keep in mind for voting in Minnesota in 2023.
Sept. 23 —

Absentee voting begins

Oct. 17 — Last day for voter pre-registration
Nov. 6 —

Last day to request a mail in ballot or vote absentee in Minnesota

Nov. 7 — Election Day (same day registration in Minnesota)
Each state may have their own deadlines to register. Some states do not offer online registration and others do not allow same day registration. Be sure to review your state's process at vote.gov to make sure you can cast your vote!
Voter Eligibility
If you choose to register in a state other than Minnesota you must have a registered permanent address in that state. States may also have other eligibility requirements.
Voter Registration out of the State of Minnesota
Individual states often have unique processes and deadlines for their voter registration processes so it is important to be proactive in learning about your state's specific requirements well in advance.
Visit TurboVote to learn more about your state's registration process. Many states now offer online registration.
States and municipalities are on many different timelines for which offices are elected in certain years, and some may be holding special elections or feature ballot measures in the upcoming election cycle.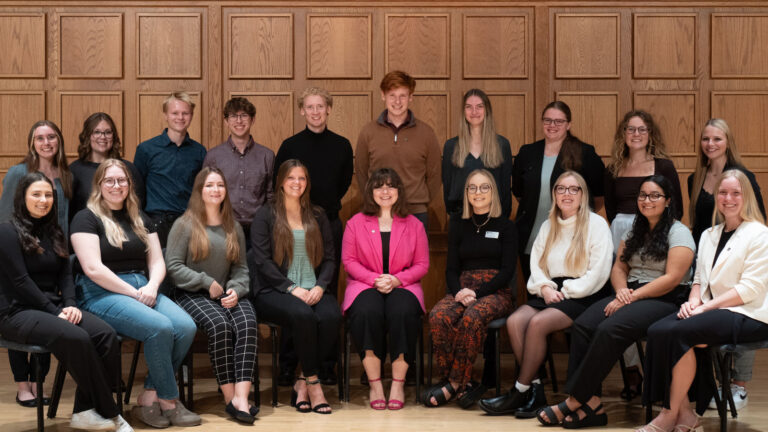 Get Involved
Student Government Association
If you want to become more civically engaged at St. Scholastica, consider becoming involved with the Student Government Association.
St. Scholastica does not support or affiliate with any political party or organization. We encourage our students and employees to engage civically.