Congratulations!

You're accepted to St. Scholastica

Be excited, share the good news with your friends and family, and let's help you finish what you started!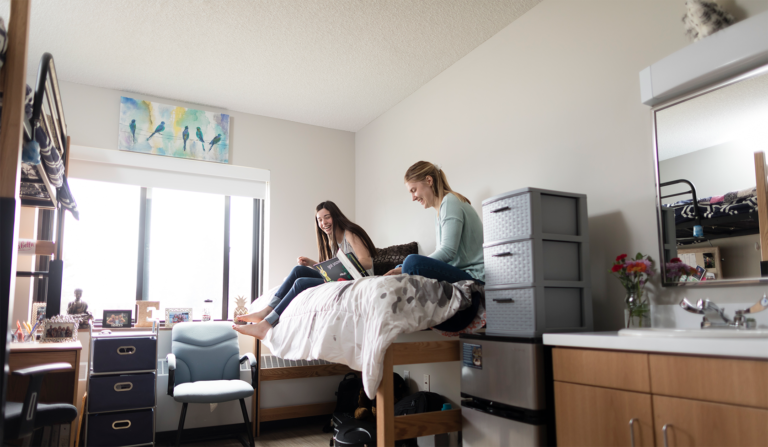 Tour The Campus
Meet with an admissions counselor and tour campus to see all that The College of St. Scholastica has to offer! Schedule your visit today.
Visit Virtually
Join us from the comfort and safety of your home, school or anywhere! During your personalized virtual visit, you will meet 1:1 with an admissions counselor via phone, email or live video chat.
Additional Steps to Complete
Start the FAFSA process early as this is the step to obtain your financial aid package. This will allow you to determine how much aid you will receive. St. Scholastica's FAFSA code is 002343.
You may also complete the Financial Aid Net Cost Calculator in the fall to receive an estimate of the package you will receive.
After Oct. 1 – complete using information from your previous year's taxes. 
Check out these additional scholarships.
September
October 1
January (mid-month)
June 1
July 1
July (mid-month)
August 20
Ongoing
Please order the following official transcripts:
College transcripts from all colleges that you have attended, including military, trade, technical, unaccredited or differently accredited schools
College transcripts from all colleges from which you have received financial aid
High School transcripts, if you have no college credit
International transcripts: Please see the International Admissions page for additional requirements
Closed school transcripts: Check the OHE website to see who to contact for an official transcript
All transcripts are required for admission and to determine the number of credits you may transfer to St. Scholastica. Transcripts must be received on or before the application deadline. Order early in the application process!
Email official transcripts to transcripts@css.edu. Electronic transcripts must be from a certified electronic official transcript provider such as Parchment, Docufide, Scrip Safe, National Clearinghouse or other certified, online transcript services.
Mailed transcripts must be in the original sealed envelope from the school. Mail to:
The College of St. Scholastica
Transcript Processing
1200 Kenwood Avenue
Duluth, MN 55811
On-campus housing is available to transfer students. If you are interested in living on campus, you'll need to complete a housing contract. You will receive information on accessing the housing contract after acceptance.