November 3, 2014
Yes, I Can With CSSYes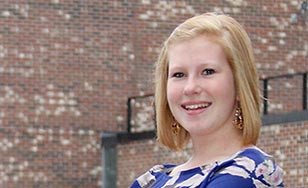 Laurel Anderson dispels doubts and pursues her social work dreams with help from CSSyes
"You can't go to college."
As a low-income, first-generation student with little support from her parents and nobody who could co-sign even one loan for her, Laurel Anderson had doubts like these creep into her mind while she was growing up in Pine City, Minn. And to them she had one response.
"Yes, I can."
Now as someone who has become a McNair Scholar, researched the effects of the 1997 Adoption and Safe Families Act in St. Louis County, started planning a volunteer art program for children with autism, and received one of the six Phillips Scholarships given to Minnesota private college students every year — all before her junior year at CSS — she has proven that statement true time and again.
But it hasn't been easy.
"Getting into college was the hardest thing I've ever had to do," Anderson said.
Changing a life
Before Anderson was born, her mother had a brain aneurysm that inhibited her decision-making abilities for the rest of her life. She struggled to care for herself — let alone young Laurel — so when Anderson was 5, she went to live with her father.
For the next decade, she had little contact with her mother, who struggled to manage her condition.
Then, when Anderson was 16, her mom moved to an assisted-living facility, where she encountered a social worker who helped her to begin living a healthier life, which would enable her to see her daughter again.
"We were able to develop our relationship because of this social worker who got her into this place and helped her get off the streets," Anderson said. "My mom was never as happy as she was then."
Unfortunately, this joy was short-lived, as her mother died during Anderson's senior year of high school. But the impression was made.
"I knew from the moment I saw my mom so happy that I wanted to change someone's life like that, too."
Saying "yes" to CSS
From there, an interest in social work was born, and that interest drove her to St. Scholastica.
But her past threatened to derail those dreams. Anderson's father suffered from his own personal struggles, so Anderson was left to rely on her grandmother and aunts for both her emotional and physical sustenance. Even with that, the money she needed for college wasn't there.
"I always knew that I wanted to go to CSS, but I never thought I actually could," Anderson said.
Until someone from the financial aid department contacted her about the CSSyes Scholarship — a full-tuition scholarship that gives students with financial need the resources to attend college.
The catch? The application was due in two days. But Anderson completed it and got the scholarship, clearing her path to CSS.
"I realized after getting the scholarship and coming here that I can do whatever I want to do," Anderson said. "It might take a while to get there, but there's really no reason why I can't achieve my goals."
Now, she's well on her way to doing just that. After she graduates with a degree in social work in 2016, Anderson plans on pursuing her Master's in Public Policy so she can remedy the sort of policies that left her mom in limbo for so many years.
And judging from her past, it wouldn't be wise to bet against her.