January 27, 2014
World-Class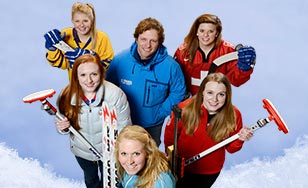 Five CSS athletes are competing at the Olympics and other global competitions
With the 2014 Winter Olympics on the horizon, winter sports fans will have a lot to cheer about this snowy season. But CSS fans will have even more.
That's because five CSS athletes — Nina and Isabel Waidacher, Anna and Sonja Bauman, and Kelsey Dickinson — and one coach, Chad Salmela, are participating in the Olympics or other global competitions.
The Waidacher sisters
You may have read about this trio of sisters from a previous story on our website, but long story short, they play hockey, they're from Switzerland and they're really good. So good, in fact, that middle sister Nina will be playing with the Swiss team in the 2014 Olympics in Sochi, with her younger sister Isabel serving as an alternate.
Update: Waidacher and her teammates on the Swiss women's hockey team rallied with four third period goals to beat Sweden 4-3 in the bronze-medal game at the Olympics.
The Bauman sisters
After learning curling during their early teenage years and working their way up the Duluth Curling Club, Anna Bauman, a 21-year-old junior at St. Scholastica, and her sister, Sonja, a 20-year-old sophomore here, recently won the 2014 Junior National Championships.
This is the second time their team has won the event — the first came in 2012. Now they'll be moving on to the World Junior Championships, taking place Feb. 25-March 5 in Flims, Switzerland. And hopefully four years from now, they'll be heading to PyeongChang, South Korea, for the Olympics.
You can check for updates and scores on curlingzone.com.
And if you're wondering what curling is and how it's played, here's a handy infographic on the basics of the sport and a more-detailed write-up.
Kelsey Dickinson
For the past six years, CSS sophomore ski team member Kelsey Dickinson has added a rifle to her lifetime passion of skiing, participating in biathlon — a cross-country ski race broken up by rounds of target shooting, with penalties for every missed target.
Dickinson started focusing seriously on biathlon two years ago. And since then, CSS ski coach Chad Salmela has supplemented his ski coaching by helping her with her shooting — supporting her in her races outside the college circuit.
Now, she's representing the U.S. in the Open European Championships (also known as the U-26 World Championships) in Nove Mesto, Czech Republic, and the Junior World Championships in Presque Isle, Maine.
Update: Dickinson finished racing in all the junior women's and mixed events at the Open European Championships on Feb. 3.
She begins competing at the World Junior Championships on Feb. 28. You can find her results on biathlonworld.com or visit her blog to follow her progress.
Chad Salmela
CSS ski coach Chad Salmela also has a place on the world stage, just not as an athlete. NBC has hired Salmela as the primary color commentator for three events in the 2014 Olympics.
In Sochi, he'll lend his expert analysis for biathlon, cross-country skiing and the cross-country portion of the Nordic combined — a sport that combines cross-country skiing and ski jumping.
Broadcasting has become something of a part-time job for Salmela, who is in his eighth year of coaching at St. Scholastica. This is his third time as an Olympic commentator — first in 2006 at the Torino Olympics and then again in 2010 for the Vancouver games.
Update: Salmela's enthusiastic style of commentary has been getting some attention. NBC even compiled a few of his most emphatic calls into a featured video.