April 23, 2014
With a Little Help From Her Friends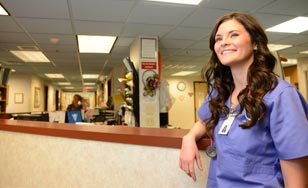 CSS community boosts Alyssa McDonald's job prospects
Dina Clabaugh in career services. James Crane in English. Oliver Meyer in admissions. Julie Knuths, Paula Byrne, Mary Tanner, Joanne Nielsen and Gina Diaz in nursing. No, it's not an Academy Award acceptance speech; it's a list of just a few of the St. Scholastica faculty and staff members that helped Alyssa McDonald get to where she is today.
Whether it was reviewing her resume, assisting with cover letters or writing letters of recommendation, these people were critical in helping McDonald take the next step into the professional world.
"Since it's a small school with small classes, you really get close to the faculty and can count on them for anything," McDonald said. "I had so many different people help me and give me advice that I felt very confident showing myself on a piece of paper."
And apparently this confidence was well founded.
Laying the groundwork
After graduating in the spring of 2013 with a nursing degree and spending a couple months studying for and taking her nursing boards, McDonald secured a nursing residency at the Mayo Clinic in Jacksonville, Fla.
Unlike typical nursing jobs, this residency program helps nurses transition from the classroom to the hospital room – providing them with mentors, or preceptors, and classes with other new nurses to help guide them through this major adjustment.
And thanks to her time spent in the CSS nursing program, she feels confident she'll succeed.
"I loved the program," McDonald said. "There's no way to know everything since the medical field is so complicated, but they really provided me with a solid foundation to set out into the professional world of nursing."
But perhaps a bigger part of this foundation was the people. Whether it was her teammates on the volleyball team, her coworkers in the admissions department or her fellow students and professors, the school's Catholic Benedictine value of community shone through.
"You're surrounded by so many intelligent people here that it drives you to be the best you can be," McDonald said. "With all the support I had and all the friends I made, it was the best four years."