June 14, 2021
Volunteering for vaccine accessibility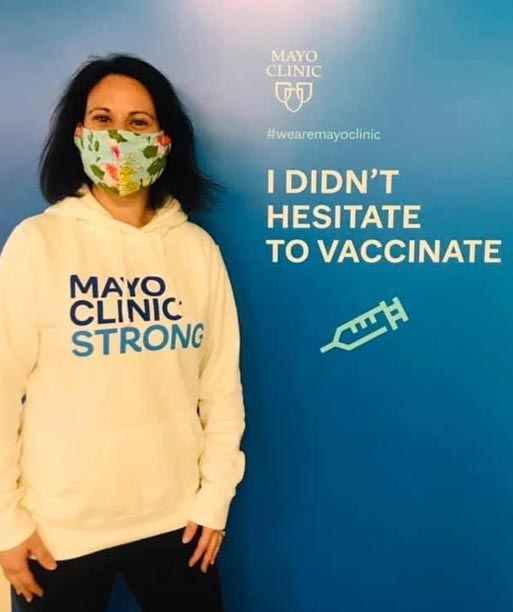 Creating an online community
Kari Grieman '06 has a motto, "if I can be of assistance, I'm grateful to you."
These words have guided her as a nurse, partner, mother and most recently, as a volunteer. In February, Grieman launched a public Facebook group called St. Paul, MN: Vaccine Assistance with the goal of connecting people to vaccine resources and appointments. At its peak, there were over 4,500 members.
"We were on the verge of finally turning a corner," said Grieman. "Before the vaccine was available to everyone aged 16 and up, there was a lot of information to dig into. You had to be savvy to find an appointment."
This insight, coupled with her desire to help, inspired Grieman to create an online space for sharing resources, helping to secure appointments and interpreting eligibility language.
"Someone would ask, 'do I have to be licensed to be considered a daycare provider?' So I would go to the site, read the small print and follow up to say, 'if you take care of your niece, you can get a vaccine,'" said Grieman.
For those without access to the internet or a computer, Grieman actually went through the motions to make an appointment over the phone so she could outline each step.
"I'd tell them, 'you have to listen to the automated message, listen for a beep, wait five minutes and do not hang up!' That trick helped so many people schedule their COVID shots over the phone."
Ultimately, she recognized that connecting people to the vaccine was about connecting them to resources. Grieman collaborated with the administrators from the Vaccinate the Vulnerable Minnesota Facebook group to ensure shot sites were accessible and that gas and transportation assistance was available to those in need.
To date, her efforts have helped hundreds of Minnesotans in securing their COVID-19 vaccinations.
But her work isn't done. Grieman's passion for giving back recently prompted her to start up another vaccine-finding Facebook group specifically for 12-17 year olds. For those who might be fearful or uncertain about receiving their vaccine, she also emphasizes the importance of engaging in judgment-free, inclusive conversations.
"The message matters and so does the messenger," said Grieman. "You can't make it a blanket statement, it has to be one-on-one. Try to figure out what is their concern and then speak to that."
Through all of her community-building efforts, she humbly acknowledges these successes are shared. She has an active group of administrators who work to ensure members' questions and comments are addressed quickly and accurately. She has a supportive fiance, Jake, who encourages her to carve out time at home to host live videos and provide frequent updates to members. And, she laughs, her kids, Grace and Livia, go to bed early.
The journey to becoming a healthcare provider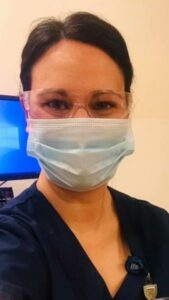 Grieman also recognizes the overlap between this service and her role as a radiation oncology nurse at the Mayo Clinic.
"The reason I've had success is because this is care coordination," Grieman shared. "I'm using those same skills I use as a care coordinator."
Her journey to the Mayo Clinic started nearly two decades ago during a campus visit to The College of St. Scholastica. She described the campus as warm and inviting, with intimate student-teacher relationships that mirrored her own experiences at Totino-Grace High School. She was sold.
Once enrolled at St. Scholastica, Grieman's family influenced her decision to pursue nursing.
"My grandma had always wanted to be a nurse, but she wasn't able to follow that dream because she had lost her hearing," said Grieman. "My other grandma died of cancer and that hospice experience stuck with me. I also had a cousin who was six years older than me who was like a role model. When she became a nurse, it was a nudge for me, too."
Grieman loved her time in the traditional undergraduate Nursing program, especially her experiences studying abroad in Cuernavaca and Tanzania, trips she describes as transformative.
After graduation, she was hired at the Mayo Clinic where she worked in in-patient oncology and family medicine. She made a transition to outpatient radiation oncology in 2015, just months before the Mayo Clinic was set to open one of two proton beam radiation centers in the country. For Grieman, this new position was exciting and intimidating.
"People ask, 'why Mayo?' And I ask, 'have you ever stepped foot on the campus?' It is such a place of healing, a place of collaboration. We work in teams and it truly is the gold standard of care."
In 2017, Grieman transitioned once again, this time to the Mayo Clinic's radiation oncology site in Northfield, MN. In this role, she sees patients through the course of their radiation, explains side effects, answers questions and talks through care coordination.
Professionally, she says she's found her niche, helping her patients and the public in small and big ways.
"This is second nature to me."