April 12, 2023
Victories in Music
Beth Kaiser '90 has utilized her experiences from the College in each aspect of her life since graduating three decades ago. She first started as a nursing major at the College but switched to a degree in music in her junior year. With an emphasis primarily on piano pedagogy, Kaiser was a private piano instructor for years. Besides this, she has also worked in various churches directing music for around 30 years. Kaiser even returned to St. Scholastica for a five-year stint working part-time with the campus ministry department. Now, Kaiser's passion lies in keeping music alive in everyone, no matter their age.
Nurturing a musical space for all
Kaiser is the music director for Victory Chorus, a group composed of persons living with dementia, their care partners and volunteer singers, all excited to be singing as a group again. Rather than falling into stigmas about dementia, Victory Chorus offers a sanctuary for those who live with the condition. "A dementia diagnosis can be so scary. We can provide a safe community for folks to realize and remember they are not alone. We have created space for a joy-filled, meaningful singing community," Kaiser said.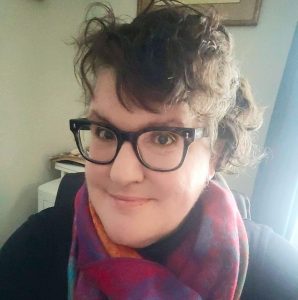 Kaiser noted that the benefits of music on the aging brain are numerous. Not only does singing help to decrease stress and uplift mood, but it is also great for brain health. Science has also shown that musical memories are often preserved in Alzheimer's disease because these parts of the brain are left relatively untouched. "We know that when a person sings in a choir, all the parts of their brain light up; that's a really good thing for stimulation and being part of a shared community," Kaiser shared.
The Victory Chorus was developed as a project of Dementia Friendly Duluth and underwritten by the Victory Fund. The Victory Fund was the impetus for Duluth becoming a dementia-friendly community; the foundation has also led efforts to address this issue on a regional basis. The chorus was inspired by the work of the Giving Voice Chorus in St. Paul. The goal is to bring joy, well-being, purpose and community understanding to people living with dementia and their care partners.
Perseverance through a pandemic
In March 2020, as the chorus was preparing for a concert, the COVID-19 pandemic made it impossible to continue. Throughout the pandemic, the Victory Chorus team provided opportunities for people to sing together, using Zoom singalongs and outdoor singalongs as ways for people to connect, sing and have social connections. In the summer of 2022, as restrictions continued to lift, a new choral group was formed at the Benedictine Living Community-Duluth, joining volunteer singers with Adult Day Service clients and residents of Westwood Apartments. And in the fall of 2022, the community chorus reconvened and, after several months of rehearsals, finally held a performance, bringing both choral groups together. "It was a true celebration of song and friendship," Kaiser reminisced.
Today, the Victory Chorus consists of a Sunday and Wednesday afternoon group, which come together for performances. After months of patiently waiting, Victory Chorus finally performed on November 20, 2022 at the Unitarian Universalist Congregation. Post-holiday season, the Victory Chorus began rehearsals again in February and is anticipating a performance on April 30, 2023. Kaiser plans to regroup over the summer and do singalongs and more informal performances until the fall rehearsals begin again.
Still, years after graduating, Kaiser remembers lessons from her musical education at the College, especially how music is both mental and physical activity. Sister Mary Jean Tuttle, when teaching syncopation, would have students do a conga line down Tower Hall, and Shelly Gruskin showed students how to dance musical rhythms. Kaiser believes that music is "caught" and not "taught" and finds this especially true as she introduces new music to members of the Victory Chorus. Additionally, Kaiser integrates movement into the warmups of the choir, ensuring time for a "move and groove" segment of rehearsal. This time could involve egg shakers, silk scarves or other instruments, but the key is getting the body involved with the singing. As Kaiser pointed out, "There's music in every person. It's my role to encourage it to come out!"
For more information about the Victory Chorus, visit thevictorychorus.org.