May 1, 2014
Valuable Preparation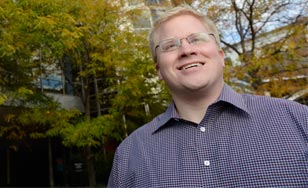 Dr. Jake Tjaden puts Benedictine values into practice
For many people, college is a time where they hone their skills to prepare for future careers. But for St. Scholastica students like Dr. Jake Tjaden, it's much more than that.
"College was a transformative time," he said. "I became more open-minded, interested in social justice and fairness and learned to have patience with those who've had different experiences than I had."
This change occurred in large part due to the Benedictine values of community, hospitality, respect, stewardship and love of learning that are infused into every aspect of the St. Scholastica experience.
These values endured as he attended the Kansas City University of Medicine and Biosciences after graduating in 2003 with a double major in biology and behavioral arts and sciences.
"I went to medical school with individuals from many different colleges," Tjaden said. "The Benedictine values and moral preparation offered at Scholastica was what stuck out as the primary difference between my undergraduate education and my peers'."
And that wasn't the only thing that separated him from the pack.
Ready and able
"Scholastica had excellent academic preparation for the science curriculum of medical school," Tjaden said. "Dr. Cizadlo remains the best anatomy and physiology instructor I've encountered, outshining those in medical school."
But he was far from the only professor who made a difference. Faculty like the now-retired Mary Ellet Shehadeh in psychology, Dr. Nephews in philosophy and Dr. McGahey in organic chemistry helped Tjaden become the person he is today.
This education also extended beyond the classroom as Tjaden participated in Habitat for Humanity, Volunteers Involved Through Action (VITA) and community learning opportunities that allowed him to work with people with brain injuries and mental disorders – all great preparation for his current position as a psychiatrist at United Hospital in St. Paul.
"I came to appreciate that we are all part of a greater community," Tjaden said. "The work I did with these people and the friendships I formed with fellow students created long-lasting lessons – knowledge that no textbook could provide."