March 1, 2017
Unanimous Decision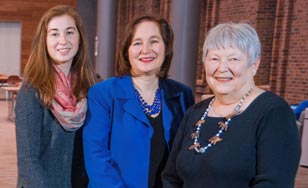 For over 50 years, the Eichenwald family has graced the St. Scholastica campus
Even as she advanced through high school, Jill Eichenwald Cornwell '89 knew she would become a lawyer. She even knew The College of St. Scholastica would be her undergraduate home.
Admittedly, she did not know she would one day be appointed to the bench in Minnesota's Sixth Judicial District, but she was never remotely dissuaded from any goal. Truth be told, no one dared to try.
"In ninth grade when we studied the judicial system, I decided I was going to be a lawyer," said Eichenwald Cornwell, remarking on her single-mindedness. "You might call me a bit stubborn."
Deep roots at CSS
This determined spirit was not foreign to Eichenwald Cornwell — her mother, Shirley Eichenwald-Maki '67, MBA, RHIA (retired), FAHIMA, is well-known as a pioneer among Health Informatics and Information Management (HIIM) professionals.
A fixture among St. Scholastica's faculty members for 34 years until her retirement in 2012,  Eichenwald-Maki helped usher in an age of digital databases and electronic medical records; she helped students navigate a challenging new information era.
"The program has evolved quite a bit over the years," Eichenwald-Maki said. "We had always been known as the medical records program, but back when we really started to do curriculum work in 1972, we changed the focus from record keeping to the information inside the record."
"During my time as department chair in the mid-80s to early 1990s, we had another real shift in curriculum when we started to see the emergence of electronic medical records. It was a truly exciting time."
In the mid-1990s, Eichenwald-Maki was integral to the formation of the MS in HIM — the department's first graduate program.
"We saw a growing job market in our profession where a new layer of education was necessary," Eichenwald-Maki said. "Our people were starting to branch out within the healthcare industry into new roles and greater responsibilities that required advanced knowledge and competencies."
When she and fellow longtime department pillar Kathy LaTour retired in 2012, the LaTour/Eichenwald Forum — an annual alumni/student event that celebrates the HIIM field — was established.
"When Kathy and I retired at the same time, there was an endowment established to bring a nationally known speaker to campus to help our students realize what opportunities exist for them to demonstrate leadership and innovation in their future professional lives,"  Eichenwald-Maki said. "It's been well-attended, and Kathy and I are there every year."
She's been a hero to her daughter, too.
"My mother raised us and accomplished so much in a time when most women didn't do that sort of thing," Eichenwald Cornwell said. "There was never a question in my mind that I could do everything that I wanted. I've had this role model in her that I'm so grateful for."
Formative years
Eichenwald Cornwell and her brother, Scott, grew up on campus. While their mother prepared college students for the field of HIIM, they grew quite accustomed to their car trips to the St. Scholastica campus.
Once she started attending, there was no stopping Eichenwald Cornwell. As a psychology major, she received guidance from advisors in order to prepare for the LSAT, and law school.
During her time at St. Scholastica, Eichenwald Cornwell's trips to Ireland and Washington D.C., along with involvement in stage theatre, helped shape her worldview. In fact, the volunteer trip to Washington changed her entire career focus.
"Spending time among people who had so little was eye-opening," she said. "I'd had this awakening to some social justice issues, and I wanted to work to benefit people like the ones we served."
After graduating from St. Scholastica, Eichenwald Cornwell attended Hamline Law School, where she graduated in 1992 with her juris doctor degree.
Upward trajectory
After relocating back to Duluth to serve as a law clerk, Eichenwald Cornwell practiced in various areas of law until she landed in the Sixth Judicial District Public Defender's office, ascending to the managing attorney post in 2014.
In addition to her law practice, Eichenwald Cornwell joined St. Scholastica as an adjunct professor on two occasions, teaching American Government and Mock Trial and co-teaching Business Law. She was also a mock trial coach.
Then, after 20 years of work in the Public Defender's office, Eichenwald Cornwell received her appointment from Governor Mark Dayton to the Sixth Judicial Court bench in October 2015.
The legacy continues
Eichenwald Cornwell's daughter, Hannah, is walking in the family's footsteps. Currently, she is a freshman at St. Scholastica, majoring in biology (pre-medicine).
"Hannah has wanted to attend St. Scholastica for quite a long time; it was always what she was going to do." Eichenwald Cornwell said.
Despite the many demands on her time, Eichenwald Cornwell serves on the College's Parents Council — she relishes the opportunity to remain active at a place that played a formative role in her own life.
"St. Scholastica is such a wonderful institution to be a part of — there's a sense of belonging," Eichenwald Cornwell said. "It's a values-driven community. Hospitality is such a strong value there, which is part of what makes it so special."
Eichenwald-Maki, who spent over three decades in classrooms helping shape the future of health information, agrees.
"The liberal arts and professional programs coexist so well — the leadership knows that a combination of self-discovery and professional preparation are so important," she said. "There's a peace and comfort to this campus. It's felt like home ever since I first attended."