May 12, 2014
Two of a Kind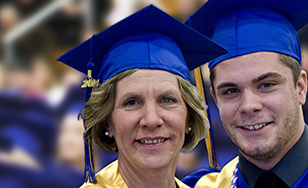 Mother and son Diane and Sam Swanson graduate together
Sam is going to be a nurse. Diane can't stand the sight of blood. Sam has spent most of his life in school. Diane hadn't been there in 30 years. Sam knows his way around technology. Diane calls CSS's online portal Blueboard instead of Blackboard. But this mother-son duo do have one big thing in common – a commencement date.
After four years as a traditional undergraduate student, Sam Swanson received his nursing degree while his mother, Diane, received her degree in social work after a two-year stint in the accelerated social work program.
They walked the stage to get their diplomas on May 10 at the DECC in Duluth. Their bachelor's degrees were among a total of 581 awarded. A total of 162 master's degrees and certificates, and 94 doctoral degrees were also awarded. The colorful ceremony featured Duluth Mayor Don Ness both as a keynote speaker and as a graduate himself – he earned a Master of Management degree.
But Diane and Sam never planned to share this moment together.
"I didn't know until I signed up for this last semester, met with the advisor and got my graduation date," Diane said. "Then I was like 'Whoa, we're graduating together.'"
The beginning
Though the date was uncertain, Diane – a former chemical dependence counselor – always knew that she wanted to eventually get her bachelor's degree in social work. And after being exposed to CSS, through Sam, she decided to begin this journey here.
"I called about the social work program, got hooked up with admissions and went to a meeting," Diane said. "Even though I was scared to death, I knew after meeting them that I'd be okay. It would all work out."
And though it was overwhelming at first, it has.
Part of the gang
For the first semester, Diane made the two-hour drive from her home in Babbitt, Minn. for her classes at Fond Du Lac Community College in Cloquet. But after that, her classes shifted to the Duluth campus, which led her to the home of a familiar roommate — Sam.
Once or twice a week, Sam would give up his room for his mom while he slept on the couch. But she never was an intrusion. Quite the opposite, actually.
"Some of my friends would make a point of coming over every week just to catch up with her," Sam said.
They went out to dinner. Caught up with each other on campus. Helped each other with their homework. She even got a nickname from them.
"When I was working in the evenings it was just 'Mama Swan' and whoever was at the apartment hanging out like normal college kids," Sam said.
But Sam's pride in her accomplishments far exceeds that of a normal college student.
"I am extremely proud of her for coming back and not only finishing, but doing so with a contagious positive attitude," Sam said. "She is going to be a great asset to the field, and will make a lasting impact in the lives of others, just as she has done here."
The next step
After graduating, Sam will begin working as a nurse in the Intensive Care Unit at St. Mary's Hospital in Duluth and Diane hopes to find work with St. Louis County — possibly in child protection or working with adults with mental illness.
"Some people are living and some people are surviving," Diane said. "I just want to help those people who are surviving find some joy in their lives."
That's something their family has been doing their entire lives. Whether it was raking, talking to or bringing holiday dinners to their elderly neighbors, the Swansons were raised to help people. And they always will, including each other.