August 1, 2014
Two for One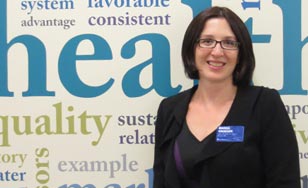 Marisa Krueger gets the best of both degrees through MBA/MAM dual-degree program.
When she moved to Duluth for her job at UnitedHealthcare in 2006, Marisa Krueger didn't spend much time settling in.
"One of the first things I did was explore the master's programs in the area," she said. "I immediately was drawn to the MAM (Master of Arts in Management) program at St. Scholastica and it was a done deal."
Or was it?
A pleasant surprise
As she was beginning her MAM courses in 2008, CSS rolled out its own MBA program, which Krueger considered transferring into. Then she had a better idea — do both.
"I don't know many people with one master's degree, let alone two, so I liked the idea." Krueger said. "Since it blended the soft skills of managing and leadership with more technical business knowledge, it was a no-brainer for me."
But with work and personal life to juggle, actually attaining these degrees required much more brainpower — including weekends where all she did was "read, write, sleep, eat and repeat."
Fortunately, she had everything she needed to succeed. The small class sizes helped her develop tight personal and professional relationships with her classmates and enabled her to receive more individual attention from her professors. All with a flexible schedule that allowed her to complete the program at her own pace.
To Russia with love
The practicality didn't end there. For her capstone, Krueger had the opportunity to apply her education in Russia.
For more than two weeks, Krueger and her classmates toured the country, attended seminars, learned about the Russian business climate and even worked on-site with a developing company — communicating through a translator to brainstorm new ideas about how they market and find new clients.
"I haven't run into anyone else who has had this type of opportunity," Krueger said. "I think it was the perfect complement to the MBA program — giving me a chance to see the world and apply some of the new skills that I learned in the classroom. It was an amazing cultural, personal and professional experience that still impacts me today."
And even though she's now the director of the National Broker and Consultant Relations team at UnitedHealthcare in Minneapolis, her CSS education does, too.
"The MBA program prepared me for current and future leadership at the company," Krueger said. "Healthcare is not an easy industry to be in at the moment, so having a solid foundation in change management, leadership and an understanding of the international business environment like I do now is the key to my success."