December 21, 2017
Transformative learning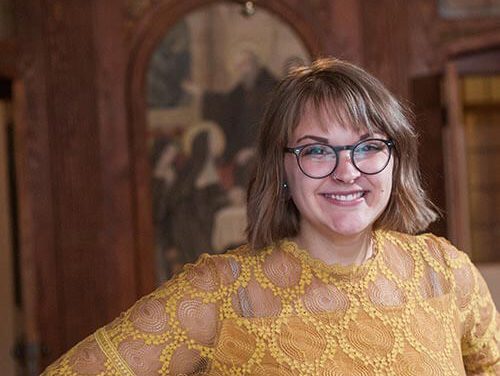 DyAnna Grondahl's inward change ignited passion for social justice education
The best way to describe what's happened to DyAnna Grondahl '19 in just five semesters at The College of St. Scholastica is to say that she's encountered ideas that made change inescapable.
The seeds of who she is today were planted back home in Roseau, Minn., but it wasn't until Grondahl was challenged by a new worldview that she discovered a path toward meaningful work.
At CSS, many students — including Grondahl — can trace their transformation back to the Dignitas program.
"It completely changed the way I saw community"
Dignitas is a curriculum for freshmen at CSS that immerses them in the Benedictine values and College mission. Coursework integrates five main elements: Catholic social teaching, Catholic intellectual tradition, diversity, Benedictine values and dignity. Along with their regular coursework, freshmen attend and reflect on five Dignitas labs, spanning a wide variety of topics from mental health to environmental stewardship.
"I'd never really thought deeply about human dignity until my first year at St. Scholastica — [to me, it's] the idea that each person has this 'sameness' in their value and ability to contribute good into the world," said Grondahl, whose Dignitas experience inspired her to pursue coursework to prepare her for a life of advocacy. "I was a bio/pre-med student when I started, but I changed to psychology, and then this past year [sophomore year] I added a German minor and peace & justice major as well."
Bret Amundson, DMA, Director of General Education and Director of Choral Activities, describes it: Dignitas "prepares students to be intellectually open to who they are as humans, to consider how they live in community, what their talents and gifts are, and how this combination of things can help inform how they will change the world."
Building bridges
After freshman year, Grondahl began spending much of her time serving in Dignitas leadership, moving from Mentor Teaching Assistant [MTA] in 2016-17, then elevating to Dignitas Mentor TA Lead as a junior in fall 2017.
In her current role, she is charged with tasks like building community partnerships in Duluth, acting as key touchpoint amongst MTAs, and teaching Dignitas curriculum under the advisement of Assistant Professor of History, Dr. Randall Poole (among others).
"Sophomore year I started leading some meetings and sourcing development opportunities for other MTAs," Grondahl said. "This year, as the lead, I've set up Dignitas with Community Day efforts, and developed a service learning program with Safe Haven Women's Shelter and CHUM [Duluth-area advocacy center]."
She also completed an internship with Safe Haven as a women's advocate through summer/fall 2017, and will start working part-time in January 2018.
"My primary goal is to get students to understand that service isn't just a resume-filler, but that it's about seeing needs and meeting them."
Purposeful planning
With the skills she's acquired at CSS, plus her post-grad plans, Grondahl projects a quiet confidence about where this foundation in kindness and service might take her.
"After undergrad, I'm planning to pursue my JD-PhD and potentially teach law. Becoming a professor is the ultimate goal," Grondahl said.
Having learned about the intrinsic dignity and value of each human through her Dignitas involvement and the example of her CSS professors, Grondahl is inspired to change the lives of future generations through both teaching and outreach.
"In my time here at CSS, I've recognized that all my professors are on multiple missions at a time," Grondahl said. "They are passionate about helping students foster thoughts and opinions, while also maintaining their investment in the community. That's what I want to do, too."