November 11, 2014
Training For Training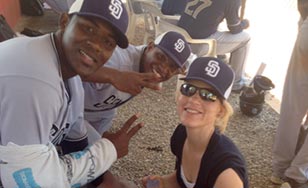 Julia Carr receives major-league athletic training preparation in the Dominican Republic
For a country with fewer people than the state of Michigan, the Dominican Republic has produced an impressive amount of Major League Baseball (MLB) talent — with 83 players, nearly 10 percent of the league, hailing from its shores.
And this summer, CSS athletic training student Julia Carr worked with a group of athletes who could be next on that list — serving as an athletic training intern for the San Diego Padres Baseball Academy in the Dominican Republic.
This academy is one of many in the country (every major league team has one) and essentially serves as a training ground for young, talented baseball players who hope to sign with a major league club and play in the United States.
Even though the play there isn't at a major-league level yet, Carr's preparation is nothing short of it.
Covering the bases
Monday through Saturday, Carr began her days at 5 or 6 a.m., guiding players through a couple of hours of pregame rehab. Then, during games, she assisted injured players on the field and, if they had to come off, conducted secondary evaluations and presented her diagnoses to the head trainer.
Her responsibilities didn't end with the game. She also helped injured players through long-term rehab programs for ACL reconstruction, Tommy John surgery and other conditions.
And thanks to her time in the CSS athletic training program, she was ready for it.
"Many of the injuries that I worked with there were ones that I had already been exposed to in class," Carr said.
"The program has given me ample experience in thinking quickly and critically. I've had to make many quick decisions here and have been able to trust myself based on the success I had during my first year at CSS."
Now in her second year in the program, she isn't entirely sure what she'll do after she graduates with her master's in 2015 — though the experience has her contemplating a return to professional sports.
But whatever she chooses, she'll be ready.
"The variety of experiences I've had at CSS has been wonderful and is helping me prepare for what I want to do in the long run, whatever that may be."