December 27, 2013
To Harvard via Duluth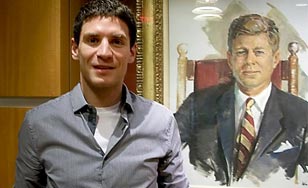 Toby Peter pursues a Masters in Public Policy
Just because a direct flight from Frankfurt to Boston is the fastest way from Germany to Harvard, doesn't mean it's the best way. In fact, Toby Peter would argue that the trip is greatly enhanced with a four-year layover at The College of St. Scholastica.
"The liberal arts education at CSS was priceless," said Peter, a 2011 graduate of the History and Applied Economics program. "It gave me a very solid and broad foundation to build my future learning upon."
This future learning included a stint as a research assistant and program coordinator at the Center for Strategic and International Studies (CSIS) – where he researched the long-term economic, social, and geopolitical challenges arising from the aging of the population and co-authored three major policy studies – an internship at the Munich Center for the Economics of Aging, and now a Masters in Public Policy at the Kennedy School of Government at Harvard University.
There, Peter is exposed to a slew of new, interesting things every day. And because of this, his future plans hard to pin down. But one thing is certain:
"I want to leverage my education to have the greatest possible impact on other people," Peter said.
The difference maker
And no matter what shape this takes, Peter credits his success, in part, to his professors at CSS – particularly Dr. Randall Poole, for whom he served as a teaching assistant during his junior and senior years.
"He was instrumental to my success," Peter said. "His lectures were most engaging and really allowed me to connect so many dots in my education and to grow on an academic and personal level. He is also a great mentor, who has taken great interest in my personal development and I'm very thankful to him and my other professors."
His CSS education afforded him the opportunity to gain hands-on experience during the summers with research internships at CSIS and the American Enterprise Institute (AEI) – two of Washington's most renowned think tanks and spend a semester studying at American University in Washington.
But his experience wasn't solely scholastic. He played soccer for each of his four years at CSS, serving as a captain, and finishing his career as the school's fourth-leading scorer.
"Being on the soccer team was a truly amazing experience," Peter said. "I formed some deep friendships with some of my teammates and coaches. It exposed me to leadership and taught me the importance of teamwork and hard work. "
So after all these experiences, is he glad he came?
"Of course…I mean I ended up at Harvard," Peter said.
What more can you ask?