March 3, 2020
The pinnacle of experimental physics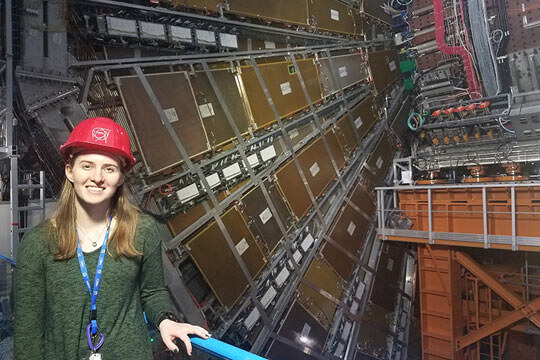 Megan Schiferl's intellect has taken her to the pinnacle of experimental physics.
The junior from Woodbury, MN, is one of only six undergraduate students in America chosen to work at the CERN Large Hadron Collider (LHC) near Geneva, Switzerland. It's the world's largest and most powerful energy particle collider. One of the costliest scientific instruments ever built, it rests in a tunnel beneath the Switzerland-France border.
The world's leading physicists are using the LHC to try to answer fundamental questions in physics, including laws governing the interactions and forces among elementary objects, the structure of space and time, and the interrelation between quantum mechanics and general relativity.
An interest in particle physics
Earlier this spring, Schiferl was selected for an all-expenses-paid position to help develop software for a new detector on the LHC's ATLAS Muon Spectrometer.
"Researching particle physics, especially with CERN's Large Hadron Collider, is my current academic life goal," she said. "I'm planning to pursue a PhD in experimental particle physics; however, without the ability to major in physics at Scholastica, I need any physics research opportunity that I can find to build on my skill set. This opportunity gives me the chance I need to get my foot in the door to the subject and community."
Schiferl came to the College intending to major in chemistry and eventually pursue a graduate degree in chemistry. As a sophomore, she learned "almost accidentally" that protons and neutrons are made of smaller particles.
"I became entranced with learning about those fundamental particles," she said. "Turns out, studying them happens to be a physics thing more than a chemistry thing, and so I've been trying to learn more about physics throughout my college career."
Even though St. Scholastica doesn't have a physics major.
"I was rooted enough in the community at Scholastica that I didn't want to move schools at that point, so I decided to stick with chemistry and math."
Besides, she said, having an undergraduate double-major in chemistry and math might be beneficial in terms of making her more well-rounded academically as she pursues graduate-level physics.
"I think there is a growing need for people who are interdisciplinary and having a chemistry and math background will be extremely attractive in that sense. It will allow me to bring a different perspective to the conversation, while still remaining up to speed on the mathematical foundations of physics."
A motivated student
The program that sent her to Switzerland is funded by the U.S. Permanent Mission to the International Organizations in Geneva, through the University of Michigan, Ann Arbor.
Dr. Timothy Trygstad, associate professor of chemistry, is one of a group of St. Scholastica professors whom Schiferl calls "amazing" mentors.
She is "one of the most highly motivated, intelligent and mature students I have had the pleasure of teaching and working with over the past 13 years," Trygstad said. "Her performance, attitude, and work ethic have been as good as any student we have ever had in our department."
While maintaining a 3.96 GPA and serving as a teaching assistant and academic tutor, Schiferl is very active outside the classroom and laboratory. She has been a varsity member of the St. Scholastica Nordic Ski team and co-founded the Nordic Ski Club, and serves as a staff member and guide for the Outdoor Pursuit program. It was in the latter role that she met Dr. Pablo Palafox, assistant professor of chemistry, in January 2019. She ended up working on his research team.
"She told me that her dream was to work at the CERN," Palafox said. His research specialty is nanotechnology, not particle physics, but it uses many of the elements applied in solid state physics and statistical thermodynamics. "The thinking is very similar in those areas," he said. She joined his team, and quickly made an impression.
"She is a very talented and committed researcher," he said. "She was studying how the shape of a nanotube affected the flow, an important question in designing new technology." She achieved "great progress" over the summer of 2019, he said, enough to present at the Women of Physical Science conference in Nebraska.
He introduced her to fellow physics professors, some of whom collaborate with the CERN LHC, and she began making contacts.
"She is a very smart student," Palafox said, "but what really makes her special is her determination and commitment to achieve her goals. She has a natural curiosity and the drive to materialize her ambitions."
Learning experiences in Switzerland
Schiferl's opportunity in Switzerland took an unexpected turn, being cut short in March due to the COVID-19 outbreak. Nonetheless, she appreciated every learning experience, from attempting to buy groceries at a store where everything was labeled in French to visiting Montreux, a town at the northeastern tip of Lake Geneva, "the most gorgeous place" she had ever been.
As for her academic experiences, she's most proud of making her first successful histogram, a graphical display of data.
"This first one was quite rewarding," she said. "After spending days learning the basics of a new programming language and data analysis framework, I was finally able to put data into a histogram. After wrestling with the problem for hours and knowing that achieving success would be a huge step forward into the heart of the project, it became an important milestone."
The trip broadened her horizons about future opportunities, she said.
"Even though I have been unable to continue with my project remotely, I have come away from this experience with a greater understanding of the opportunities available in particle physics as well as a better knowledge of programming and physics."
Eventually, she hopes to become an experimental particle physicist.
"I would love to work in industry," she said. "I might eventually come back to academia and try to become a professor as well."
Her professors have no doubt about her prospects.
"I strongly believe her academic and professional potential is nearly limitless," Trygstad said.