March 16, 2015
The Hat Trick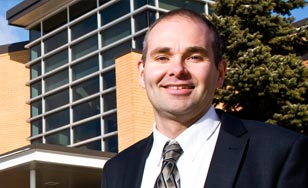 Greg Ruberg's three stints at CSS help him combine PT and MBA for career success
Like many successful career moves, Greg Ruberg's promotion to administrator of Lake View Hospital in Two Harbors, Minn., started with a good first impression.
But it wasn't his outfit or his elevator speech that did it. Rather, it was an impression formed during high school that made all the difference.
"I attended CSS during my senior year as a PSEO student," Ruberg said. "I was so impressed with the college and professors that I continued there after high school graduation."
And beyond.
The returns
After receiving his undergraduate degree in health sciences in 1997, Ruberg immediately returned to CSS to receive his master's in physical therapy.
"CSS is unique in many ways," Ruberg said. "The atmosphere at the college is very welcoming. You really feel at home at CSS. And the personalized attention from my professors was something that I truly valued. I felt that my education was second to none."
This education paid immediate dividends, as Ruberg was hired as the director of rehab/physical therapy at Lake View Hospital.
After 14 years of expanding the department's services and securing a new physical space, he was ready to take the next step and get his MBA. The only question was where?
"I actually considered going somewhere else to get a different experience," he said. "I researched many online programs around the country, as well as many other local options. But the quality of my previous education at CSS drew me back again."
Onward and upward
Even though this decision was easy for Ruberg, the work has not. He's had to maximize every free minute to keep up with work, school and family duties — sometimes all at once.
"My three kids and I would line up along the kitchen island and do homework together in the evening," he said. "We were working on elementary school math, high school history and graduate school managerial finance in the same place."
The hard work paid off. In 2014, when he was about two-thirds of the way through the program, he was promoted.
"Going back to CSS to earn my MBA was one of the best career decisions that I have made," Ruberg said. "I definitely credit my business education at CSS with my recent promotion."
And even after he completes the program in May 2015, he might not be finished yet.
"I am a lifelong learner," he said. "I wouldn't be surprised if I return to CSS again in the future."