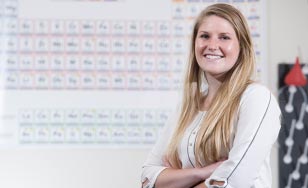 Tracy Roach's hard work pays off, both on and off the field
When Tracy Roach settled onto the pitcher's mound for the seventh inning of the CSS softball team's game against Martin Luther College on April 27, 2013, she knew.
"I realized that no one had been on base, and I was just like 'oh, my gosh,'" Roach said. "I just tried to keep my cool and nail all those pitches in there."
Three outs later, Roach had secured her place in the record books — throwing the first seven-inning perfect game in the history of St. Scholastica softball.
But as singular as the event was, it was actually the product of years of hard work and dedication. And, as Roach's time at St. Scholastica has shown, that's never been a problem for her.
Making the switch
When she was growing up in East Grand Forks, Minn., Roach had more than her fair share of responsibilities.
"When I was in high school, there was a point where my dad was working out of town a lot and I was left to take care of my brother and myself," she said.
And when the time came for her to go to college, she wanted a change, even if it meant paying for it all herself.
"I've been solely financially responsible for all my tuition, rent and daily expenses," Roach said.
So when she was deciding whether to transfer to St. Scholastica after her freshman year, this was a concern. But thanks to a transfer program that accepted all the credits she'd earned, including ones from high school, and awarded her tens of thousands in annual scholarships, she was reassured.
"The admissions staff was very helpful and made the transfer process really easy for me," Roach said. "They accommodated my schedule and helped me get everything I needed in a timely manner. I can't imagine the staff at any institution being more helpful."
Putting in the work
But Roach wasn't about to take it easy. Her avoidance of loans and desire to cram as many experiences as she could into her time at CSS led her to work 30 hours a week, split across four jobs — student administrative assistant in the McNair Scholars Office, teaching assistant in physics, launderer for the athletics department and paid researcher in a bioinorganic chemistry lab.
Yet through it all, she's been able to continually succeed in the classroom, even with a double major in biochemistry and biology and a schedule that has included traveling across the country to present her research at conferences and interview at graduate schools.
But she's had some help along the way.
"The professors, they actually notice," she said. "They ask if we're doing OK. They see the stress on our faces and they do whatever they can to bring our heads out of the water because they don't want us to fall behind. They truly care, that's what's great."
Head of the class
These relationships were so strong that Dr. Jennifer Maki entrusted Roach to teach her upper-level biochemistry class when she was out. So Roach created her own worksheet, found her own primary literature and lectured to a surprisingly engaged and inquisitive class.
"I actually cried afterwards because somebody told me that he understood everything I said and that I did really, really well."
She might have to get used to the feeling. After graduating this past May, Roach will be attending Ohio State University to pursue her PhD in biochemistry, which could lead to her teaching her own class (permanently) someday.
But regardless of what she does, one thing is certain.
"I am a firm believer in the saying that everything happens for a reason," she said. "And I don't think I'd be going to graduate school now if I hadn't made the switch to St. Scholastica."