June 9, 2017
The Culture Keeper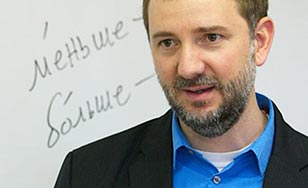 In his professional life and academic pursuit, Dr. Jamie Olson holds context and content in high regard
When Jamie Olson '02 arrived at The College of St. Scholastica age 24, he'd already traveled the world. As a member of the U.S. Marine Corps, he served proudly for six years before settling back in Duluth.
In the Marines, Olson spent countless hours of downtime on Navy ships with his nose in books. His interests shifted from American classics to Russian literature, a genre that captivated him.
"I grew up during the Cold War, and Russia was seen as this place that was completely opposed to what America stood for," Olson said. "But both countries have this parallel sense of national identity, and Russian literature dealt deeply with ideas."
Noticed and nurtured
In the first semester of his freshman year, Olson took a freshman honors course on the literature of social change, and when Russian works came up, he came alive. And his professor — Dr. Tom Morgan, who also served as the Russian language professor — noticed.
"Dr. Morgan encouraged me to study the Russian language with him — which I did, for the whole time I was at Scholastica," Olson said. "In the Marines I was an Arabic linguist, so I gave it a try. Once I started, it drew me in. I was enamored."
From there, Olson soared, eventually graduating with an English major and Russian minor. He earned a PhD in English from the University of Michigan, and moved on to work as a professor at Saint Martin's University in Lacey, Wash.
In his time at Saint Martin's, Olson has been able to throw himself into translating Russian literature to English.
"I encounter these amazing stories and poems in Russian, and they just don't exist in English," Olson said. "Really, that's where the passion comes from — allowing a new culture to experience the same work."
In fall 2016, Olson was awarded the NEA Literature Translation Fellowship — a grant totaling $12,500 — to support his current project: translating the works of Russian poet Timur Kibirov.
"I've been translating Kibirov for about five years now, and he has this huge body of work," Olson said. "I get to help bring that across to English, so it's an exciting thing for me."
Strong ties
Olson also remains connected with St. Scholastica by co-directing a Russian language study tour with CSS professor Karen Rosenflanz. Every-other year, the group travels to Russia, something Olson said he looks forward to with great expectation.
"I've been working with the [Karelian State Pedagogical University] faculty in Russia for 16 years now, so it's wonderful to help students unlock these experiences, and also see old friends and stomping grounds again," Olson said.
Professor Karen Rosenflanz, PhD, who currently leads the Russia study abroad program at St. Scholastica and works closely with Olson, expressed appreciation for his leadership.
"Jamie is a wonderful, thoughtful colleague who brings a wealth of talent and a great sense of humor to the exchange program," Rosenflanz said. "He demonstrates to students the richness that cultural and linguistic fluency can contribute to a person's life."
When thinking back on his time at St. Scholastica, Olson remarked that his great aim is to do for other students what Dr. Morgan did for him.
"The longer I work in this profession, the more I see what a professor can do in the life of a student," Olson said. "A little bit of a nudge can have a huge impact."