February 18, 2015
The Cable to Cairo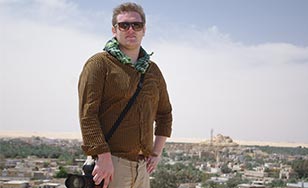 Photojournalist Aaron Rose captures Egypt's revolution firsthand
He's seen police officers shot dead in front of him and machine guns used to disperse crowds. He's been arrested and jailed for taking pictures of a peaceful protest.
As a journalist and photographer for the Daily News Egypt — the only independent English-language daily newspaper in the country — Aaron Thomas Rose has been on the front lines of Egypt's revolution, covering it from its epicenter in Cairo.
But before that, he was an English major at St. Scholastica working on the Cable, St. Scholastica's student newspaper, as the arts and entertainment editor and eventually the editor-in-chief.
"My time at the Cable really formed a lot of how I think about news," Rose said. "I learned lot of what I know about journalism today."
As meaningful as it was (he still keeps one of the pieces he wrote at CSS in his portfolio) his path to professional journalism wasn't a straight one.
Ready for anything
After graduating in 2008 and working odd jobs in Duluth for a year, Rose decided he needed a change.
"It was kind of one of those throw-a-dart-at-a-map kind of things," he said.
The dart landed on Alexandria, Egypt. He went there and taught English for six months before returning to the U.S. in April 2010 with the goal of getting a Master of Fine Arts in Creative Writing. Then Egypt's revolution began.
"I developed a real passion for journalism when the Arab Spring started," he said. "I wanted to be in a place where history was in the making."
He scrapped his MFA plans and moved back to Egypt in August 2012. He had photo equipment from a class he took at St. Scholastica, so the Daily News Egypt asked him to intern as a photographer.
"After a couple months they liked my work and hired me on full-time," he said.
They weren't the only ones who liked it. Rose's photos have been published in the Guardian, the Los Angeles Times, Time Magazine, The New York Times Blog and the Washington Post Blog.
He's also working as a reporter, researcher and occasional contributor for The Cairo Review of Global Affairs. Meanwhile, he's completed his Master of Arts in Journalism and Mass Communication from the American University in Cairo and plans to return to the U.S. this summer to pursue his MFA.
And thanks to St. Scholastica, he's been ready for all of it.
"I think what really prepared me was the liberal arts education," Rose said. "At CSS, I had to get a little taste of everything from science to math to history, which prepared me well as a journalist because you have to be able to be diverse — to cover topics, learn new things quickly and pick up on things you're uncomfortable with."