September 18, 2019
The Alaska Experience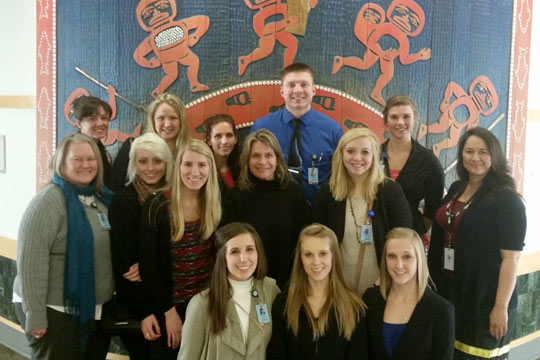 Real-world lessons gained in culturally competent nursing practices
While located about 3,000 miles apart, there's a rooted connection between Duluth, Minnesota, and our country's northernmost state. Each spring for the past four years, students from St. Scholastica have traveled to Alaska to learn more about culturally competent nursing care, often alongside Saints alumni who work in the area.
The Alaska Experience was developed in 2012 by Andrea Simek, an assistant professor in the School of Nursing. The program serves as a domestic "study abroad" option, helping students become responsible members of their local and global communities. Student groups travel to either Anchorage and the Kenai Peninsula or the remote area surrounding Kotzebue, which is above the Arctic Circle. They receive credit while earning clinical hours required for graduation.
"If you think about the Benedictine values, we are highly focused on community," Simek said, "Students really grow from being exposed to different communities, healthcare organizations and populations. Experiencing culture that's different from their own, in an immersive way, really helps shape the students' moral perspective."
Two trips are hosted each spring, with groups of 12 to 18 students studying inclusive nursing practices. While on the 10- to 14-day adventure, these future nurses gain a rich understanding of nursing in rural, remote, vulnerable and underserved populations in Alaska. Christina Jacobson '19 participated in the trip this year, and gained valuable experience in patient communication.
"Now, I'm a lot more comfortable with talking to others and directly asking what they want from their care," she said. "It was an eye-opener on how to start to talk with people openly about our differences." Jacobson now works in an acute care setting in the Twin Cities.
Michael Spoden '16 went to Alaska in 2016. "I learned that there is more than one way to solve a problem," he said. "Everything is different in what works for each patient … and it confirmed my decision to be a nurse outside of a hospital setting." Today, Spoden is a public health nurse for Carlton County.
The March trip serves as a traditional senior capstone, where students learn by assisting in an acute or public health setting. Students spend their time at either the Alaska Native Medical Center in Anchorage or the Maniilaq Health Services in Kotzebue. Past trips have had students collaborating with Alaska Native Clinics, the Municipality of Anchorage Public Health, Bethel Yukon-Kuskokwim Health Corporation Hospital and Alaska Public Health.
The May trip welcomes undergraduates from all three nursing programs: Traditional Undergraduate, Post-Baccalaureate and RN to BS online. Students partner with organizations in coastal communities on the Kenai Peninsula to participate in a community health improvement project. These sites include Kenai Peninsula Borough School District (including Russian Old Believer Communities and Remote Alaska Communities), Homer Public Health, and Dena'ina Wellness Center in Kenai. A critical component to both courses is an 8-hour Cultural Awareness Workshop at the Alaska Native Heritage Center in Anchorage.
Robbi Pearce '17 initially signed up to build her resume and see more of the country. Once on the trip, she quickly realized the lasting impact her adventure would have. "I'm a big Christian … and [nurses] are very big in taking care of the whole person, including their spiritual needs," said Pearce, who works at the Interfaith Care Center in Carlton, MN. "Part of me wants to go back and eventually work there."