November 10, 2013
Swiss Saints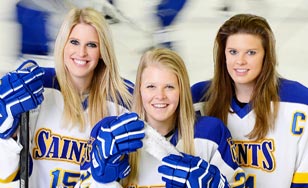 "It's incredibly unusual to have three siblings at the College at the same time," said Associate Director of Admissions Ollie Meyer, "much less three from Switzerland."
Add to that the fact that they're all hockey powerhouses, and it's a situation unlike any other in the College's history.
The Waidacher jersey has dominated the ice ever since the oldest member of the family, senior Monika, came to St. Scholastica from their home in Switzerland to play hockey in 2010. Sister Nina, now a junior, followed the next year. The hat trick was complete when Isabel joined her older sisters on campus in September.
And it's gone pretty well for them. Monika and Nina have been named first team All-NCHA (Northern Collegiate Hockey Association). Nina also earned the distinction of being the first American Hockey Coaches Association All-American in St. Scholastica program history.
But their success is more global than that. Monika and Nina's Swiss National team won the bronze medal in the 2012 World Championships, the first medal in their country's history. They also played in the 2010 Vancouver Olympics and have high hope for participating in the 2014 games in Sochi.
How did these Olympians find their way here?
"I wanted to do something different, and learn English," Monika said. So after she finished school at home, she decided to come to the United States, where she could continue her studies while also playing hockey, an opportunity that she wouldn't have at home.
Her father, Ludwig, contacted a friend from his own hockey days, Andy Murray, the head coach of the men's hockey team at Western Michigan. Murray reached out to St. Scholastica coach Jackie MacMillan, who arranged a visit for Monika and Ludwig in June 2010.
For Ludwig and his wife Beatrice, the size of both the College and the city of Duluth made them feel comfortable about sending their daughter so far from home. "We could trust that Monika is in good hands at the school and on the ice hockey team," he said.
And he couldn't be more right, as the sisters' trips across campus are often filled by waves, greetings from fellow students and a healthy dose of Benedictine hospitality.