May 21, 2019
Student Senate Leaders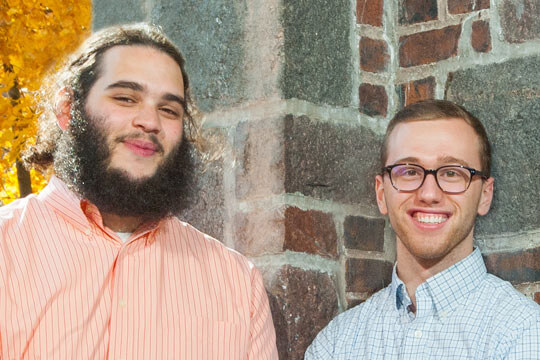 Civic-minded students involved in student government at St. Scholastica are making a real impact on campus while serving as a voice for their classmates.
During the 2018-19 school year, the Student Senate was led by Student Body President Andrew Bailey '20, a history major, and Executive Vice President Will Richardson '19, a peace and justice studies major.
Bailey brought considerable student government experience to St. Scholastica, having served as the student body president at his high school during his junior and senior years. Despite a busy schedule packed with cross-country skiing and running practices and meets, he decided to stick with student government as a Saint.
Richardson, by contrast, became involved in student government on a whim during his freshman year.
"I wanted to put myself out there and try to get involved as much as I could," Richardson said. "I never really envisioned myself in a leadership role." He said the Student Senate provided him with an opportunity to start out slow and become more involved as the years went on.
"It's really nice to be able to advocate for the rest of your peers and your class," Richardson said. "I think we're more of a bigger voice to administration than we have been in the past."
Student Senate goals
Bailey, Richardson and the rest of the leadership team set ambitious goals for the Student Senate. First and foremost, Bailey said, they wanted to ensure they were representing the priorities of the students. It's gratifying, he said, that the College's administration takes their requests and concerns to heart.
Secondly, the Student Senate hoped to inspire students to get involved in the political process.
"Our goal is to let students know that they can vote, how they can get to the polls to vote, and to make sure that they are being civically engaged," Bailey said. Thanks to the Student Senate, more than 170 students registered to vote before the fall 2018 midterm elections. "I think it really is a cool opportunity for us as student leaders to show our peers that we do want to get civically engaged."
"We want to make sure students know where their polling place is," Richardson said. "We offered rides over to the Vineyard Church [student polling place] on election day."
Student Senate also spearheaded a trip to St. Paul to meet with state lawmakers and coordinated an outreach effort urging legislators to support the Minnesota State Grant program, which provides college funding for students across the state.
Campus leadership
During his time with the Student Senate, Richardson took up a variety of causes, including a project to bring gender inclusive restrooms to campus. He also served on the Academic Technology Steering Committee.
Bailey was named a Phillips Scholar, an award given to Minnesota private college students who show a dedication to public service. As part of this program, he created a summer leadership training program for rising seventh- and eighth-graders.
"The Duluth Area Leadership Conference is the first of its kind to take place in the Duluth area," Bailey said. "We are building a bridge for leadership development in the Duluth community."
---
The 2018-19 Student Senate leadership team also included Nick Anderson, financial vice president; Chanty Armijo-Cruz, diversity vice president; and Tyler Russell, administrative assistant and webmaster.