March 4, 2019
Steps to Success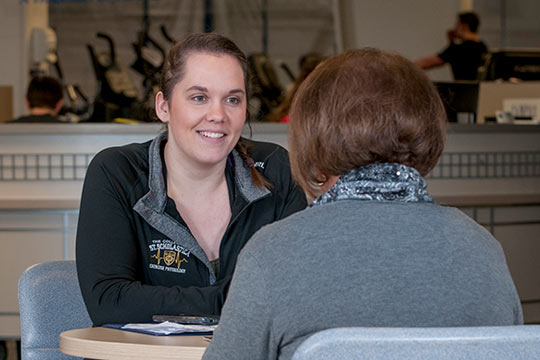 Kaitlin Box returned to St. Scholastica to advance her career in the booming field of corporate wellness
After she finished her BS in Exercise Physiology (EXP) at St. Scholastica in 2016, Kaitlin Box '19 quickly found employment.
As Worksite Wellness and Community Health Coordinator for nonprofit organization Get Fit Itasca, Box was tasked with helping to further the mission of health advocacy in an underserved area. Because her position was funded by a grant from the Minnesota Department of Health, she was able to provide consultative services free of charge.
"I was able to speak with over 20 local businesses about ways to develop employee wellness, then bring that insight back to the state government level," said Box, who also helped to develop a popular bikeshare program and multiple community wellness initiatives during her tenure.
But after two years in the role, the position ended, which created the perfect moment for her to return to St. Scholastica and pursue her MS in Exercise Physiology.
"My professors were a huge reason why I decided to come back," Box said. "I knew there was quality education at St. Scholastica — the professors in this program want to make sure you understand the material and can apply it in a real-world setting."
Hands-on experience
For Box, one of the most valuable parts of her program experience has been a pair of internships — one on campus at WellU and another in 2016 while she completed her undergraduate courses — that nurtured and shaped her passion for care.
Professor John Dargan, Ph.D, was integral in helping Box connect with Grand Itasca Clinic and Hospital in 2016. The experience exposed her to the dynamics of cardiac rehabilitation.
"I was really drawn to caring for people with chronic diseases," Box said. "So many patients have things they perceive as wrong with them, but they still want to be healthy. Helping them figure out what 'healthy' looks like for them is so rewarding."
WellU
Upon her return to campus, Box immediately found a way to continue sharpening her skills at WellU, St. Scholastica employee wellness program. There, she performs health coaching, fitness assessments, stretch/exercise breaks and goal-setting with program participants.
Her manager, Employee Wellness Coordinator Jennifer Widstrom, has been impressed with her level of expertise. In fact, Box will be running the Employee WellU program in summer '19 as part of her internship.
"Kaitlin helps clients learn how to set SMART (Specific, Measurable, Achievable, Relevant and Time-bound) health goals that are personal and attainable," Widstrom said. "She is popular with WellU clients and brings a positive and compassionate attitude to motivate people improve their health."
Opportunity awaits
With her eye on corporate wellness positions, Box is excited about opportunities to help employees set and reach fitness goals on their way to sustainable health.
"Corporate wellness is an exploding field right now — 70 percent of businesses say they have a wellness program, but only around 13 percent have something that works," Box said. "Many companies are hiring employees or consultants to come in and create environments where their employees are happier, healthier and more productive."
Box feels she's being prepared for the kind of work she is truly passionate about.
"I love the interactive learning in the program. The professors make sure that everyone who comes through this program is prepared to go into the field of exercise physiology and do meaningful work," Box said. "We learn in the classroom and then also apply this to real-world situations like the Go Red For Women [heart health] event or the Duluth Fire Department team, where we do fitness assessments and speak about key issues facing professionals.
"These opportunities allow us to build confidence in our abilities — we have to be able to think on our feet and adapt."