February 25, 2015
Showtime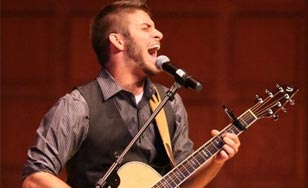 Preston Gunderson's musical career takes off with support from CSS
When he was 3, Preston Gunderson put on his Dalmatian suit and sang the song "Cruella De Vil" at his mother's piano recital. And even though his speech at the time prevented him from saying his Rs, it hit the spot.
"It's kind of where I started loving not just music, but performing," Gunderson said.
And for the past 22 years, that's exactly what he's done.
He has played hundreds of shows (now averaging about 100 per year) across two continents and eight states, was named the 2014 "Bob Dylan Singer-Songwriter of the Year" at Dylan Days in Hibbing, and released three albums. One, "The Recluse – EP," landed him a spot on the Top 25 of the iTunes singer/songwriter charts, and another, "While I was Gone," cracked the Top 200 on the iTunes pop charts.
But even though his face ended up right next to Beyonce's, he wasn't always sitting pretty.
"Musicians are told 'no' more than just about any other career," Gunderson said. "It's a challenge every day."
And with a little help from the CSS community, he's conquering it.
Harmony
Gunderson arrived at CSS in 2008, choosing it over music conservatories such as the Berklee College of Music in Boston — the alma mater of one of his musical idols, John Mayer.
"I think the whole aspect of being well-rounded is what brought me to CSS," Gunderson said. "I could play football, get an education, be close to family and do all these extracurriculars without having to focus on one thing entirely."
Between pursuing his humanities degree (with an emphasis in music and communications) and participating in jazz band, choir and football, Gunderson still found time for his own music.
"After football season was done, I would leave on a Friday after class and drive straight to the Cities, record for the weekend, come back and go to class."
This approach allowed him to churn out two of his three albums while a student at CSS — one of them financed completely by a crowdfunding campaign that raised almost $14,000.
"It's not necessarily anything I did, it's just the support system of friends here," he said. "I still get little encouraging notes from people that I just had one class with at CSS. I don't really even know them all that well, but they write a message because they just heard my song on the radio. It's awesome."
After he graduated in 2012, he passed this support on, working as a music teacher at the East Range Academy of Technology and Science in his hometown of Virginia, Minn., where he was awarded the school's Teacher of the Year honors in 2014.
Preston also has been a casting finalist on "The Voice" and, more recently, on "American Idol" — playing in front of judges Jennifer Lopez, Harry Connick Jr. and Keith Urban. Although he never appeared on air, he hasn't let that slow him down.
Now he's in Minneapolis working on his fourth album at night, while spending his days as a retreat musician at Youth Frontiers, an organization that partners with schools across the state to put on community-building retreats.
But no matter what he does, he'll have fans at CSS.
"This community is great at supporting," Gunderson said. "It supports its students, its faculty, its staff. And once you leave, I don't think it stops. It hasn't for me."
For more on Gunderson's musical career, visit his Facebook or Twitter.