October 2, 2014
Self-Designed Major Leads to Do-it-Yourself Success for One CSS Alumna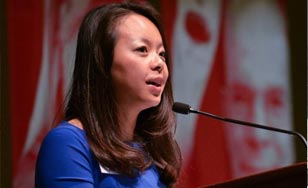 2006 St. Scholastica (CSS) graduate Diane Tran is no stranger to forging her own path. She did something many people might find intimidating after earning her degree: she took a public stand for something she believes in.
Tran was instrumental in coordinating a public health advocacy campaign to advance the "Freedom to Breathe" Act, a statewide law aimed at abolishing smoking in public places. Tran, alongside other groups in Minnesota, fought to protect the general public from the harmful — and sometimes deadly — effects of secondhand smoke. The legislation passed in 2007.
But Tran's story and drive to make a difference in the world began long before all of that.
Choose your own adventure
Tran knew she didn't want to rush into choosing a college major before she even set foot on St. Scholastica's campus. She understood from an early age the importance of surveying the landscape before deciding on an option.
As she paged through the academic catalog, she found it increasingly difficult to pin-point a single field of study that exemplified all of her interests and skills. Tran quickly realized that a traditional major wouldn't provide the college education she sought — so she created her own.
Thus was born her self-designed double major in international social policy and humanities. It provided the flexibility to choose classes that fit her unique interests and shape her own journey.
"The ability to craft multiple semesters of this is only possible at a [college] that's small enough and brave enough to let you be creative and choose your own path," she says.
But Tran didn't spend all of her undergraduate time at St. Scholastica's Duluth campus. She took advantage of the various study-abroad opportunities offered — participating in experiential learning in Cuernavaca, Mexico; studying public policy at Mills College in Oakland, California; and becoming well-versed in service learning in Namibia and South Africa.
Tran's preference for hands-on learning allowed her to excel in these unfamiliar environments. And she remained just as involved while on campus, participating in a wide variety of community clubs and groups offered at CSS.
The adventure continues
Fast forward a few years and Diane Tran has a well-deserved degree to her name and a successful campaign advocating for a widely-recognized state law. But she has not stopped designing her own path to success.
Tran now works as a senior project manager for Minneapolis-based Grassroots Solutions where she uses her personal experience to mobilize communities around community change and social impact. She is board chair of the Citizens League, was a 2013 American Marshall Memorial Fellow, and is founder of Minnesota Rising, a network of emerging leaders across the state of Minnesota. Tran was a Humphrey Institute Policy fellow in 2006-07 and she was named one of the 10 Outstanding Young Minnesotans in 2008 by the Minnesota Junior Chamber.
While she excels within the realm of public policy, Tran's drive and creativity extends far beyond that sphere — most notably in writing her first children's book, Linh and the Red Envelope.
In the midst of all of her success, she will never forget where it all started. "Creativity and learning of all types were welcome at CSS," Tran says, adding that the sense of openness she encountered at St. Scholastica taught her how to create and explore different pathways in her own life.
---
When Diane Tran was choosing a college, she was looking for a place that valued community and would be flexible enough to let her shape her own path. She chose St. Scholastica after careful consideration, and you could follow in her footsteps! Visit the admissions page and fill out the form to request more information on the program of your choice.