April 29, 2014
Seek and you Shall Find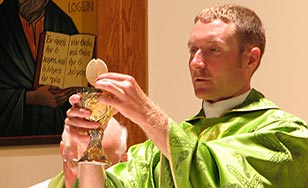 CSS a key stop on the Rev. Ben Hadrich's path to the priesthood.
On any given day in 2002, about 33 million adults in the U.S. used a search engine. But how many people's lives were actually changed by the results?
At least one.
"As a senior in high school I typed two words in a college search engine — Catholic and cross-country — and Scholastica popped up," said the Rev. Ben Hadrich, a 2006 CSS graduate.
And with that simple search, he began a journey that would ultimately lead him to the priesthood.
Growing in faith
Though Father Hadrich was a Secondary Education/Mathematics major at CSS, he soon found that he preferred teaching spiritual truths rather than geometric ones.
So he and his friends formed Calling on Catholics — a group that sought to promote the Catholic faith among students on campus through weekly Eucharistic Adoration and Rosary, daily Mass and religious discussions and events.
This experience strengthened his Catholic identity. And interestingly enough, so did his four years on the cross-country team, where he was a two-year captain and never missed a race.
"The cross-country team had a wholesome atmosphere and was led by a great Christian man, Steve Pfingsten, who inspired us in our running and faith," Father Hadrich said. "He even encouraged me in my vocation to the priesthood."
And he was far from the only one. Betsy Kneepkens, the director of Res Life, also supported him along the way. The Sisters of St. Scholastica played a role as well — particularly Sister Mary Jean Tuttle — as he attended daily Mass with them several days a week during his junior and senior years.
"I experienced God's call in a powerful way just before Mass at CSS," Father Hadrich said.  "As I looked at the altar, I saw an angel. I had seen this carving many times before, but this time something was different. I was reminded of another angel who asked Mary to become the Mother of Jesus, and she said 'Yes' to God's will.  That's the moment I said 'Yes' to God's plan for me to join seminary."
Passing it on
With these experiences in mind, Father Hadrich decided to become a priest – eventually being ordained in 2012 after studying for 10 years and accumulating nearly 300 credits between CSS and the St. Paul Seminary in St. Paul.
Now he's putting it to good use in his ministry at St. John the Evangelist Catholic Church in Duluth.
"My education at CSS has helped me become a good teacher in the faith," Father Hadrich said. "I frequently rely on my experiences in education to preach, teach, counsel and relate with those whom I am asked to guide spiritually."
And he's returning the favor — leading weekly Mass, Adoration, Confession and Bible study at CSS, working with Campus Ministry and meeting with students here to chat, discuss the faith and help them discern God's call in their lives.
Looks like Father Hadrich's website search changed more than just one life.
Check out Father Hadrich's blog at frbensbible.blogspot.com.