February 15, 2022
Saints take the world stage
The games have begun and once again, the College is proud to have several Saints represented in Beijing. Paul Schommer '15 makes his Olympics debut as a biathlete, Alex Clarke '15 has been selected as one of 22 women to officiate women's hockey, and beloved coach Chad Salmela returns to the airwaves as an NBC analyst.
And for others, the journey has come to an end. Megan Hautajarvi (MS '22) recently completed an athletic training internship with the U.S.A. Women's Ice Hockey team and Kelsey Dickinson '18, a regular on the IBU Cup, missed out on making the Olympic Team but continues to hold tightly to her big dreams.
Join us in celebrating these Saints and their incredible contributions.
Megan Hautajarvi (MS '22)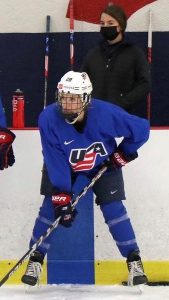 Athletic training student Megan Hautajarvi never imagined nabbing an Olympics internship. "As a first year athletic trainer, it's kind of unheard of to start off at the olympic training level," she said. But luckily for her, Hautajarvi had a champion in assistant professor Kim Moncel. Moncel, who previously served as the College's head athletic trainer, has also worked with the U.S.A. Women's Baseball and Hockey teams and used her connections to help Hautajarvi make her own.
Hautajarvi finished her internship with the U.S.A. Olympic Women's Ice Hockey team in December 2021, but the few months she was able to work with the team left an unforgettable impact. "All the girls are amazing athletes and have great personalities," she said. "Their athletic trainer Katie has taught me so much more than I expected to learn from the whole experience."
The experience also demonstrated distinctions within the athletic training field. "Everybody does [athletic training] differently, especially at the Olympic level. You can't compare the Olympic athletes and the way their medical treatments are compared to the college setting. Those athletes have their own personal and athletic trainers so they kind of just go with the flow with what their needs and wants are."
Her Olympic-sized internship has led to some ambitious goals post-graduation. "I might try to work for a small college and then work my way up back to that olympic level. It's definitely a resume builder, for sure."
Kelsey Dickinson '18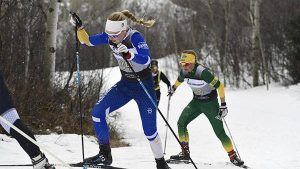 Olympic-hopeful Kelsey Dickinson had a somewhat-unconventional introduction to biathlon; she just wanted to spend time with her best friend.
"I grew up cross country skiing, but my best friend's mom started a biathlon program in my hometown [Winthrop, WA]. I just really wanted to hang out with my best friend so I would just go with them to practice," she said. "I learned to shoot and it was mostly a fun thing we would do on Saturdays. I went to a couple competitions but didn't really think that I would do it in the long term."
But a back injury brought some clarity. Dickinson took a gap year after high school to heal from a surgery and used the downtime to practice her shooting. It was then she made the realization: she wanted to pursue biathlon more competitively.
From there, her passion for the sport continued to intensify. Dickinson participated in the 2014 Junior World Championships, enrolled in the College to pursue both nordic skiing and cross-country running, and found motivation from coaches Chad Salmela and Maria Stuber. She described the coaches as the driving force behind pushing her to accomplish her collegiate and biathlon goals. After graduation, Dickinson double-majored in philosophy and natural science, she moved to Vermont where she currently competes with the Craftsbury Green racing project. She also participated in the 2019 IBU Cup and Open European Championships.
Although her 2022 Olympic goals fell short, Dickinson described the journey as empowering. "Not making the Olympics has really allowed me to take more responsibility for the goals that I set; even though I didn't accomplish them, but to just acknowledge, 'yeah I dreamed big and I had these big goals.'"
Paul Schommer '15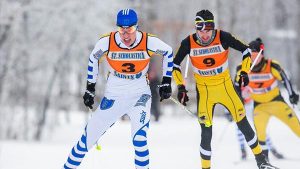 Paul Schommer had a similar journey. The Appleton, WI native joined the St. Scholastica community in 2011 as a chemistry major and nordic skier. He learned about biathlon from head coach Chad Salmela.
"Chad really took me under his wing and helped develop me as an athlete," Schommer said. "What was really great about Chad was that even though we had a lot of goals in the NCAA ski circuit, he saw more long-term, and helped prepare for and teach me lessons that I could use after I graduated from St. Scholastica."
For Schommer, this community, coupled with Salmela's mentorship, inspired him to think globally. He participated in back to back World Championships in 2020 and 2021, all with his sights set on making it to Beijing this month.
And his training has paid off.
"I really had my eyes set on the Olympics starting four years ago after narrowly missing the team in 2018. More specifically within the last year, I've worked really closely with my coach and my teammates at team camps throughout the summer to prepare myself for the fall which then allowed me to race the first world cups of the season," he said.
You can follow Schommer's journey on the Olympic Schedule and Results page.
Alex (Blair) Clarke '15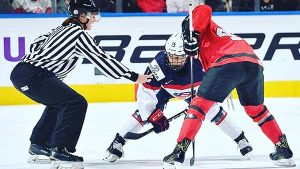 Alex Clarke has already made history as the first female official in Canada's Western Hockey League. This month, she'll level up even further, taking to the world's biggest stage as an on-ice official for the women's hockey tournament. Clarke, a Weyburn, Saskatchewan native, was one of five Canadians selected as a linesperson for the winter Olympics.
Her journey to Beijing has been years in the making; a combination of passion and hard work. Clarke also credits her time as a St. Scholastica defenseman. "Playing for the College's women hockey team developed me as a player which deepened my hockey skills in general," she said. "One of my biggest strengths as an official is my skating ability and hockey sense for the game. Without playing four years of college hockey, I would've never been the official that I am."
After earning degrees in finance and economics, Clarke's love for the game led her to several international officiating experiences, including the 2019 and 2020 International Ice Hockey Federation Women's World Championships, 2018 4 Nations Cup and U18 Women's World Championship. The selection process to become an Olympic referee was based on performance evaluations and feedback that began at the local level. As her skills grew, so did the opportunities.
Even still, the achievement is still sinking in. "It's quite surreal in a sense that I'm here and it's happening, but it's also a very unique situation with Covid; it feels that it can be taken away at any time." For now, Clarke remains grateful, excited for the opportunity and hopeful that things in Beijing continue as planned.
Chad Salmela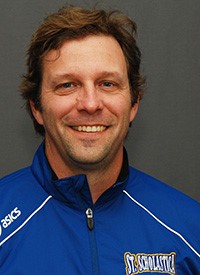 Considered one of the most influential advocates for biathlon, head men's and women's cross country coach Chad Salmela returns to the Olympic stage as an analyst for both biathlon and cross country skiing events. The Beijing games mark his sixth Olympics as an NBC color commentator (who could forget this iconic moment?).
Be sure to check out Salmela's voice over the airwaves, including this clip of Schommer's race, captured by Assistant Athletic Director for Communications and Game Management Jesse Robinson.