March 10, 2014
Saints Outside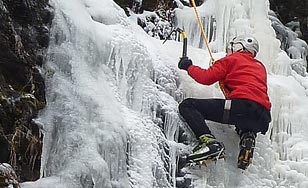 Outdoor Pursuit builds community through adventure
Remember when the wind chill was 30 below outside? When most people wanted nothing more than to bundle up inside with a mug of hot chocolate and watch Netflix?
How boring.
"We were out there snowshoeing," said Shawn Olesewski, Coordinator of the Outdoor Pursuit program at CSS. "By the end, people didn't even notice how cold it was — even with all the icicles on my beard."
Into the wild
These sorts of experiences are what Outdoor Pursuit is all about — involving the CSS community in outdoor experiences like ice and rock climbing, dog sledding, a spring break ski trip in Park City, Utah and roughly 80 other such trips throughout the year — most with little to no fee.
"Compared to other private schools of similar size, we blow everybody out of the water," Olesewski said. "The amount of programming we run, the equipment we have and the overall accessibility, nothing compares."
Bringing people together
The most popular trip is the annual Student Outdoor Adventure Retreat (SOAR) — a five-day trip for incoming freshmen (this year had 70 participants) that occurs before school even starts.
"There's always that awkward situation on day one where the students are a little hesitant," said volunteer student leader Kelsey Thompson. "But eventually there's a point where the whole group comes together."
And this is what Outdoor Pursuit is all about.
"Building community and relationships is one of the biggest aspects of these trips," Olesewski said. "You get to go out, be put in unique situations and work together to make it through."
A learning experience
But things don't always go as planned.
Locking keys in the van in the Boundary Waters. Spilling water on gear while winter camping. Forgetting a kayak for kayaking.
"They're all learning experiences," Olesewski said. "If there's a problem, you need to be resourceful and figure out how you're going to solve it. That's part of your development as a student and a person."
That and learning how to properly get icicles off your beard, of course.