March 1, 2017
Running with purpose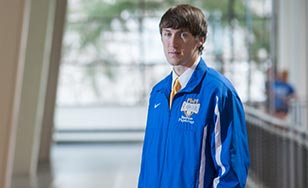 Exercise physiology major Jacob Gallagher chased down his interest in the science of athleticism
Jacob Gallagher '17 tried football first. As it turned out, it wasn't the best fit.
"In fifth grade, I went out for football, and I was this tiny little kid and they put me at free safety," Gallagher said. "It was miserable, and since sports were so important in my hometown, I ended up trying cross country a couple of years later."
Once he began running, Gallagher didn't just enjoy it, he fell in love with it. The camaraderie, the sense of accomplishment, and the science behind it all.
An ideal fit
After years of studying exercise on his own in high school, Gallagher found an article online that lauded the value of an exercise physiology major. And during his college search, a guidance counselor uncovered St. Scholastica as an option. When he took a close look, he was fascinated, because the degree unlocked a wide range of career options — from corporate wellness and personal training to clinical work.
"In exercise physiology, you're taking chemistry, biology and physics," Gallagher said. "There's a strong core in the sciences, and it really drew me in."
Gallagher quickly found community at St. Scholastica among fellow cross country and track teammates, and as he began taking exercise physiology classes and grew closer to his professors, his future came into focus.
"One of the best things about the exercise physiology program is that you're working with students in other disciplines — nursing, pre-med and others," Gallagher said. "It's great, because you're getting a similar foundation, and learning how to work together, because that's what we'll be doing five or 10 years from now in our careers."
Gallagher noted that he's connected well with associate professors John Dargan and Joe Warpeha, and appreciates the opportunity to learn on industry standard equipment.
"I've loved that my professors really want us to learn on the best equipment, like metabolic carts that measure oxygen intake and carbon dioxide production," Gallagher said.
Applied knowledge
Equipped with a wealth of knowledge and a desire to advance his skills, Gallagher became the first-ever intern at the Team USA Minnesota Distance Training Center in January 2017. The Twin Cities-based organization's mission is to prepare elite athletes for national and international competition.
At Team USA Minnesota, Gallagher works directly with runners, warming them up, cooling them down, tracking progress and most importantly, building relationships.
"It's been such an interesting experience to work with professional athletes and see how they train, and the dedication to their sport," Gallagher said.
For the moment, Gallagher is steeped in running culture, but his ultimate aim is to gain his master's and teach the very curriculum that inspired him to attend St. Scholastica.
"I'd love to become a professor one day, and I definitely want to continue working with endurance athletes," Gallagher said. "Exercise physiology opens the door to such a wide variety of possibilities."