May 1, 2014
Really On The Ball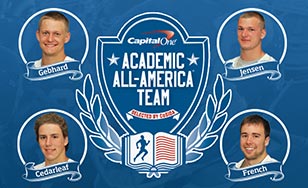 Four named Academic All-Americans
St. Scholastica's football program led all schools in the nation with four players named First Team Academic All-Americans for Division III.
None of the other 230-plus DIII schools with football programs had four. In fact, only one — academic powerhouse Johns Hopkins — had three.
All told, only 22 players nationwide are named First Team All-Americans.
Seniors Cory Gebhard and Alec French earn first team Academic All-American accolades for the second straight year. Senior running back Jake Jensen and junior defensive end Blake Cedarleaf earned Academic All-American honors for the first time.
The honor recognizes the nation's top student-athletes for their combined performances athletically and in the classroom, and is voted on by the College Sports Information Directors of America.
"Looking at our six-year history of the St. Scholastica football program, if someone asked me what were the top few accomplishments, this would be among them," said founding head coach Greg Carlson, who retired earlier this year. "One of our goals is to put St. Scholastica on the national football map. You do that by winning, and also by having players who are winners in the classroom."
Gebhard, a biology major, carries a 3.98 grade-point-average.
French is an accounting and finance double major and carries a 3.93 GPA.
Jensen is a biology major, pre-medicine intended, who carries a 3.78 GPA.
Cedarleaf is a biology and biochemistry double major, who carries a 3.82 GPA.
Being named an Academic All-American "is such a credit to these four young men," Carlson said. "And what's really neat for me is, they're all really good football players. These aren't guys who sit on the bench and watch on Saturday. They're active players who contribute a lot to our success in the win-loss column. And look what they're doing in the classroom."