August 22, 2019
Put yourself out there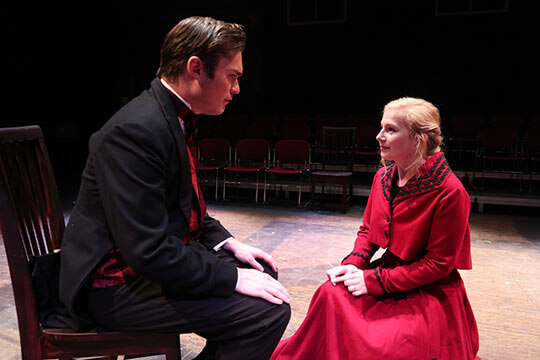 Recent grad Nick Aspin shares his advice for incoming students
When you head off to college, the possibilities are endless. New challenges, new surroundings and a new city to explore. More than anything, it's engaging with new people – seeing how their diverse ideas, talents and background compare to your own.
Nick Aspin '19 experienced this firsthand.
He'd spent plenty of time on campus attending events with his family, but needed to find his own community once he chose St. Scholastica.
"My sister and my father both went to St. Scholastica, so the architecture and campus and even the choirs already felt like home," Aspin said. "I ended up auditioning for a play, and found a great group of friends — in fact, the vast majority of my friends have come through choir and theatre."
At home on stage
Throughout his youth, Aspin performed in choir and theatre programs, making the programs at St. Scholastica a natural fit. There, he found a community and a place to grow while pursuing a degree in accounting.
"What sticks out to me most is the people," Aspin said. "Such immense talent and such devotion to the show. And really, the ability to balance this passion with the rest of their lives – schoolwork, relationships, jobs. I learned so much about how to structure my life by just watching them."
During his four years in college, Aspin appeared in a number of productions — many of which challenged him to move away from the comic relief roles he'd played in high school. He credits his first director, Merry Vaughan, PhD, with helping him to develop his acting range and reach a higher level of comfort on stage.
"I was so used to being funny on stage, but when you want to perform in 'The Diary of Anne Frank,' that approach doesn't work as well," Aspin said. "You have to become this other person on stage, and it takes a lot of effort to get there. I had developed one way of doing this through comedy, but Merry worked with me quite a bit to help me find a way to express a more serious tone."
Exploring what's next
Now that he's graduated, Aspin is excited to begin building a career in accounting, using his well-rounded experience and distinct perspective to shape culture. And as he considers next steps, he's excited to find new communities through choir and theatre.
"I've always been good with numbers and I'm excited to put those skills to use," Aspin said. "I'd love to find a theatre to get involved in – it's the chance to continue engaging my left and right brain."
Aspin expressed an appreciation for a robust liberal arts experience where he could pursue a passion while earning his degree.
"There's so much to college beyond the classroom, and to find it requires you to put yourself out there. It can be frightening sometimes, but it will help you grow and learn in ways you can't learn from a book or lecture," Aspin said.
His advice for new students who are looking for community and connections?
"Don't be afraid to pursue the extracurriculars that you're passionate about," Aspin said. "No matter what that might be, you will find others who are passionate about it as well."