August 12, 2013
Purpose, found.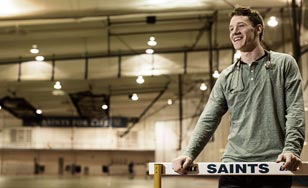 At The College of St. Scholastica, we are guided by the Catholic Benedictine values of community, hospitality, respect, stewardship and the love of learning. For recent graduate Christopher Doran, stewardship was a strong focus during his time at CSS, and will follow him throughout his life. "I was given this body, and someday, I'm going to have to give it back," said Doran. "I'm just a caretaker of it."
Heavily involved in the community and school, Doran lived his values at CSS through:
raising funds for Special Olympics, even jumping into Lake Superior in mid-February for the cause
serving as a student leader of NCAA D-III athletics in Minnesota in the roles of president of both the St. Scholastica and Upper Midwest Athletic Conference student athletic advisory committees
playing as a defensive end for the Saints football team for three years, during which time he was captain for two years and a three-time all-conference and one-time all-region player
throwing for the track team. He plans to pursue a career as a nurse practitioner in pediatric oncology/hematology, a path that will allow him to make a difference for people facing critical illnesses.
"I have a purpose in my life and I'm to fill it through service, through nursing, through caring for other people. If I do that, I believe I'll be a good steward of my body."