March 30, 2016
Press play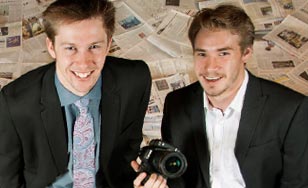 Harris Dirnberger and Chris Parr chase after their passion for filmmaking
For junior communications major Harris Dirnberger ('17) and senior biology major Chris Parr ('16), a common interest turned into a chance meeting and quick friendship. And from that friendship sprang a galvanizing, years-long adventure into the world of filmmaking — from producing a full-length feature film to establishing a thriving video production business they named Flutter Brothers Productions.
"We both qualified for the Junior Olympics for nordic skiing back in 2012. Fate landed us in a creepy hotel where we ended up stuck with each other for a week," Parr said. "Obviously we deeply cared to succeed in the ski races but we became known for our off-the-course antics. That's when we knew we were a match made in heaven."
Early love for film
From the beginning, both Dirnberger and Parr had curious tendencies and family environments where their creativity was encouraged and supported.
Parr reminisced about how his early exposure to classic film sparked an enduring interest.
"When I was young, maybe ten, I hated old movies. That is, until my mom forced me to watch Gone with the Wind. I guess she didn't really 'force' me to watch it," he said. "Once it started there was no turning back. We watched all of the classics. Casablanca, Rear Window, Vertigo; we did this about once a month."
Dirnberger talked about how his early immersion unknowingly fueled his love for the medium.
"My friends and I would get together and make videos of us biking, skateboarding, jumping off of buildings… basically anything that got our hearts racing," he said. "When I was younger I attended a Western film expo where my friends and I got to write, and act in a Western short film."
A rich learning environment
At St. Scholastica, Parr and Dirnberger said they've found incredible support as they've pursued their first full-length feature film, entitled 'I Voted', and grown their video promotion business.
"Our boss, Jesse Robinson, the CSS sports information director, hired us to be videographers for his department but more importantly has allowed us to dial in our technical capabilities," Parr said. "One great thing that he has allowed us to do is create a weekly sports highlight show called 'SaintsCenter' on campus."
Dirnberger said he's learned, through multiple classes and relationships, how to consistently move in a successful direction.
"I have taken numerous courses that have given me the tools I need to succeed in this business that we have created; courses that have developed my technical writing skills, and classes that have helped me with general language and interpersonal interaction," he said.
Roll film
Flutter Brothers Productions has been busy. With 12 clients to date — ranging from Spirit Mountain to Little Hearts Childcare and Preschool, plus wedding videos and more — the team has built an eclectic portfolio they feel will serve them well as they graduate and chart a course for the deep waters of the Los Angeles film scene.
"As of now, we're going to keep doing what we have been doing for the past couple of months. We have a good number of weddings and other freelance projects set up for the summer," Dirnberger said. "After that I will work my way through my senior year. Then we plan to live in a good ol' L.A. dumpster for a while and work our way up the ladder."
And with their current trajectory, it won't be a surprise to see Parr and Dirnberger at the Oscars someday.